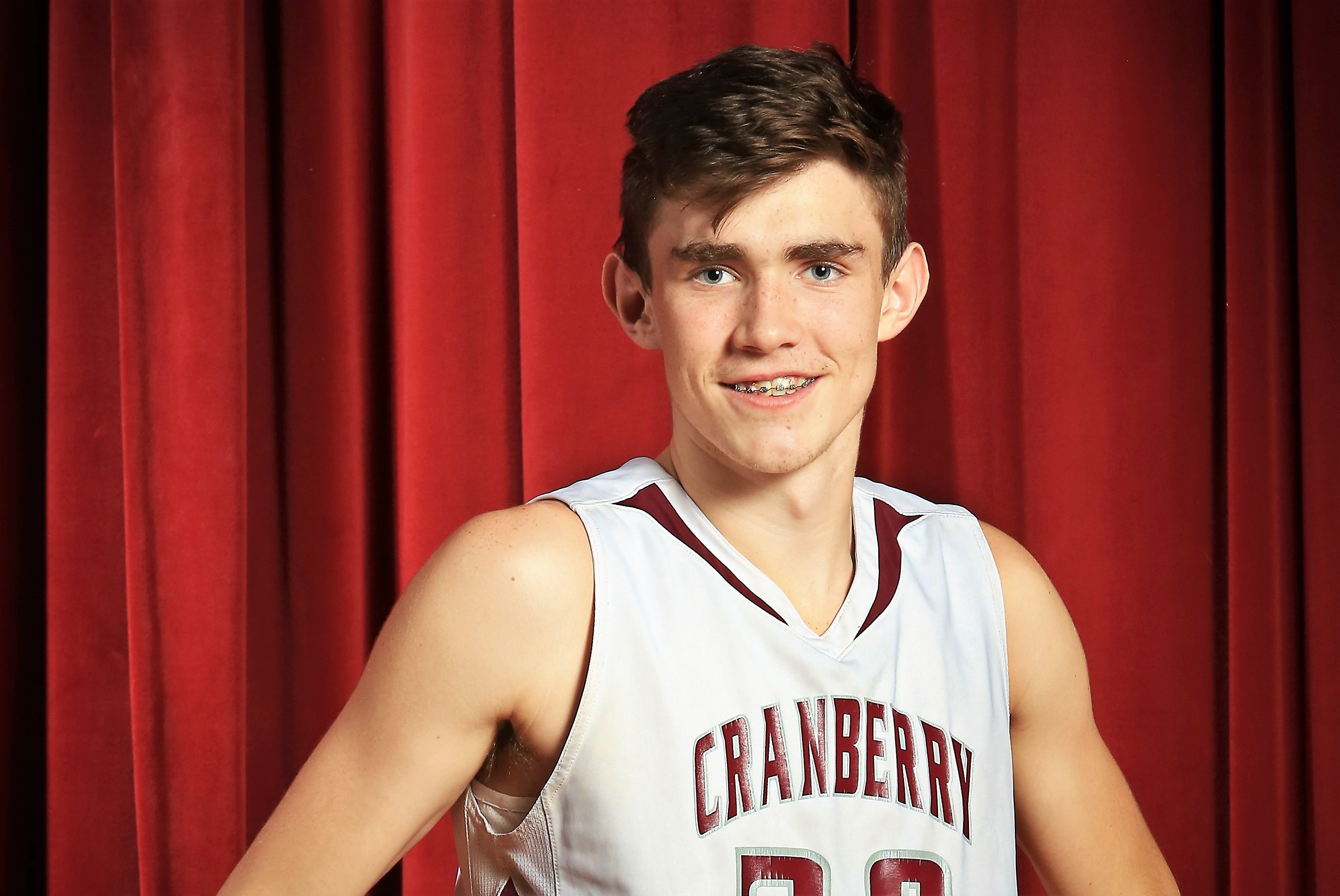 D9Sports.com/EYT Media is doing a series of player profiles on returning high-school athletes this summer. The year in school listed by the athlete is the year the athlete is entering this fall.
(Submitted photo)
MATT MCQUAIDE – JUNIOR – CRANBERRY
Son of: David "Kelly" and Theresa McQuaide
Sports Played: Cross Country, Basketball, Basketball
Family Members Playing/Played Sports: His brother Luke was a very good high jumper for our high school track team and his brother Dan played about every sport (basketball, soccer, football, golf, and track). His Dad ran track at Elder high school in Cincinnati and his mom played basketball, volleyball and ran track for ECCHS.
2017-18 Highlights: He averaged 10.1 points per game for Cranberry in hoops last year, second on the team to his brother, Dan's 15.2. He scored 20 or more points four times including reaching a career-high 24 points twice (vs. Karns City and vs. Venango Catholic).
Post-High School Plans: He plans to go to college and major in Business/Marketing and someday own his own business. He hopes to play college basketball.
Q&A With Matt McQuaide
D9Sports: What is your favorite sport to participate in and why?
MM: My favorite sport is basketball by far. I like that there is always room to improve and every game is different from the last and it never gets boring. It is also a social sport and you have to work as a team to get better.
D9Sports: What is your favorite memory, moment, game from playing high school sports?
MM: Favorite memory is the game where my brother Dan and I combined for 44 points in the Union game (Jan. 2018).
D9Sports: Why do you play high school sports?
MM: I play high school sports because you represent your school with your good friends and I like the team atmosphere.
D9Sports: Who has had the most influence on your athletic career and why?
MM: My parents have had the greatest influence on my life in general. They always push me to work hard, set goals and get better each day.
D9Sports: Do you remember the first sport you played and did you like it right away or did it grow on you?
MM: The first sport I played was basketball. In third grade, I often went to the boys' junior high practices when my mom was coaching. I played on an organized team with Oil City in fourth grade. The sport definitely grew on me. As I got older and bonded with my teammates and we improved to the point the game is played correctly it became much more fun.
D9Sports: Do you have a favorite number for a uniform? If so, what is the story behind that number?
MM: I am number 20 and that is good with me since Matt McQuaid from Michigan State Basketball is also 20. That was a coincidence that it happened that way.
D9Sports: What would someone who doesn't know you be surprised to find out about you?
MM: I think people are surprised to hear I enjoy going on mission trips. I have been on four mission trips to West Virginia so far to help with the construction project and hope to eventually do one out of the country before I graduate.
D9Sports: If you could eat dinner with anyone famous (living or dead) who would it be and why?
MM: I would go to dinner with Kobe Bryant and see how he views the game of basketball and how hard he worked for his dream.
D9Sports: Iphone or Android or Neither and why?
MM: I have an iPhone but I have had Androids and they both have great technology and I have no preference.
D9Sports: What is your go-to Social Media and why?
MM: I use Snapchat because I like to be social even if I can't always be with people.
D9Sports: What do you like most about high school and why?
MM: My friends because I have made some great friends and people are the most important thing in life.
D9Sports: What do you like least about high school and why?
MM: I do not like sitting for long periods of time.
D9Sports: What question do you wish I would have asked you? And what is the answer to it?
MM: Who inspires you to never quit? My cousin Jake McQuaide inspires me to set high goals and go for them. He walked on at Ohio State to play football. He became a great long snapper and now plays in the NFL. He had a dream and never gave up on that dream.