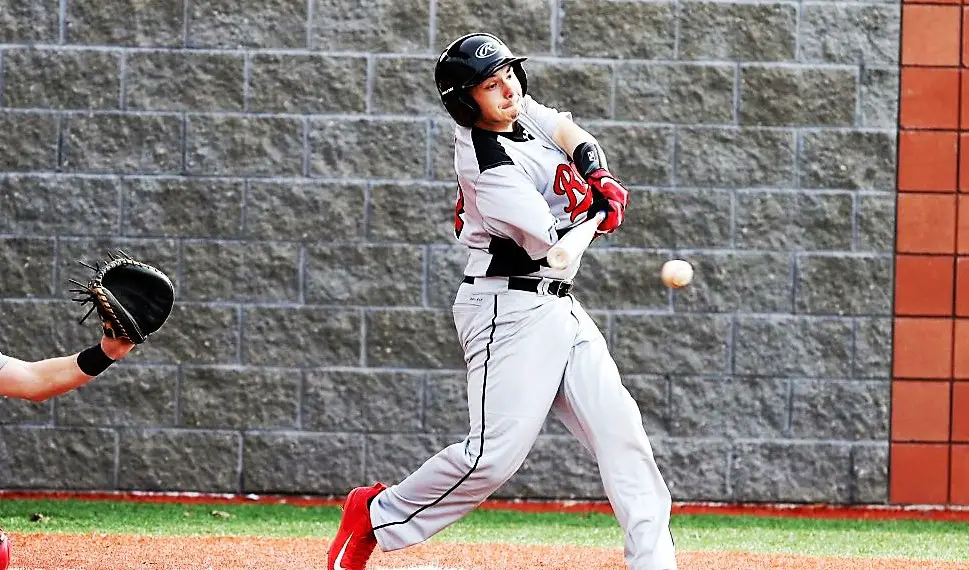 D9Sports.com/EYT Media is doing a series of player profiles on returning high-school athletes this summer. The year in school listed by the athlete is the year the athlete is entering this fall.
(Submitted photo. Photo by Tom Weible)
MATTHEW CLARK – SENIOR – BROCKWAY
Son of: Rick and Tricia Clark (Dad is the boys' basketball coach at Brockway)
Sports Played: Football, basketball, baseball
Family Members Playing/Played Sports: His dad played football, baseball and basketball. His mom was captain of the competition cheerleading squad that won the district and state championship in 1989-90. Many of his cousins have also played sports.
2017-18 Highlights: In baseball, he helped lead Brockway to a second place finish in District 9 Class 2A by hitting a team-best .391 with two doubles, 10 RBIs and seven runs scored. He also stole two bases. In hoops, he played in nine games scoring 11 points.
Post-High School Plans: He plans to attend college and hopes to play baseball.
Q&A With Matthew Clark
D9Sports: What is your favorite sport to participate in and why?
MC: Baseball because I have played baseball since I was 5 years old. It is also my best sport and the one I've had the most success in.
D9Sports: What is your favorite memory, moment, game from playing high school sports?
MC: Catching the game-winning interception this past year against Ridgway with less than a minute left to seal the win on Homecoming. The feeling of getting tackled by my teammates and being lifted in the air by our defensive coordinator is something I will always remember.
D9Sports: Why do you play high school sports?
MC: Because of the relationships you make with your teammates and to try to win a district or state championship.
D9Sports: Who has had the most influence on your athletic career and why?
MC: My father. He introduced me to sports. He also has spent endless hours of throwing batting practice to me to help me improve my swing. He's also my basketball coach. It's awesome playing for him, but at the same time, he's pushing me very hard to be the best that I can. I can't thank him enough for all the time he has put in.
D9Sports: Do you remember the first sport you played and did you like it right away or did it grow on you?
MC: The first sport I played was soccer. I haven't played soccer since I was 8 years old. I love watching our soccer team but just didn't enjoy playing it.
D9Sports: Do you have a favorite number for a uniform? If so, what is the story behind that number?
MC: 22 is my favorite number. I wear it in baseball and football. It is my favorite because Andrew McCutchen is my favorite baseball player. The first major league game I ever went to, he hit a home run. He then became my favorite player that day, and because of that I always wanted to wear his number. That number has always just stuck with me since I was a young kid.
D9Sports: What would someone who doesn't know you be surprised to find out about you?
MC: I ski almost every weekend in the winter. It is one of my favorite things to do.
D9Sports: If you could eat dinner with anyone famous (living or dead) who would it be and why?
MC: Jackie Robinson. He changed baseball in a positive way.
D9Sports: Iphone or Android or Neither and why?
MC: iPhone because that's the only phone I've had.
D9Sports: What is your go-to Social Media and why?
MC: Snapchat because I can communicate easily and see what everyone is up to.
D9Sports: What do you like most about high school and why?
MC: Playing sports and being able to be with my friends every day.
D9Sports: What do you like least about high school and why?
MC: Waking up early because I'm definitely not a morning person.
D9Sports: What question do you wish I would have asked you? And what is the answer to it?
MC: What do you do in the off-season? I play baseball for my legion team and the Northeast Twins club team all summer long. I go to 7 on 7's for football and go to basketball shootouts. I like to stay active in all 3 sports and try to get better and improve every season.