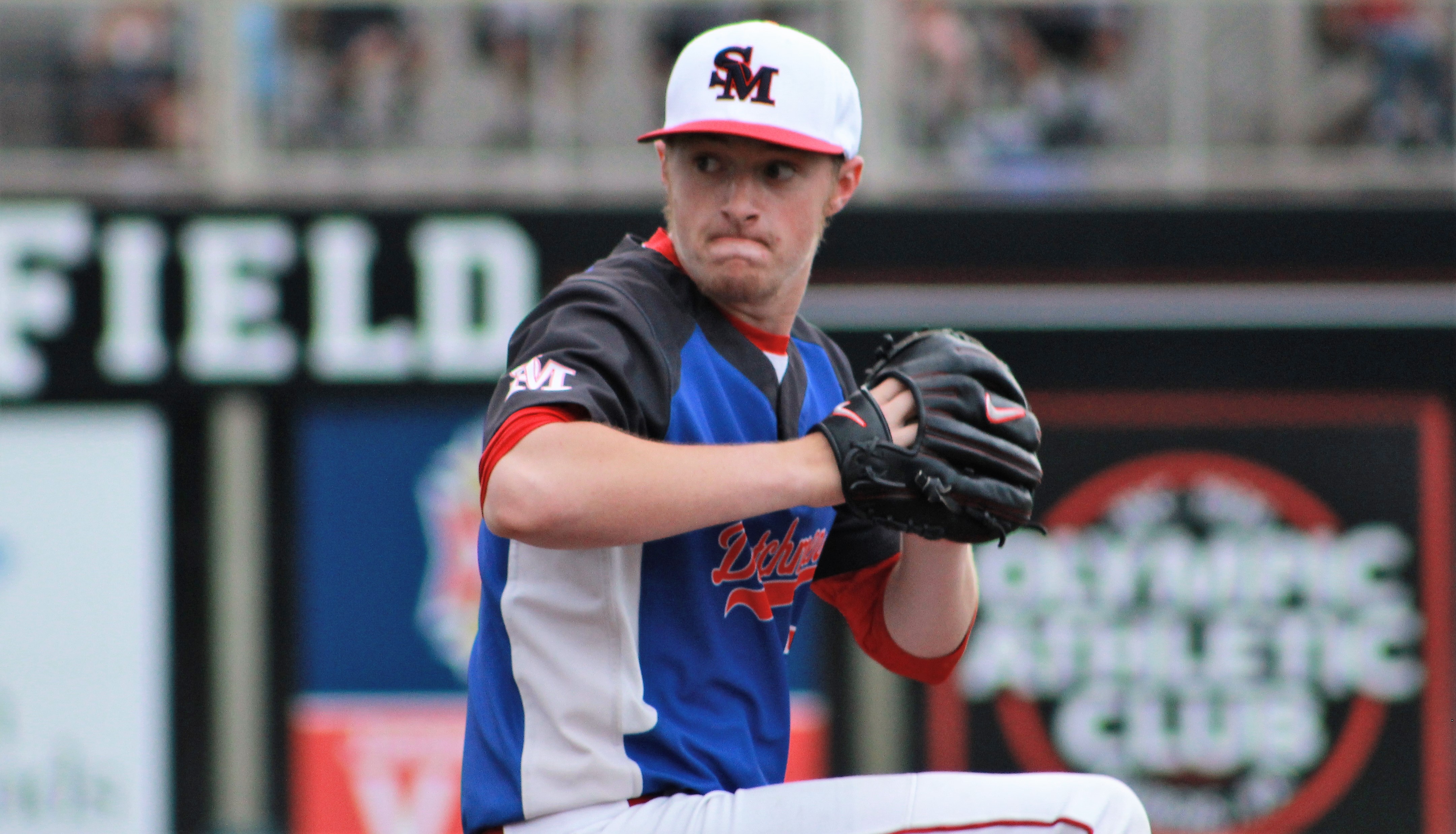 D9Sports.com/EYT Media is doing a series of player profiles on returning high-school athletes this summer. The year in school listed by the athlete is the year the athlete is entering this fall.
(Photo by Jared Bakaysa of JB Graphics. See more of Bakaysa's work here)
NATHAN BEIMEL – SENIOR – ST. MARYS
Son of: Mike and Jennifer Beimel
Sports Played: Baseball and Golf
Family Members Playing/Played Sports: His brother, Michael, his dad Mike, his cousin Tim (who was his teammate the last few years) and many more.
2017-18 Highlights: Was named the D9Sports.com District 9 Pitcher of the Year as well as the Northern Allegheny Big School Player of the Year, the Tri-County Sunday Player of the Year, a Central Penn League All-League pitcher and Utility Player after going 5-0 with a 0.78 ERA for the District 9 Class 4A champion Dutch, who won their first D9 title since 2000. He played a role in three no-hitters during the season, and in 44 ⅔ innings on the mound, he gave up six runs, five earned, on 11 hits and 27 walks (0.8551 WHIP) while striking out 92. He also hit .33 with five doubles, four home runs and 22 RBIs.
Post-High School Plans: He has committed to play baseball at Columbia University.
Q&A With Nate Beimel
D9Sports: What is your favorite sport to participate in and why?
NB: My favorite sport is baseball because it is what I have done and wanted to do all my life. My dad passed his love and passion on to me for the game and it's something that I will never let go.
D9Sports: What is your favorite memory, moment, game from playing high school sports?
NB: My favorite game was the D9 title game against Clearfield when it was a tie game and Tim Beimel came across the plate on an insane heads-up play to clinch the title.
D9Sports: Why do you play high school sports?
NB: I play because it is what I love to do. Nothing can change that.
D9Sports: Who has had the most influence on your athletic career and why?
NB: The biggest influence on my career are my parents. They constantly drive me to be the best that I can be and I will forever appreciate everything they've done to allow me to strive to get better at the game I love.
D9Sports: Do you remember the first sport you played and did you like it right away or did it grow on you?
NB: The first sport I played was baseball. Once I picked up my first bat and glove, I don't think I ever set it down. Baseball has always been in my blood.
D9Sports: Do you have a favorite number for a uniform? If so, what is the story behind that number?
NB: My favorite number is 17. There is no special reason, it just happened to be the jersey number I got as a freshman so I stuck with it.
D9Sports: What would someone who doesn't know you be surprised to find out about you?
NB: I think one thing that might be surprising is that I am a kid that lives in the middle of nowhere and I'm going to Columbia University which is in Manhattan, New York. It's a completely different setting and it's one of the most exciting parts to me.
D9Sports: If you could eat dinner with anyone famous (living or dead) who would it be and why?
NB: I believe I would want to eat dinner with Nolan Ryan because he has always been one of my idols.
D9Sports: Iphone or Android or Neither and why?
NB: iPhone because honestly who uses Android?
D9Sports: What is your go-to Social Media and why?
NB: I'm big into Instagram because it's the only Social Media I constantly use.
D9Sports: What do you like most about high school and why?
NB: I like the sports because it's one of the last times you will get to play the sport you love with some of your best friends from all the years before.
D9Sports: What do you like least about high school and why?
NB: I'm not a fan of the work. I'd rather just play my sports and get out but I don't think that's allowed.
D9Sports: What question do you wish I would have asked you? And what is the answer to it?
NB: I have no questions I wish you would've asked. I got everything I would've expected.