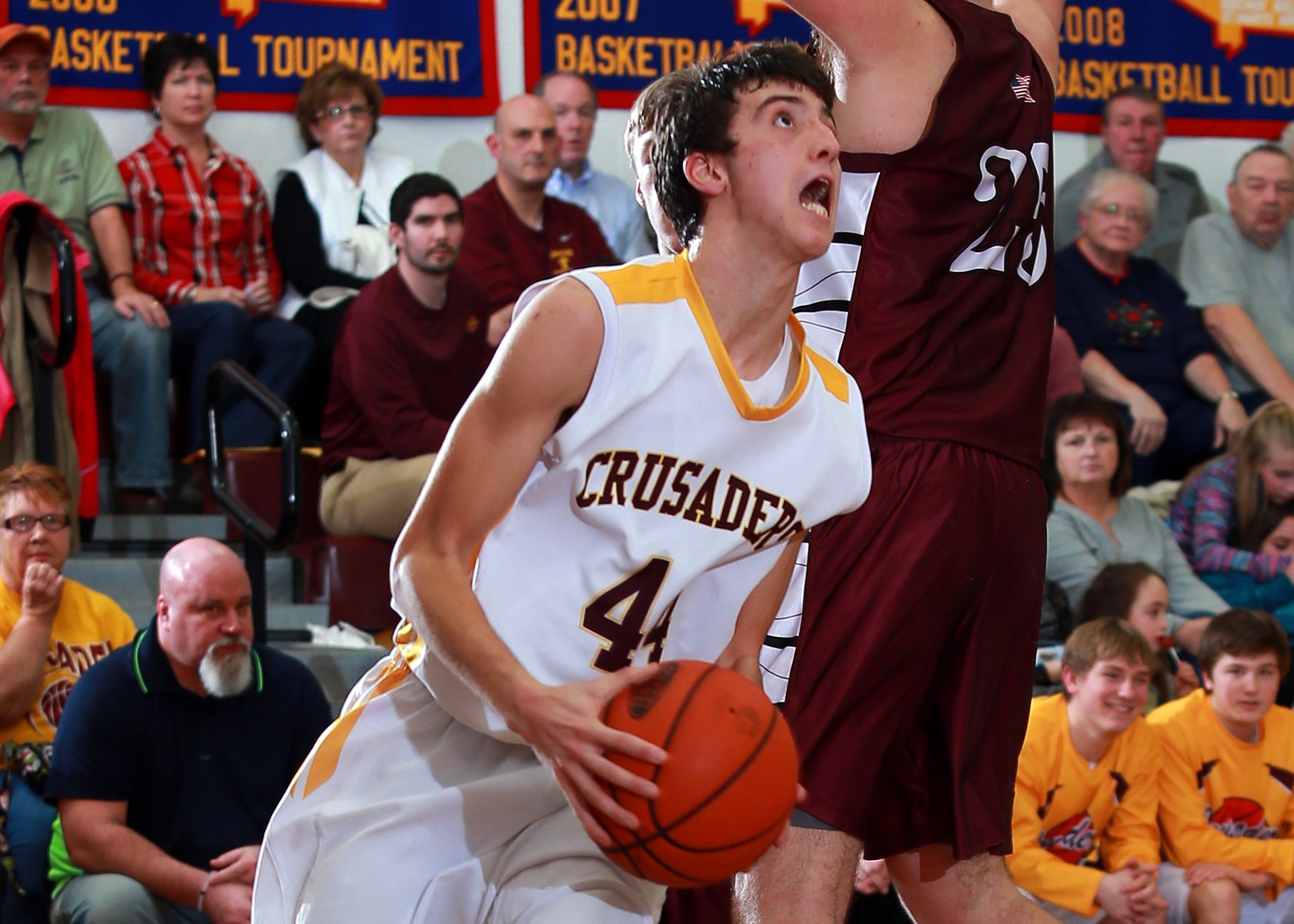 D9Sports.com and EYT Media are doing a series of player profiles on returning high-school athletes this summer. The year in school listed by the athlete is the year the athlete is entering this fall.
NATE DACANAL – SENIOR – Elk County Catholic
Son of: Mike and Mary DaCanal
Sports Played: Football, Basketball, Baseball
2015-16 Highlights: A three-sport star for the Crusaders it's hard to pick out Nate's best sport, but it might be basketball. A second-team All American Awards & Engraving/D9Sports.com All-District 9 selection for the second straight year, DaCanal averaged 13.9 points, 5.9 rebounds. 3.2 assists and 2.6 steals per game for the District 9 Class A champions while shooting 57.7 percent from the field. He was the District 9 Rookie of the Year as a sophomore in 2015 after averaging 12.4 points and 8.2 rebounds per game and has scored 763 points in just two seasons of varsity basketball. In baseball, he was the starting second baseman for the 19-3 Crusaders while also seeing a bit of time on the mound. He hit .271 with 12 RBIs and 10 runs scored while also pitching going 1-0 on the mound throwing six innings and allowing two runs while striking out four. In football, he was the primary passer out of ECC's single-wing offense completing 48.7 percent of his throws (75 of 154) for 966 yards with six touchdowns and nine interceptions. He also ran 230 yards and five scores.
Post High School Goals: DaCanal plans on attending college next year but is undecided on where he wants to go. He is very interested in playing basketball in college.
Q&A With Nate DaCanal
D9Sports: Do you have a favorite sport, and if so why?
ND: My favorite sport is basketball. I love the fast pace and competition of the game of basketball.
D9: What is your best high-school related sports memory and why?
ND: I have many memories in all three sports that I have played. In football, my favorite moment was when we had a game-winning drive vs Curwensville to win the game on homecoming night. My favorite moment in basketball was winning the D9 championship and completing an undefeated season. My favorite moment in baseball is when I had a base hit up the middle to beat Brockway in extra innings.
D9: Has there been a coach and/or teacher who has influenced you the most in your high-school career to this point, and if so, why?
ND: My basketball coach, Coach Aaron Straub. He has taught me more than the game of basketball. He teaches you to be a better person with the life lessons he gives you. He also reminds me to keep God and my family first. He has shown me how important it is to always put the effort into being prepared for any task, including sports or schoolwork, and it will pay off in the end.
D9: What do you like best about playing sports in high school?
ND: The best thing about playing high school sports is you can play with your best friends that you have been doing everything with the past 12 or so years of your life.
D9: What is the hardest part about playing sports in high school?
ND: The hardest part is having practice and games and making time for your school work and keeping your grades up.
D9: How much offseason work do you put into your sports?
ND: I put in a lot of offseason work with my sports. It can only be done with the help of the many coaches at my school that care about each athlete and helping to make each of us better individuals.
D9: What is your favorite subject in school?
ND: Math
D9: What do you like to do for fun when you aren't playing sports?
ND: I like to hang out with my family and friends.
D9: What are your goals for the upcoming school year both sports wise and academically?
ND :My goals academically are to stay on the honor roll and keep my grades up for this year again. My goals for my sports seasons are to do the best I can and make the best memories for my last year of sports. I would also like to win the leagues and district championships in all three sports I play.