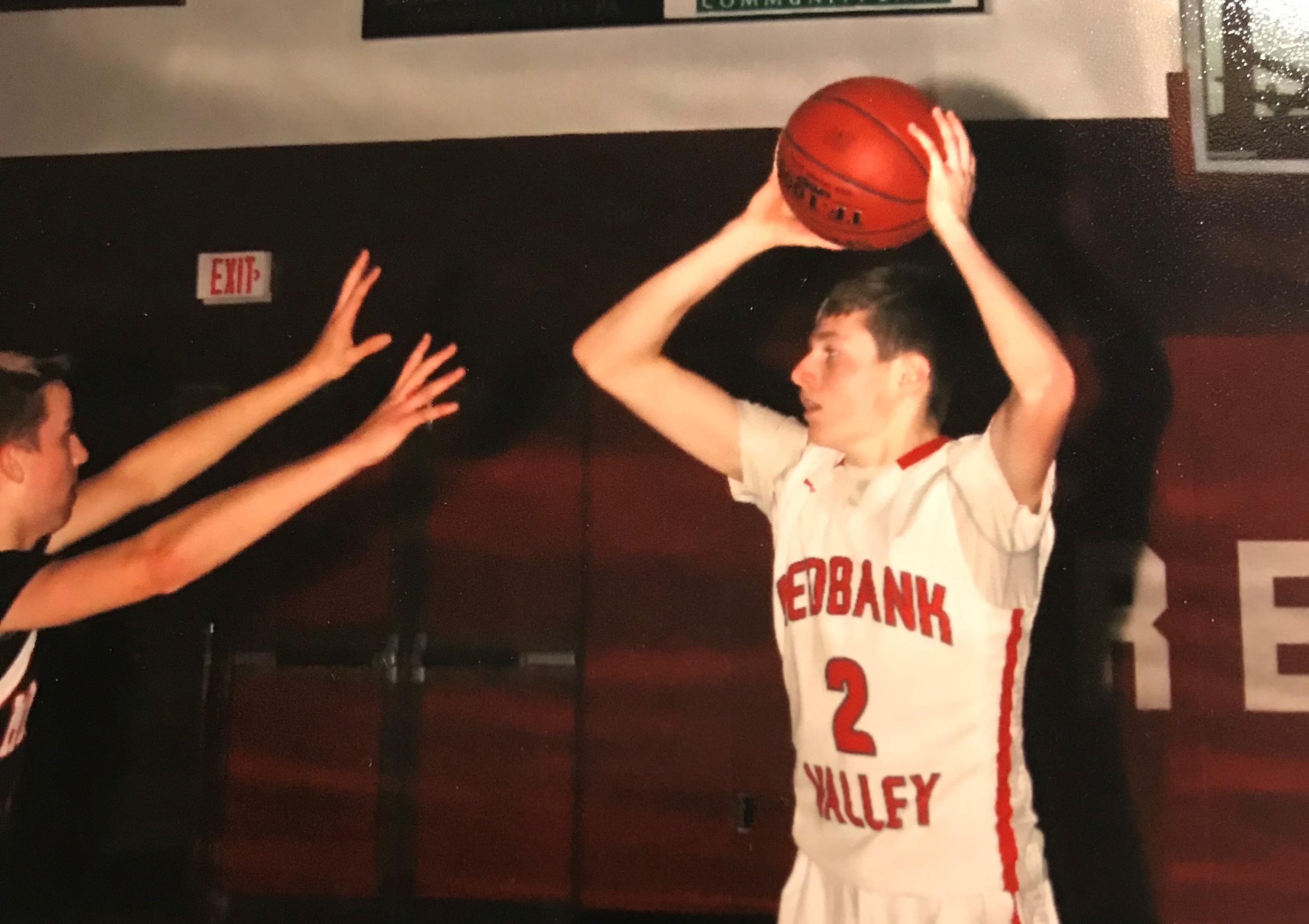 D9Sports.com/EYT Media is doing a series of player profiles on returning high-school athletes this summer. The year in school listed by the athlete is the year the athlete is entering this fall.
(Submitted photo. Photo by Mike Maslar)
NICK SMITH – SENIOR – REDBANK VALLEY
Son of: Steve and Tamela Smith
Sports Played: Basketball and baseball
Family Members Playing/Played Sports: No answer
2017-18 Highlights: He hit .308 for the Bulldogs baseball team this past year and tied for the team-leading in scoring in basketball averaging 9.2 points per game. In hoops, he had 11 double-digit games including a season-high 21 points vs. Mercer.
Post-High School Plans: He want to go to college to become an Orthodontist. He would like to play basketball in college.
Q&A With Nick Smith
D9Sports: What is your favorite sport to participate in and why?
NS: Basketball. You can work on your craft without other people being there and just you and basketball.
D9Sports: Why do you play high school sports?
NS: I play sports because I just enjoy the fun and the different things that it brings.
D9Sports: Who has had the most influence on your athletic career and why?
NS: The most influence is definitely my dad because he pushed me to be my best from a young age.
D9Sports: Do you remember the first sport you played and did you like it right away or did it grow on you?
NS: First sport I ever played was basketball and I loved it from the moment I picked the ball up.
D9Sports: Do you have a favorite number for a uniform? If so, what is the story behind that number?
NS: No. 2 is my favorite number because Kyrie Irving had it before he left the Cavs.
D9Sports: What would someone who doesn't know you be surprised to find out about you?
NS: I work out with sports every single day of the week.
D9Sports: If you could eat dinner with anyone famous (living or dead) who would it be and why?
NS: Kyrie Irving because he is one of the reasons I like the game of basketball just the way he is able to dribble the ball and score at will.
D9Sports: Iphone or Android or Neither and why?
NS: iPhone because it's the first phone I ever got and I just stick with it.
D9Sports: What is your go-to Social Media and why?
NS: Snapchat because I like talking to people.
D9Sports: What do you like most about high school and why?
NS: Seeing the people that you've grown up with since Kindergarten the whole way up to graduation.
D9Sports: What do you like least about high school and why?
NS: The school work.
D9Sports: What question do you wish I would have asked you? And what is the answer to it?
NS: Who my favorite athlete is. Kyrie Irving.