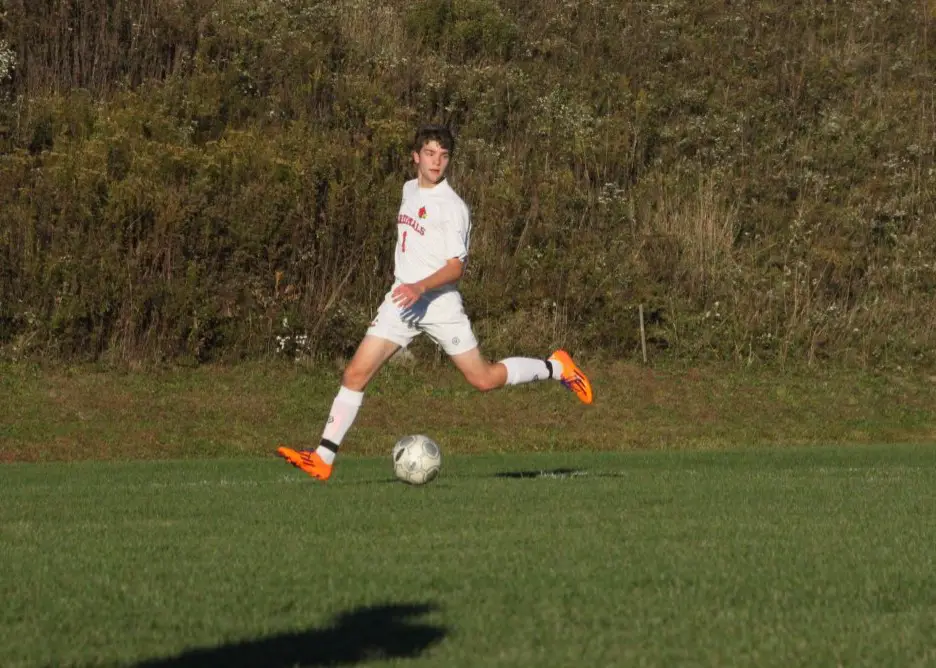 D9Sports.com and EYT Media are doing a series of player profiles on returning high-school athletes this summer. The year in school listed by the athlete is the year the athlete is entering this fall.
NOAH PETTENATI – Senior – DuBois Central Catholic
Son of: Alan and Vicky Pettenati
Sports Played: Golf, Soccer, Basketball, Track & Field
2015-16 Highlights: Noah plays four sports for the Cardinals including two in the fall. In soccer, he scored twice on free kicks and had six goals playing right back. In golf, he was the fifth or sixth man on the varsity squad averaging around a 98. In basketball, he was fifth in scoring for DCC at 2.5 points per game. In track, he ran the 1,600-meter race and finished 13th in District 9 in a time of 5:02.38.
Post High School Goals: He plans on applying to an accelerated 5-year Physician's Assistant Program and is considering running track or possibly playing basketball. He has been contacted by track coaches from DeSales, Chatham, King's College, Franklin Pierce, Shenandoah and others.
Q&A With Noah Pettenati
D9Sports: Do you have a favorite sport, and if so why?
NP: Basketball. It was always the easiest for me to practice on my own when I was younger. I developed a love for the game, and now most of my closest friends are basketball players.
D9: What is your best high-school related sports memory and why?
NP: My freshman year, the soccer team was really awesome. We had an amazing group of seniors who really made it a great experience and with Ryan Anderson and Nick Szczerba we were really talented as well.
D9: Has there been a coach and/or teacher who has influenced you the most in your high-school career to this point, and if so, why?
NP: My English teacher, Mr. Murphy. He is always having us do something productive, makes things fun, and applies a lot of the stuff we do to real life situations.
D9: What do you like best about playing sports in high school?
NP: I really like the opportunity you have to make a name for your school and place your school on the map, whether it's making a Cinderella run in the state playoffs or just a team playing with good sportsmanship.
D9: What is the hardest part about playing sports in high school?
NP: Coming home from a tough loss knowing you have a test the next morning. As a person who HATES losing, I find it really hard to lose a tough game and come home and study.
D9: How much offseason work do you put into your sports?
NP: Lots of work. I know that if I'm not playing, watching or training for any of my sports other kids are out running, shooting or lifting. I lift weights 5-6 days a week, play in a basketball league two nights a week, I do my own drills, run on my own and Coach Dom (Varacallo, the new boys' basketball coach and former assistant coach) and his brother Albert (Varacallo) are awesome with inviting me to play with a lot of the older guys in the area who are great players.
D9: What is your favorite subject in school?
NP: History, especially the World Wars.
D9: What do you like to do for fun when you aren't playing sports?
NP: When I'm not playing organized sports, I usually get a group of guys together to play some hoops somewhere. I also enjoy music a lot and am very active with Spotify.
D9: What are your goals for the upcoming school year both sports wise and academically?
NP :I've always had the dream of playing in the state playoffs. So, with this being my senior year, my goal is to get to the state playoffs in all four sports. Also, I would really like to make a name for myself around the district as a talented multi-sport athlete. Academically, my goal is to improve my SAT scores this October to improve my chances of being accepted into different PA programs.