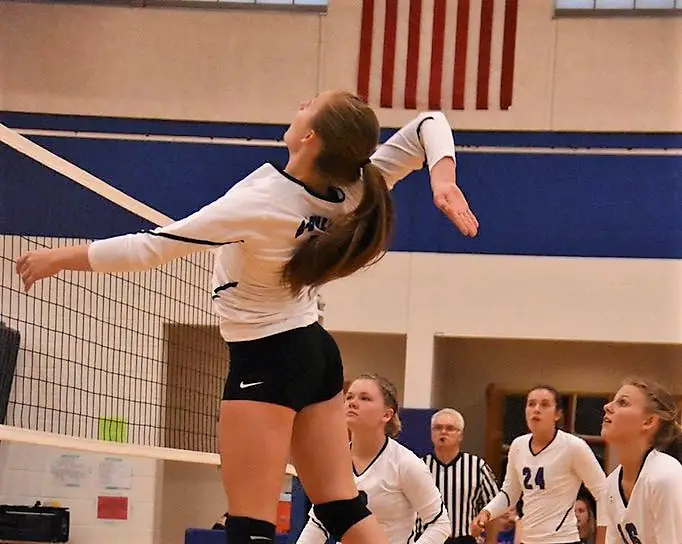 D9Sports.com/EYT Media is doing a series of player profiles on returning high-school athletes this summer. The year in school listed by the athlete is the year the athlete is entering this fall.
(Submitted photo)
OLIVIA BOOCKS – SENIOR – A-C VALLEY
Daughter of: Trisha & William Boocks; stepdad Rob Foust
Sports Played: Volleyball, basketball (undecided on track)
Family Members Playing/Played Sports: Sister Kelsey Boocks who played volleyball, softball and basketball and threw in track.
2017-18 Highlights: Earned all-state honors in volleyball after helping A-C Valley to a second-place finish in District 9 Class 1A. Was also honored as a third-team all-KSAC basketball player despite missing half the season with an injury. She averaged 9.8 ppg before getting hurt and scored a season-high 17 points vs. Karns City.
Post-High School Plans: She plans on attending college and playing sports.
Q&A With Olivia Boocks
D9Sports: What is your favorite sport to participate in and why?
OB: I like basketball and volleyball equally because I've made so many memories during both of them.
D9Sports: What is your favorite memory, moment, game from playing high school sports?
OB: My favorite memory from volleyball is definitely being in the district championship game. My favorite basketball memory is cheering my teammates on from the bench.
D9Sports: Why do you play high school sports?
OB: I play high school sports because it's taught me a lot of valuable lessons that I will be able to use throughout my whole life.
D9Sports: Who has had the most influence on your athletic career and why?
OB: My stepdad, Rob, has definitely influenced my athletic career the most because he's always there showing me how to get to the next level.
D9Sports: Do you remember the first sport you played and did you like it right away or did it grow on you?
OB: I have always liked playing sports.
D9Sports: Do you have a favorite number for a uniform? If so, what is the story behind that number?
OB: My volleyball number is 7 because that was my sister's number and I've always wanted to be like her. My basketball number is 23 because I loved Lebron since my younger days.
D9Sports: What would someone who doesn't know you be surprised to find out about you?
OB: I love eating mayo with my fries.
D9Sports: If you could eat dinner with anyone famous (living or dead) who would it be and why?
OB: Zac Efron because that would be a dinner I would never forget.
D9Sports: Iphone or Android or Neither and why?
OB: iPhone because Androids have terrible camera quality.
D9Sports: What is your go-to Social Media and why?
OB: Twitter because it makes me laugh a lot.
D9Sports: What do you like most about high school and why?
OB: I enjoy seeing my friends every day.
D9Sports: What do you like least about high school and why?
OB: Waking up in the morning is a struggle because I am not a morning person.
D9Sports: What question do you wish I would have asked you? And what is the answer to it?
OB: One question is how I think sports will go this year. After losing five seniors and one of the best players I've ever played with, I think that there will be a little bit of a struggle, but I know the younger girls can handle it and step up.