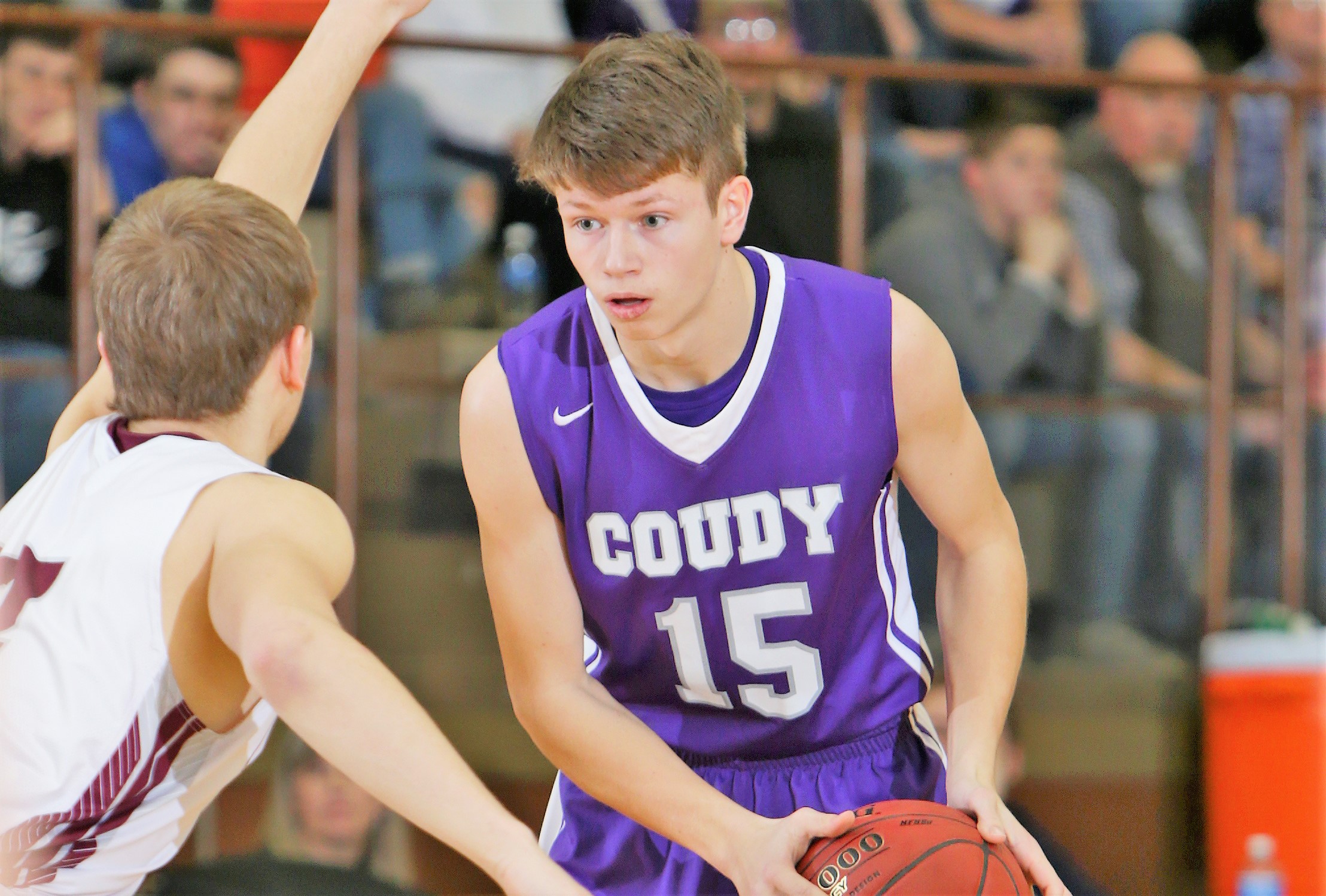 D9Sports.com/EYT Media is doing a series of player profiles on returning high-school athletes this summer. The year in school listed by the athlete is the year the athlete is entering this fall.
(Photo by Paul Burdick. Check out more of Burdick's work here)
OWEN CHAMBERS – SENIOR – COUDERSPORT
Son/Daughter of: Mark and Jennifer Chambers
Sports Played: Basketball, baseball
Family Members Playing/Played Sports: All of his siblings have played for Coudersport as well as his parents. His oldest brother, Michael, graduated in 2015 and participated in soccer, basketball and baseball. His older sister, Annie, graduated in 2017 and she participated in golf and softball. His younger sister, Sarah, is a sophomore at Coudersport who plays soccer, basketball and softball and was the All American Awards & Engraving D9Sports.com Rookie of the Year in girls' basketball in 2018.
2017-18 Highlights: He was the All American Awards & Engraving D9Sports.com Boys' Basketball Player of the Year and a first-team Class 2A All-State player after leading the Falcons to the District 9 Class 2A title. He was second in District 9 in scoring at 24.9 points per game while adding 5.1 rebounds. 2.7 assists and 2.1 steals per game. He also shot 52.6 percent from the field and hit 94 3-pointers while shooting 90.7 percent (97 of 107) from the free-throw line. Chambers enters his senior season with 1,439 career points.
Post-High School Plans: He plans on attending college for a business area major and playing collegiate basketball for that school.
Q&A With Owen Chambers
D9Sports: What is your favorite sport to participate in and why?
OC: Basketball, because I have played it since I was young and have just really liked the game since.
D9Sports: What is your favorite memory, moment, game from playing high school sports?
OC: My favorite memory from high school sports has been winning the district championship this year for basketball. It was great because we lost to Ridgway during the regular season but we came out on fire and it was fun for everyone which made it so much better.
D9Sports: Why do you play high school sports?
OC: I have played high school sports to help me get better at certain life traits that are needed in life like time management and how to work together.
D9Sports: Who has had the most influence on your athletic career and why?
OC: My parents have had the biggest influence. My mom has always been there to take me to all my games and practices and my dad has always been there to make sure I keep working hard and keep getting better each day.
D9Sports: Do you remember the first sport you played and did you like it right away or did it grow on you?
OC: My first sport was Ski-racing. I started skiing when I was 3 and I just liked it right away and it is an excellent memory of racing down the slopes.
D9Sports: Do you have a favorite number for a uniform? If so, what is the story behind that number?
OC: My favorite number for a sport would be No. 17 for baseball. My aunt was always No. 17 for softball when she played in high school and college and it just seemed like a good fit for my number and have had it since I was 10.
D9Sports: What would someone who doesn't know you be surprised to find out about you?
OC: I think something most people don't know about me is that my first name is actually Matthew and Owen is my middle name.
D9Sports: If you could eat dinner with anyone famous (living or dead) who would it be and why?
OC: If I could eat dinner with anyone I would have to choose Dr. James Naismith. He is the person who invented basketball. I would want to know what he thought of the sport and also what he would think about the game today and how it's changed from his lifetime.
D9Sports: Iphone or Android or Neither and why?
OC: iPhone. Because i have had Apple my whole life. Never had an Android
D9Sports: What is your go-to Social Media and why?
OC: Instagram, because there is always something fresh on there and there are posts about almost everything.
D9Sports: What do you like most about high school and why?
OC: My favorite thing about high school is all the friends you make and all the memories that you make with those friends.
D9Sports: What do you like least about high school and why?
OC: My least favorite thing about high school would be all the homework that gets assigned.
D9Sports: What question do you wish I would have asked you? And what is the answer to it?
OC: One question is what Coudersport alum do you wish you would have played with that you didn't get to. My answer would have had to be my brother Michael. I never got to play with him but I think that would've been very cool to play with my brother in an organized sport.