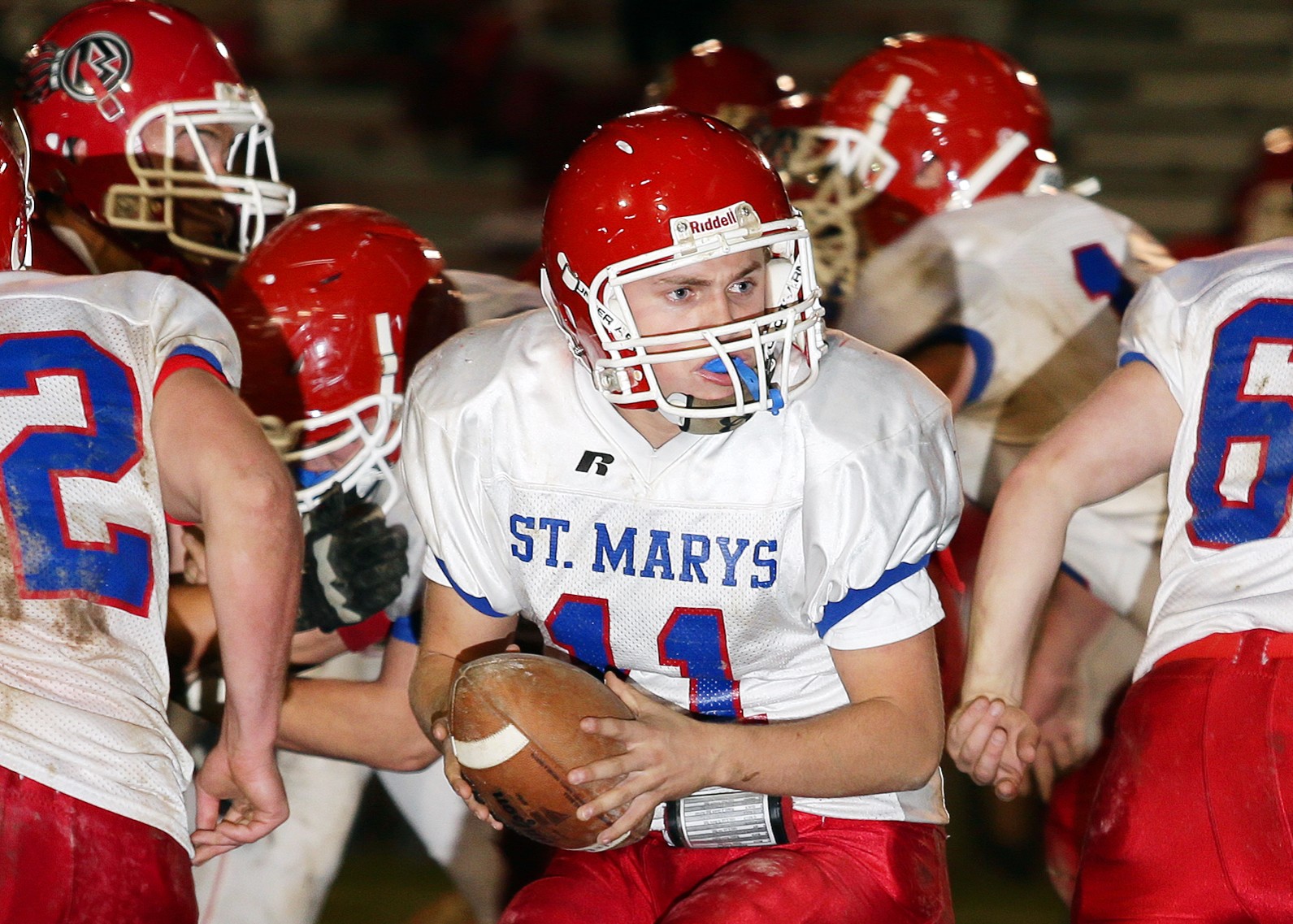 D9Sports.com and EYT Media are doing a series of player profiles on returning high-school athletes this summer. The year in school listed by the athlete is the year the athlete is entering this fall.
PAT SCHLIMM – Senior – St. Marys
Son of: Joe and Margie Schlimm
Sports Played: Football, Basketball, Track & Field
2015-16 Highlights: The starting quarterback for the Dutch in 2015, Pat had a solid season completing nearly 50 percent of his passes (54 of 109) for 960 yards, nine touchdowns and nine interceptions. He also ran for three touchdowns on just nine carries. He helped the Dutch to a 7-4 mark. In track and field, Schlimm placed sixth at the District 9 Class AAA meet in the javelin with a throw of 128-07.
Post High School Goals: Schlimm hopes to attend one of the United States Service Academies next year. If that doesn't work he, he will go to college on an ROTC scholarship. He says being able to serve his country as a commissioned officer in the armed forces is his goal. He's also open to playing football at the next level, but he is firmly focused on succeeding as a student and soldier first.
Q&A With Pat Schlimm
D9Sports: Do you have a favorite sport, and if so why?
PS: Football's my favorite sport for more reasons than I could ever list, but above all it's been a very personal thing to me my entire life from a family standpoint because of the way I grew up around the sport with my dad as a coach. The brotherhood with your past and current teammates, the irreplaceable thrill of Friday Night Lights at Dutch Country Stadium and being challenged daily to perform at your best while celebrating teamwork and character is what makes football the greatest game in the world.
D9: What is your best high-school related sports memory and why?
PS: Being able to contend for a district championship against Karns City in the snow my sophomore year was really something special for me and the entire St. Marys football family. After everything we'd encountered throughout the season as a team, when we took the field to play for a district title, we knew we earned something. Even though the game didn't turn out as we may have hoped, we found a lot of pride in playing our best football in Week 12 of the season.
D9: Has there been a coach and/or teacher who has influenced you the most in your high-school career to this point, and if so, why?
PS: My biggest influence is always going to be my Dad, who introduced me to football the day I was brought home from the hospital and genuinely inspires me through his own career on the turf. We've built a relationship that a lot of people don't get to experience and one that I wouldn't trade for anything. Also, Coach (Tony) Defilippi (St. Marys football coach) and our coaching staff are men I greatly respect and admire and ones that I can't thank enough for the support, confidence, coaching and life lessons they've given me.
D9: What do you like best about playing sports in high school?
PS: My favorite thing about high school sports is the opportunity to be a part of something bigger than yourself and the honor there is in representing your school, hometown and all those that wore the same jersey before you. I also thoroughly enjoy being able to compete in a cut-throat environment alongside your lifelong best friends. The entire experience can be overwhelming, but it's a very meaningful one that creates bonds and teaches lessons that last a lifetime.
D9: What is the hardest part about playing sports in high school?
PS: The longevity of the season creates a grind that you can't take a day off of if you want to be successful. That touches everything from workouts to practice to film study to team meetings. There's also a challenge when it comes to constant thoughts about if you're delivering the type of leadership that your teammates and coaches deserve.
D9: How much offseason work do you put into your sports?
PS: At St. Marys, we honor a commitment to ensure that at no point during the season are we going to be outworked in the weight room, film room or on the practice field by our competition. As a result, we put in a 10-month long football program that starts in January in the weight room and ends in November on the turf.
D9: What is your favorite subject in school?
PS: English
D9: What do you like to do for fun when you aren't playing sports?
PS: Outside of sports, I still spend a lot of time with my teammates as well as my family. From shooting hoops to just hanging out, we're constantly together and part of that reflects the team unity that we've built.
D9: What are your goals for the upcoming school year both sports wise and academically?
PS : As a team and as an individual, we're not a group that is going to set out to win a certain type of championship and I'm not a player that is going to set out to hit a statistic or win some type of award. Our goal is to just play as well as we can each week and do our best to beat whoever is put in front of us. I'm going to do what I can to be the best teammate I can be and the best leader I can be on the field and in the classroom.