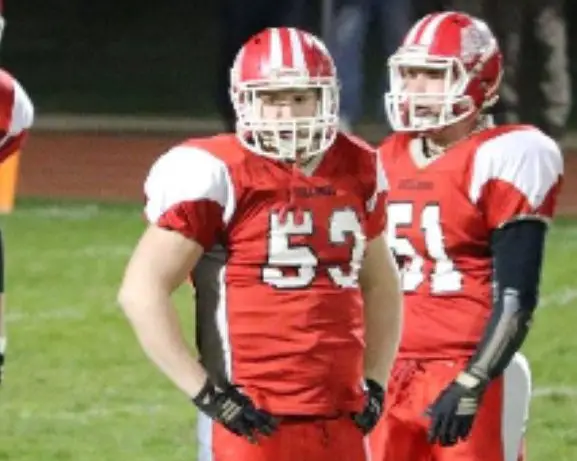 D9Sports.com and EYT Media are doing a series of player profiles on returning high-school athletes this summer. The year in school listed by the athlete is the year the athlete is entering this fall.
PATRICK CRAWFORD – Senior – Redbank Valley
Son of: Pat Crawford and Patty Crawford
Sports Played: Football and Wrestling
2015-16 Highlights: Patrick was a key player on both sides of the ball for Redbank Valley in 2015 helping the Bulldogs to the KSAC Small School Division title and the second round of the District 9 Class A football playoffs. He was a key lineman on offense paving the way for a Redbank offense that averaged just over 300 yards per game including 189 on the ground. He was also a force on defense recording 42 tackles while recovering three fumbles. He was named an all-KSAC Small School performer for his efforts. In wrestling, Crawford made it to the District 9 Class AA semifinals at 220 pounds before falling in the wrestle backs.
Post High School Goals: Crawford plans on attending college to become a high school History teacher. He also plans on playing football in college. One of the colleges he is interested in is Grove City. He has visited the school and has looked into it, but for now, he is undecided.
Q&A With Patrick Crawford
D9Sports: Do you have a favorite sport, and if so why?
PC: I enjoy football more out of the two. I enjoy being part of a team, and I am better at football out of the two sports.
D9: What is your best high-school related sports memory and why?
PC: My greatest memory is beating Clarion last year to become the KSAC Small School champions. I played a really good game. It also was a very big deal for us as a team.
D9: Has there been a coach and/or teacher who has influenced you the most in your high-school career to this point, and if so, why?
PC: I give a lot of credit to Ruben Carrilo, assistant football and wrestling coach. Since seventh grade, before I had my license, he would be my ride to practices and offseason work when I needed it. He also has always been there for me giving me confidence and helping me meet my goals. He pushes me in the offseason and teaches me new things. He has always been a lot of help when I needed it.
D9: What do you like best about playing sports in high school?
PC: I really like the confidence being in a sport gives me. Being part of a team and representing your school really gives me pride. Nothing makes me fell better than winning a big game or match for my school.
D9: What is the hardest part about playing sports in high school?
PC: The hardest part is balancing social life, schooling and sports. It's hard to find time and stay committed.
D9: How much offseason work do you put into your sports?
PC: I do a lot of weightlifting during the offseason. I try to get at least four days a week in the weight room. Once a week, I work with other lineman and do footwork training. I also try to get some drilling time in the wrestling room when I can.
D9: What is your favorite subject in school?
PC: I enjoy History class the most.
D9: What do you like to do for fun when you aren't playing sports?
PC: I really enjoy doing mechanic work on my truck, boat and other machines. I also enjoy boating and watching dirt track races.
D9: What are your goals for the upcoming school year both sports wise and academically?
PC: My main goal for the school year is to improve my grades while keeping my senior year from getting too stressful. My goals for sports this year are to make regionals in wrestling, make 60 tackles in football and to be all-conference for the second year in a row.