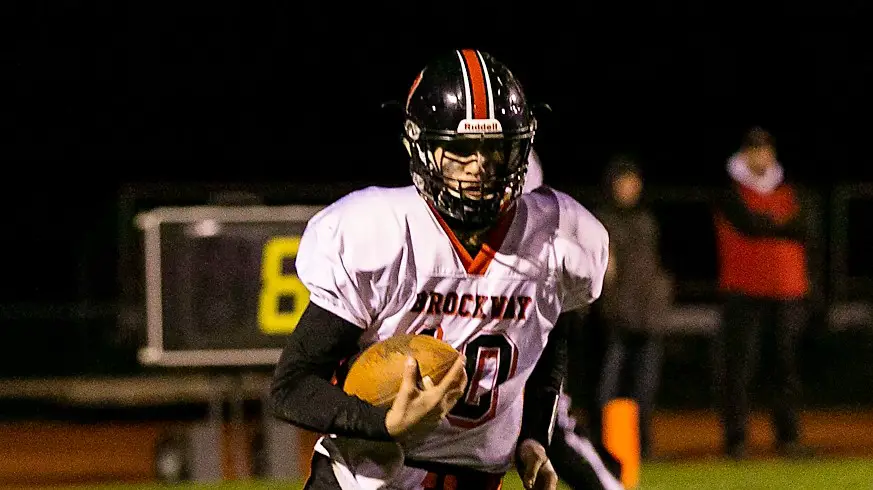 D9Sports.com/EYT Media is doing a series of player profiles on returning high-school athletes this summer. The year in school listed by the athlete is the year the athlete is entering this fall.
(Photo by Tessa Boschert. Check out more of Boschert's work here)
PETER DOWNER – SENIOR – BROCKWAY
Son of: Christopher and Anastasia Downer
Sports Played: Football (in co-op at Brockway), basketball, baseball
Family Members Playing/Played Sports: Brother, Blake Juarez Downer, played for Franklin Cougars in El Paso Texas 6A All-State and All American
2017-18 Highlights: Earned second-team All-State honors at quarterback in Class 2A after going 127 of 228 passing for 1,811 yards, 13 touchdowns and 12 interceptions. He also ran for 44 yards and four scores. In basketball, he played in 19 games scoring 40 points, and in baseball, he helped DCC win the District 9 Class 1A title by hitting .250 with a double, six RBIs and six runs scored. He also stole four bases and made six appearances on the mound striking out nine in seven innings of work.
Post-High School Plans: He plans to go to school to be a wildlife conservation officer.
Q&A With Peter Downer
D9Sports: What is your favorite sport to participate in and why?
PD: Football, by far. Being under the lights hear the fans it's just an Adrenaline rush and most important playing with my brothers on the field.
D9Sports: What is your favorite memory, moment, game from playing high school sports?
PD: Playing Ridgway with under a minute to go and making a pass to seal the game which ended up later on being the winning touchdown to win on Homecoming night.
D9Sports: Why do you play high school sports?
PD: I play high school sports so I can have a better bond with my teammates and to just actually have something to look forward to.
D9Sports: Who has had the most influence on your athletic career and why?
PD: Definitely my brother just because he pushes me to be a better him so he can see me achieve the goals he couldn't. All in all, he's my biggest motivator and I really look up to him. He's just trying to better me.
D9Sports: Do you remember the first sport you played and did you like it right away or did it grow on you?
PD: First sport I played was football growing up around my older brother. I guess I just grew into playing the sport from him and now I'm very appreciative of it.
D9Sports: Do you have a favorite number for a uniform? If so, what is the story behind that number?
PD: I like the number 10 just because my brother had that number, and I want to carry on the legacy he's made.
D9Sports: What would someone who doesn't know you be surprised to find out about you?
PD: Some people think me being as tall as I am they think I'm a receiver but I play quarterback and take a lot of pride in it.
D9Sports: If you could eat dinner with anyone famous (living or dead) who would it be and why?
PD: Sean Taylor, just because he was a great player to watch in the NFL and he was great at what he did.
D9Sports: Iphone or Android or Neither and why?
PD: iPhone
D9Sports: What is your go-to Social Media and why?
PD: Snapchat, because i love to use all the crazy filters.
D9Sports: What do you like most about high school and why?
PD: Being able to see all my friends and hanging out with them making memories.
D9Sports: What do you like least about high school and why?
PD: Having a big game on Friday but having to focus on school at the same time is difficult and I wish I could have just not be at school then.
D9Sports: What question do you wish I would have asked you? And what is the answer to it?
PD: If I have any crazy talents. I can do some crazy flips into the water you would be impressed.