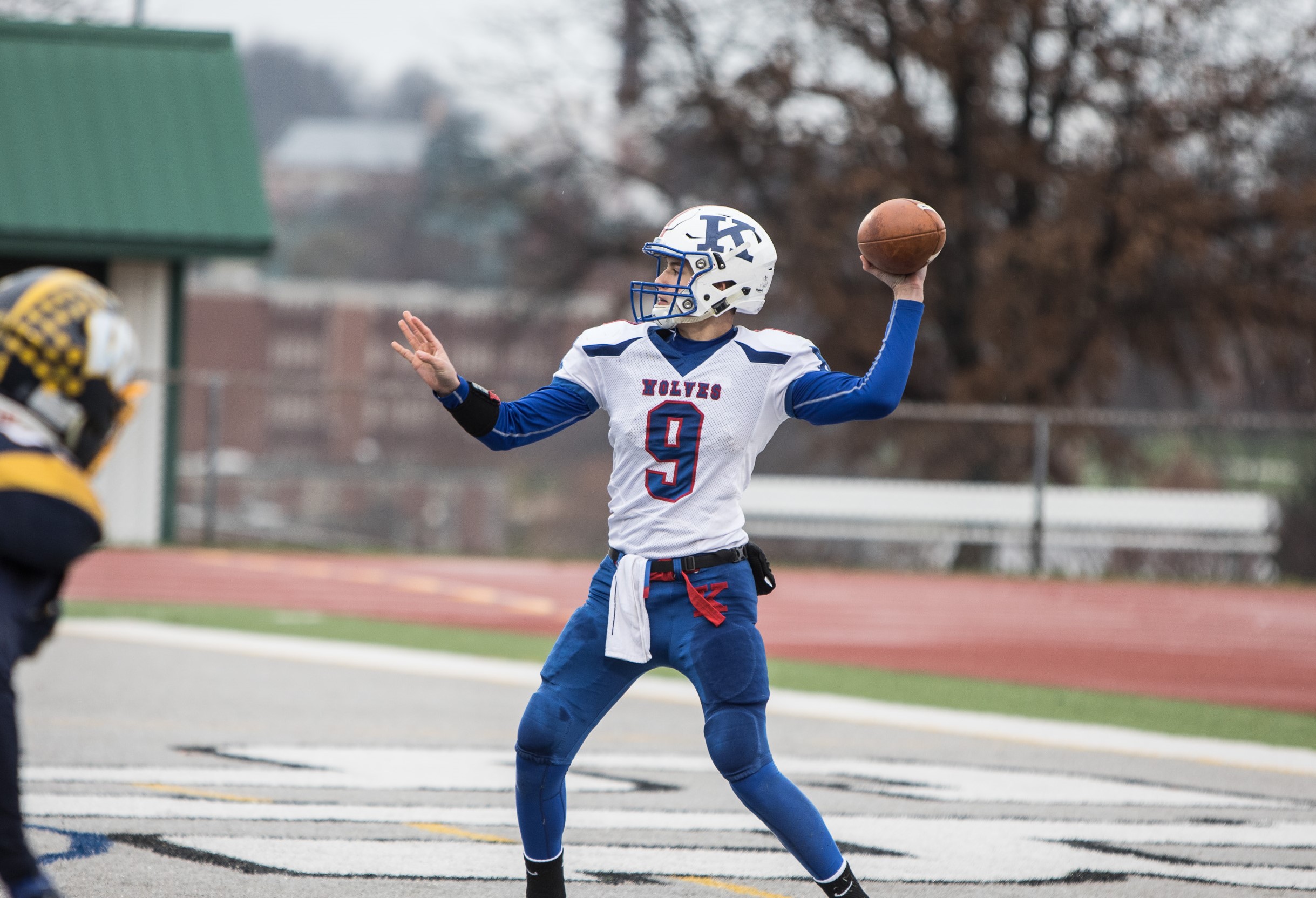 D9Sports.com and EYT Media are doing a series of player profiles on returning high-school athletes this summer. The year in school listed by the athlete is the year the athlete is entering this fall.
REED WILLIAMS – KANE – SENIOR
Son of: Ted and Lennie Williams
Sports Played: Football and Basketball
2016-17 Highlights: Reed moved into the starting quarterback role for the Wolves and helped guide them to a third straight D9 title, this time in Class 2A and a PIAA playoff victory by completing nearly 60 percent of his passes (123 of 206) for 2,308 yards and 28 touchdowns while tossing just six interceptions. In basketball, Reed appeared in 19 games scoring six points for Kane.
Post-High School Goals: Reed plans on attending a college with a good engineering program. He hopes to play football.
Q&A With Reed Williams
D9Sports: What is your favorite sport to participate in?
RW: Football is my favorite just from the friends I have gained and how much I enjoy playing.
D9: What is your favorite memory, moment, game from playing high school sports?
RW: My favorite memory from high school sports thus far was in football when we won the district championship this past year. This is the third year winning, but this one felt best because I had more of an impact on the game.
D9: Why do you play high school sports?
RW: I play high school sports because I love to compete and be around my friends.
D9: Is there a high school player on your team or another team that you enjoy watching play? If so, why?
RW: A player on my team I love watching is Ange Costanzo who mainly plays strong safety for our football team. He is the smallest guy on the field, but he leads the team in tackles almost every game and has a huge impact.
D9: When not playing sports I would rather (pick one) – Go to work, play video games, shop, hang out with friends, play pickup sports, go the movies
RW: I would rather hang out with friends. A lot of times we will be playing pickup games of basketball or will be throwing a football around though.
D9: If you could go anywhere in the world, where would it be and why?
RW: I do not really have a certain place. I would just want to see as much of the world as I can. I like cities so I think it would be cool to go to Los Angeles or Dubai.
D9: Who has had the most influence on you as a person?
RW: My dad has had the most influence on me as a person. In sports, he pushes me and supports me in whatever I do. Throughout the offseason, he has worked with me and taken me to different camps. He does whatever he can to make sure I am the best I can be.
D9: What do you like most about growing up in your hometown?
RW: What I like most about growing up in Kane is the support we get from everyone. Because of the coaches and many other people, football has become a big deal in Kane, and because of the support of the whole town, it continues to get better.
D9: What do you wish you could change about growing up in your hometown?
RW: I wish I could change the amount of opportunity we have. Because it is a small town, we do not have as many opportunities in school or sports as kids may have in larger towns.
D9: What question do you wish I would have asked you? And what is the answer to it?
RW: I wish you would have asked about how playing sports at my high school has had an impact on me. My answer to that would be that it gave me goals to work towards. It made me determined to get better and always try to keep improving on everything. Also, the coaches I have been with throughout the sports have really had a positive impact on me.
D9: Do you or have you had any siblings or other immediate relatives who have played high school sports?
RW: My dad is the closest family member to me who played high school sports. He did cross country and track.