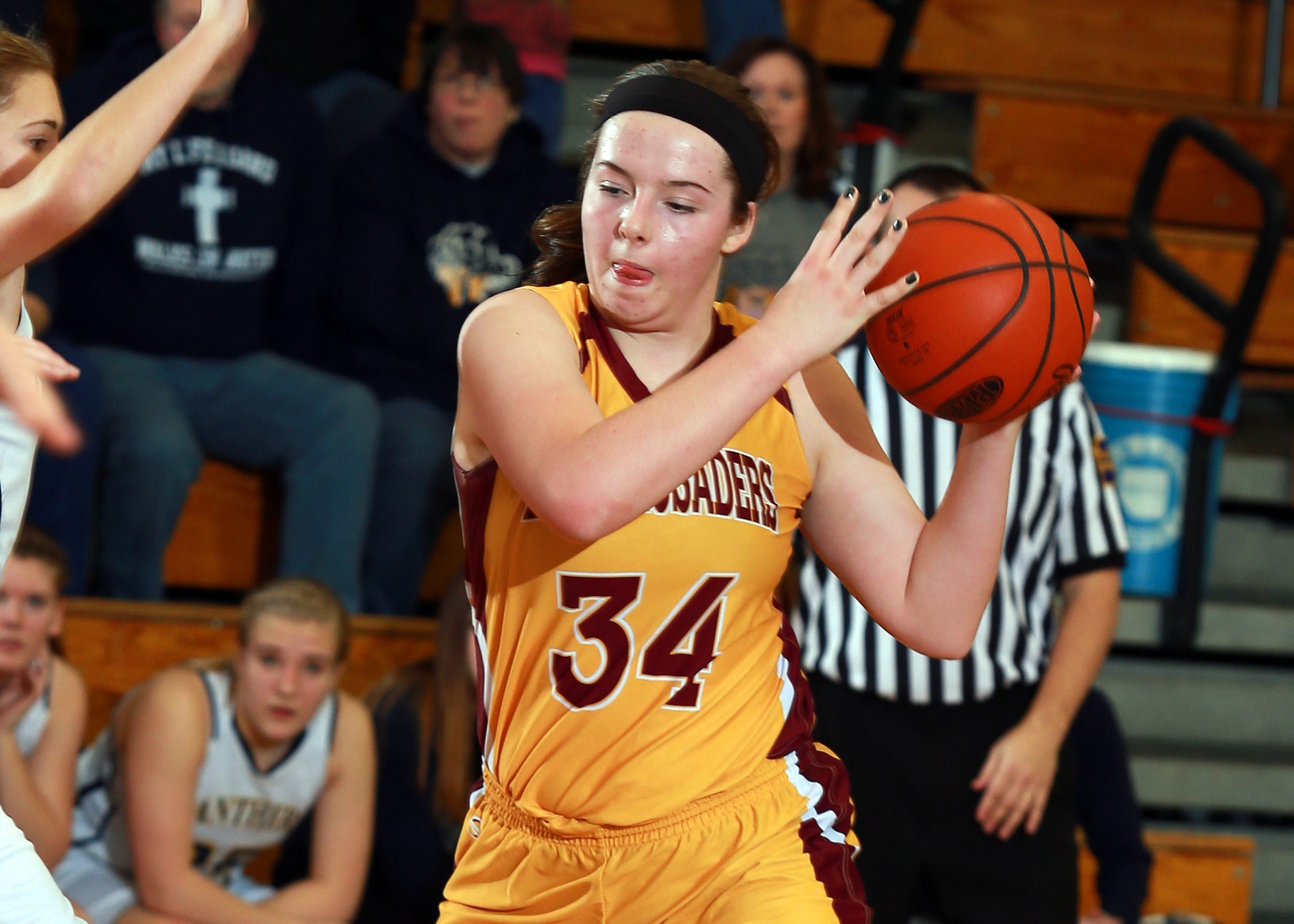 D9Sports.com and EYT Media are doing a series of player profiles on returning high-school athletes this summer. The year in school listed by the athlete is the year the athlete is entering this fall.
REILLY HERZING – Senior – Elk County Catholic
Daughter of: Nena and Adam Herzing
Sports Played: Volleyball and Basketball
2015-16 Highlights: Reilly helped ECC to second-place finishes and PIAA playoff berths in both volleyball and basketball this past season. The star of the Lady Crusaders basketball squad, she was a third-team All American Awards & Engraving D9Sports.com All-District 9 player after averaging 11.3 points, 9.0 rebounds. 2.0 steals and 2.0 blocks per game. In volleyball, the middle hitter was named a District 9 Class A All-Star.
Post High School Goals: She plans on going to college and maybe majoring in Education. She would like to play sports in college but hasn't decided what she would want to play. She hasn't had a lot of offers at this point.
Q&A With Reilly Herzing
D9Sports: Do you have a favorite sport, and if so why?
RH: I don't have a favorite sport because I am obsessed with both basketball and volleyball. Honestly, I love any sport I watch or play.
D9: What is your best high-school related sports memory and why?
RH: Both of my favorites memories come from my junior year. In volleyball, it was when we beat A-C Valley in the true-second place match after a really competitive day. And in basketball, it was when we went from being seeded 11th to being runners-up in D9.
D9: Has there been a coach and/or teacher who has influenced you the most in your high-school career to this point, and if so, why?
RH: Honestly, all my teachers and all of my coaches made a different and special impact on what I do on the court and in the classroom. Without any of them or my family and friends, I would not be able to anything that I do.
D9: What do you like best about playing sports in high school?
RH: Playing sports in high school was the greatest decision I ever made because the friendships and memories I made were unforgettable. I also like it because I know it builds up my confidence of many others. I just hope more girls continue to join sports. It is just so fun.
D9: What is the hardest part about playing sports in high school?
RH: Getting homework done or getting enough sleep at nights. Some days, I stay up after late games and work on homework for hours. But it taught me time management, and I am very luck for that.
D9: How much offseason work do you put into your sports?
RH: The greatest part about ECC is that they have opportunities for everyone to work on their sports all year long. That allows me to get up to the gym with my team and practice a lot.
D9: What is your favorite subject in school?
RH: History
D9: What do you like to do for fun when you aren't playing sports?
RH: Well, when I am not playing sports I'm usually playing sports. But, if not, I'm just hanging out with my friends, reading a book, taking a nap or hanging at the park.
D9: What are your goals for the upcoming school year both sports wise and academically?
RH :I just want my senior year to be memorable and enjoy the last year with my friends in the best way possible. I want my team and me to go farther than we did last year in all of my sports, and I really want to work hard in the classroom. I just want to work and try and make the best version of myself possible.