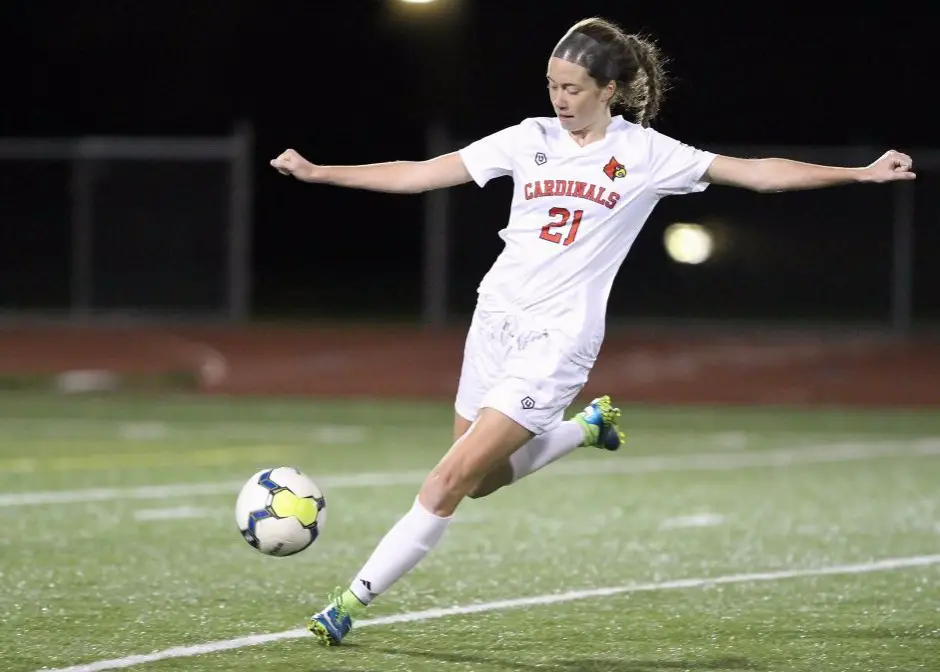 D9Sports.com and EYT Media are doing a series of player profiles on returning high-school athletes this summer. The year in school listed by the athlete is the year the athlete is entering this fall.
RILEY MEYERS – Senior – DuBois Central Catholic
Daughter of: Rusty and Lori Meyers
Sports Played: Soccer, Track & Field
2015-16 Highlights: A standout on both the soccer and track and field teams for the Lady Cardinals, Meyers was named a UAVSL Central Division All-Star this past season after playing center-defender for the District 9 Class A runner-ups. Her goal in the 75th minute of DCC's 2-1 semifinal win over Ridgway was the game winner propelling the Lady Cardinals into the D9 title match. In track, Meyers was the District 9 Class AA champion in both the 100-meter and 300-meter hurdles, was a member of DCC's sixth-place 4×400-meter relay team and also took 10th in the 200-meter dash. At the PIAA championships, she finished 20th in the 300 hurdles and 19th in the 100 hurdles.
Post High School Goals: Meyers verbally committed to play soccer at Clarion University around Thanksgiving and has seriously been considering running track for the Golden Eagles as well. She plans on majoring in paralegal and hopes to attend law school after graduation.
Q&A With Riley Meyers
D9Sports: Do you have a favorite sport, and if so why?
RM: Soccer is hands down my favorite. I've been playing soccer for close to 13 years, and it's a family tradition in the Meyers household. Soccer gave me a way to connect with my older sisters when i was younger and really built a close relationship among my whole family.
D9: What is your best high-school related sports memory and why?
RM: It would have to be winning the 100-meter and 300-meter hurdles this past year in track. Last year, I finished second in the 300 and fourth in the 100 so becoming champion was my top goal going into the season and I wasn't going to stop until I got it.
D9: Has there been a coach and/or teacher who has influenced you the most in your high-school career to this point, and if so, why?
RM: My dad and mom are definitely the ones I can thank the most. They made a pact that my dad works with my athletics and my mom works with my academics. They both make sure to push me to the best of my abilities in both aspects. Jon Arlet (my soccer club coach) is another coach who has definitely influenced me. He constantly pushes me and is always helping me become a better player, whether he knows it or not. All three of them have helped me build my determination and work ethic.
D9: What do you like best about playing sports in high school?
RM: Getting to know everyone is my absolute favorite part of high school
sports. I have made so many friends from all over the district and it's so comforting knowing that there are other student-athletes like you who may be going through the same struggles. High school sports create amazing bonds.
D9: What is the hardest part about playing sports in high school?
RM: For me, it was expectations. Both of my sisters were/are amazing athletes. So, once I got into high school I felt people had a vision of how I was going to perform based on how exceptional my sisters were and that was hard to deal with.
D9: How much offseason work do you put into your sports?
RM: I work constantly outside of the season. I try to touch a soccer ball every day whether it's having a hard practice or just going outside and juggling in my yard. With soccer comes running, so I'm usually in good shape once track season rolls around and even then I run extra and lift more.
D9: What is your favorite subject in school?
RM: History and English hands down. If I never had another math class again, it would be too soon.
D9: What do you like to do for fun when you aren't playing sports?
RM: I'm a big music person. I'm always listening to something. I don't sing or play an instrument, but I like to think I have a pretty solid collection and taste in music. I like to eat, chill with my friends and be outside.
D9: What are your goals for the upcoming school year both sports wise and academically?
RM :Sports wise, I'd like to finish with at least three gold medals: one in soccer and two (or more) in track. It would be cool to make it to the soccer district finals all four years I've been in high school. I'm also student-council president and my goals this year are to make sure everyone feels comfortable coming to school, get everyone involved and overall just make it an awesome year. I obviously want to keep getting good grades, too.