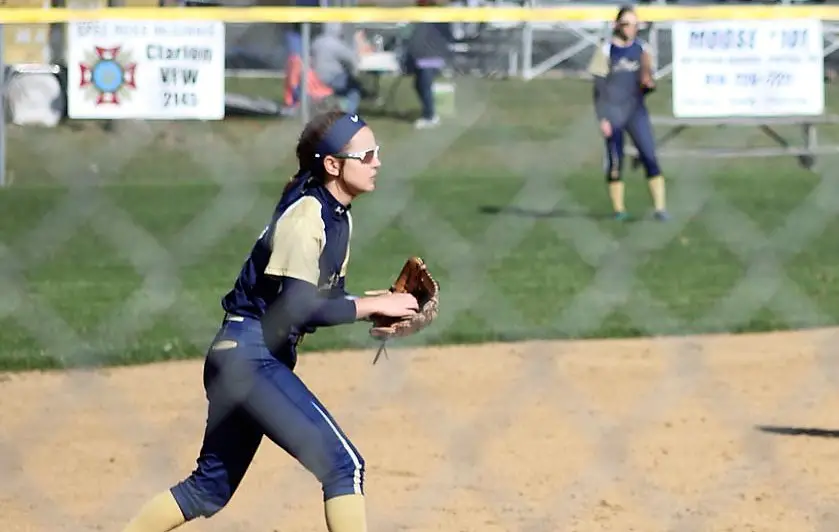 D9Sports.com/EYT Media is doing a series of player profiles on returning high-school athletes this summer. The year in school listed by the athlete is the year the athlete is entering this fall.
(Submitted photo)
SADIE MAHLE – SENIOR – CLARION-LIMESTONE
Daughter of: Jamie and Stacy Mahle
Sports Played: Volleyball and softball
Family Members Playing/Played Sports: Her aunt Amy played volleyball and basketball at Clarion-Limestone where the Lady Lions were the KSAC Champs in 1996.
2017-18 Highlights: She earned third-team All-KSAC honors in softball in the outfield after hitting .429 with a triple, a double, three RBIs and eight runs scored in 11 regular-season games.
Post-High School Plans: She plans to go to college and later to medical school to become an orthopedic surgeon. College softball is definitely something that she is considering depending on where I go to college.
Q&A With Sadie Mahle
D9Sports: What is your favorite sport to participate in and why?
SM: My favorite sport is softball. I play travel softball for the Clarion Cyclones also, so softball is a big part of my life.
D9Sports: What is your favorite memory, moment, game from playing high school sports?
SM: This year my softball team made it to the playoffs for the first time in a few years. It was really cool to see us reach the goal we set at the beginning of the season.
D9Sports: Why do you play high school sports?
SM: I play high school sports for the memories and friendships I make on and off the field. Playing sports allows me to grow as a person and learn so many things I wouldn't be able to experience if I didn't play them.
D9Sports: Who has had the most influence on your athletic career and why?
SM: My dad has had the biggest impact on my athletic career. Since I was little, he has always been my coach. Being able to work in the backyard with him or stay after practice is something I am grateful for. We have become so close through softball and I am so lucky for his constant support and love.
D9Sports: Do you remember the first sport you played and did you like it right away or did it grow on you?
SM: I first started playing softball when I was 5, and I wasn't really into it at first. I loved being able to go and play with my friends, but the sport itself definitely didn't start meaning so much to me until I was about 10.
D9Sports: Do you have a favorite number for a uniform? If so, what is the story behind that number?
SM: My favorite uniform number is 9. I had a really close friend who I played most of my years of Little League with who always wore number 9. She moved away before we got to Senior League, but now I wear number 9 to remember her and our friendship.
D9Sports: What would someone who doesn't know you be surprised to find out about you?
SM: I think people would be surprised at my abilities to balance all of my activities. I am able to work and play sports while staying at the top of my class. Academics are super important to me.
D9Sports: If you could eat dinner with anyone famous (living or dead) who would it be and why?
SM: I would want to eat dinner with Jennie Finch just because she is such an icon in softball and I would love to hear all of her experiences through her many years of softball.
D9Sports: Iphone or Android or Neither and why?
SM: iPhone. I love being able to have all of my stuff linked through my MacBook, apple watch, and phone. Being able to use all of them and have all of my information on each of them is really cool.
D9Sports: What is your go-to Social Media and why?
SM: I use Snapchat a lot to connect with friends who don't live close to me and see what's going on in their day to day lives.
D9Sports: What do you like most about high school and why?
SM: I like getting to meet so many people and grow up alongside them. The friendships I've made with my peers and teachers are things I will never forget.
D9Sports: What do you like least about high school and why?
SM: I hate the drama and cruelty of high school. It's so hard to fit in sometimes and bullying is really big nowadays. I just wish everyone could be nice to one another.
D9Sports: What question do you wish I would have asked you? And what is the answer to it?
SM: I wish I would've been asked what other activities I am involved in my school/community. I am involved in Academic Decathlon, Student Council, National Honor Society, Future Teachers of America, Red Cross Club, Foreign Language Club, and I was also Junior Class President.