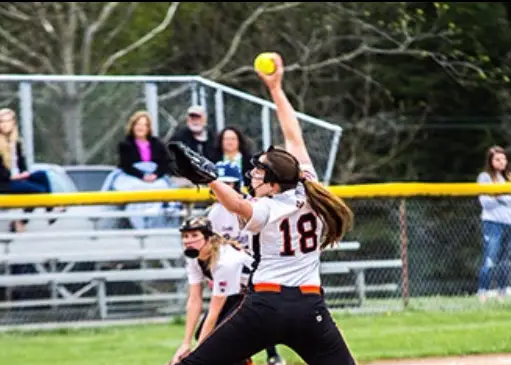 D9Sports.com and EYT Media are doing a series of player profiles on returning high-school athletes this summer. The year in school listed by the athlete is the year the athlete is entering this fall.
SADIE RUDESYLE – Junior – Clarion Area
Daughter of: Jeffrey Rudesyle and Dana Rudesyle
Sports Played: Basketball and softball
2015-16 Highlights: Rudesyle burst onto the high school sports scene this year in the spring emerging as the ace pitcher for Clarion and helping the Lady Cats to a second-place finish in District 9 and their first PIAA playoff berth since 2011 with the team finishing 15-9. Rudesyle was 12-6 in the circle with a 2.30 ERA that was right around 1.5 prior to her giving up 12 runs in the PIAA playoff game to West Greene, the eventual state runner-up. She struck out 100 and walked only 33 in 103 ⅔ innings of work. She also drove in 13 runs out of the cleanup spot for Clarion.
Post High School Goals: She plans on going to college and is considering playing softball when she gets there.
Q&A With Sadie Rudesyle
D9Sports: Do you have a favorite sport, and if so why?
SR: Softball, no doubt. Whenever I'm on the field playing, my stress goes away and I'm allowed to do what I love.
D9: What is your best high-school related sports memory and why?
SR: Whenever my team was able to win our playoff game to take us to the District 9 Class A championship game (a 4-2 win over Coudersport), which also guaranteed at least two more games I would play with our seniors.
D9: Has there been a coach and/or teacher who has influenced you the most in your high-school career to this point, and if so, why?
SR: Dan Shofestall (Clarion's manager) has taught me that softball is a mental game and that you have to think positive if you want to play to your full potential.
D9: What do you like best about playing sports in high school?
SR: My favorite things about playing high school sports are the people you meet and the memories you make. I've grown so close to so many people because of high school sports.
D9: What is the hardest part about playing sports in high school?
SR: The hardest part is balancing between grades and the sports. It's a lot, but it's definitely worth it.
D9: How much offseason work do you put into your sports?
SR: I play softball year round since I'm on a travel-ball team, so I never actually get a break from the sport
D9: What is your favorite subject in school?
SR: Math or science.
D9: What do you like to do for fun when you aren't playing sports?
SR: I love to hang out with friends and spend time with my family. I also love photography and art.
D9: What are your goals for the upcoming school year both sports wise and academically?
SR: My goal next year is for my softball team to win the District 9 championship. Academically, I'm going to continue to aim for the principal's list every quarter.