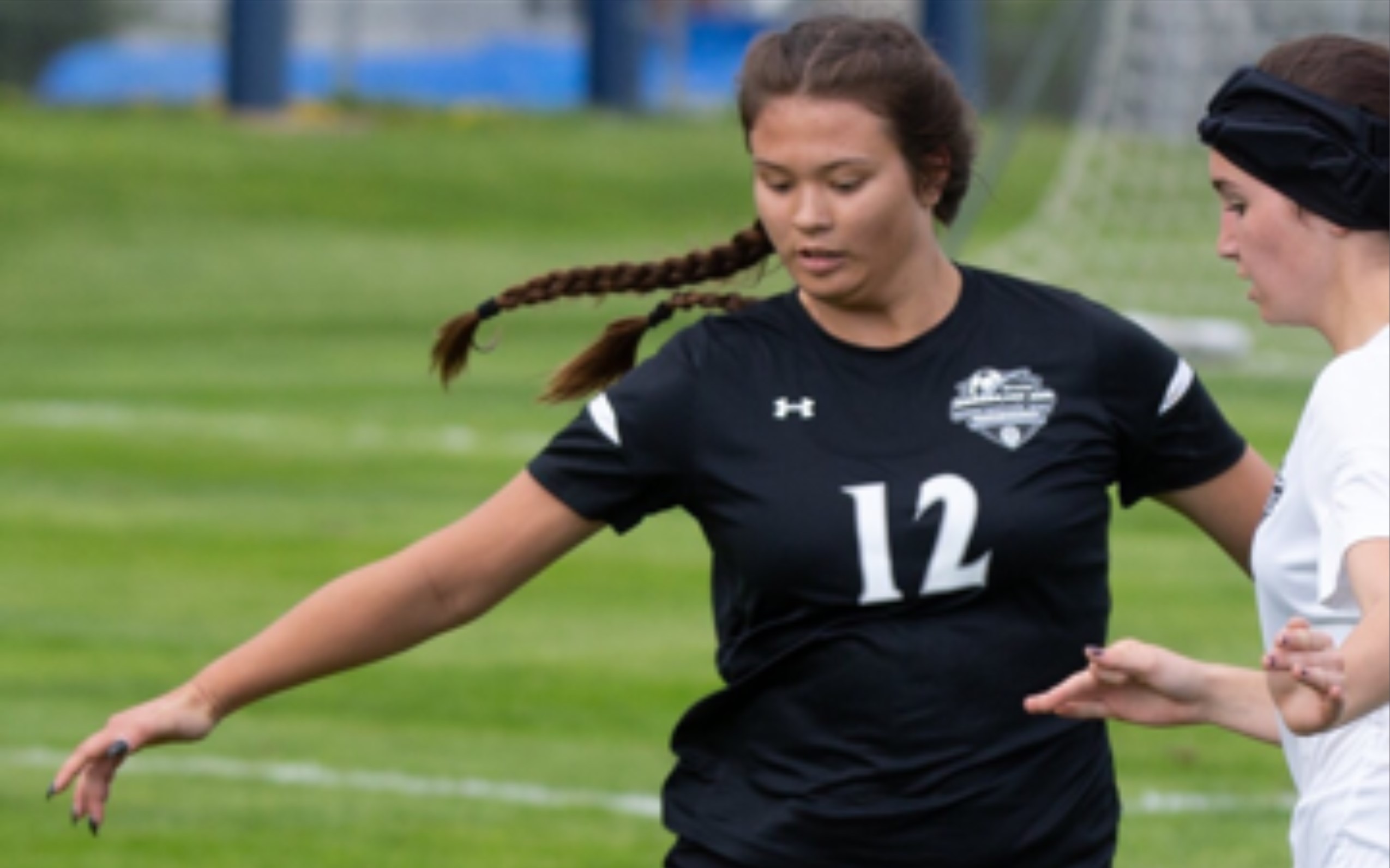 D9Sports.com/EYT Media is doing a series of player profiles on returning high-school athletes this summer. The year in school listed by the athlete is the year the athlete is entering this fall.
(Submitted photo. Photo by Patrick Crants)
SAMANTHA TANNER – SENIOR – SMETHPORT
Daughter of: Gina Tanner and Carl Tanner III
Sports Played: Soccer (as part of co-op at Port Allegany) and softball
Family Members Playing/Played Sports: I have a younger brother (Michael Tanner) that will be a sophomore this coming (2018-2019) school year. He plays football and baseball.
2017-18 Highlights: She was nominated for the second year in a row for District 9 All-star for soccer. She was also awarded team captain for soccer, and she tried out for the corporate cup soccer showcase game and made the team.
Post-High School Plans: She plans to attend college, undecided where or what for yet, and she would like to play soccer in college.
Q&A With Samantha Tanner
D9Sports: What is your favorite sport to participate in and why?
ST: My favorite sport to participate in would have to be soccer. The reason behind it is because it gives me a feeling like no other sport does. The rush of stepping on the field, I love the competitive feeling, the amount I push myself to always give my all no matter what the scoreboard says, and the amount you must push yourself to be the first one to the ball. Soccer just gives you a feeling like no other does.
D9Sports: What is your favorite memory, moment, game from playing high school sports?
ST: My favorite memory would have to be my sophomore year of soccer. We were at a tournament, in the first game I hurt my ankle very badly and when the athletic director was cutting the tape off my shoe (to keep the shoestrings taped down) to get my ankle ready to be seen by doctors, he accidentally cut my shoelace. The next practice my coach gave me a "lucky shoelace" an I have had it ever since and every time I get a new pair of cleats I switch out the one shoelace and keep my "lucky" one in. I know this shouldn't be my favorite memory because I got hurt in it but I'm lucky to have a coach willing to give up the "lucky" shoelace.
D9Sports: Why do you play high school sports?
ST: I play high-school sports because it is something to look forward to. I like the feeling of competing to be the best and I love the recognition at the end of the season.
D9Sports: Who has had the most influence on your athletic career and why?
ST: Definitely my parents. They have pushed me, encouraged me and they have never let me give up. They are the reason my love for sports started.
D9Sports: Do you remember the first sport you played and did you like it right away or did it grow on you?
ST: The first sport I played was soccer. I remember being nervous when I first saw the coaches and the soccer balls but then when I got on the field an started running I knew I loved the game.
D9Sports: Do you have a favorite number for a uniform? If so, what is the story behind that number?
ST: My favorite number for my soccer uniform is 12 but my favorite softball uniform number is 19. There really is no story as to why they are my favorite numbers for uniforms.
D9Sports: What would someone who doesn't know you be surprised to find out about you?
ST: I'm not really sure honestly, but I would have to say some people might find it surprising how seriously I take my sports.
D9Sports: If you could eat dinner with anyone famous (living or dead) who would it be and why?
ST: If I could eat dinner with someone famous I would go with Arthur Wharton. He was the first African-American to become a professional soccer player. I would just like to ask him about his experience.
D9Sports: Iphone or Android or Neither and why?
ST: I have tried both iPhone and Android. Personally, I like iPhone better no reason.
D9Sports: What is your go-to Social Media and why?
ST: My go-to social media is Twitter. Twitter keeps me updated on what is going on in sports and in the world.
D9Sports: What do you like most about high school and why?
ST: My favorite thing about high school would definitely have to be the sports. Also, I get to experience being on a team with some of my best friends an experience high-school with my friends.
D9Sports: What do you like least about high school and why?
ST: My least favorite thing about high-school would definitely have to be that I go to school in a small town. We don't have a lot of opportunities, we have even started cutting our sports programs and having to combine them with other schools.
D9Sports: What question do you wish I would have asked you? And what is the answer to it?
ST: I wish you would have asked me what coach has had the biggest influence on me. My answer would have been my high school soccer coach, coach Nick Wolosewicz III. The reason behind my answer is because since my freshman year whenever I was having a bad game or got down on myself he was there to pick me up and reminds me of the player I am. Without him, I wouldn't be half the player I am today. He's a big inspiration to me, he taught me how to "soccer." He made me love the game even more, even when I seemed unteachable he never gave up on me. I could say a lot about how thankful I am that he was able to coach me, but he knows how thankful I am for him.