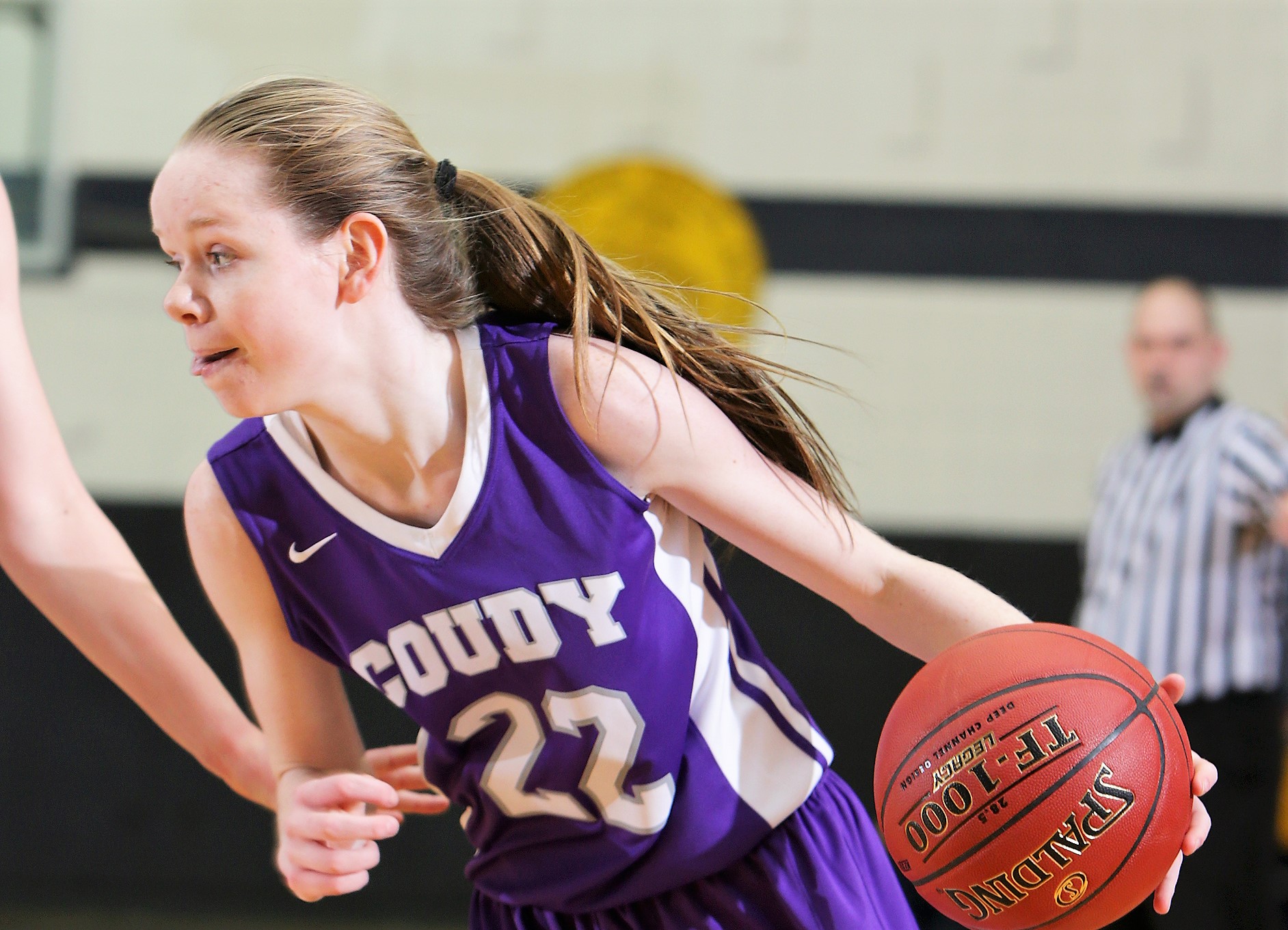 D9Sports.com/EYT Media is doing a series of player profiles on returning high-school athletes this summer. The year in school listed by the athlete is the year the athlete is entering this fall.
(Photo by Paul Burdick. Check out more of Burdick's work here)
SARAH CHAMBERS – SOPHOMORE – COUDERSPORT
Daughter of: Jennifer and Mark Chambers
Sports Played: As a freshman she participated in cross country, soccer, basketball and softball. As a sophomore, she plans on participating in soccer, basketball and softball.
Family Members Playing/Played Sports: All of her siblings have played for Coudersport as well as her parents. Her oldest brother, Michael, graduated in 2015 and participated in soccer, basketball and baseball. Her older sister, Annie, graduated in 2017 and she participated in golf and softball, and her older brother, Owen, will be a senior and he is a member of the soccer team, basketball team and baseball team. She also has a younger sister, Emma, who will be in eighth grade this year, who plans on playing high school sports as well when she reached ninth grade.
2017-18 Highlights: She was named the All American Awards & Engraving D9Sports.com District 9 Girls' Basketball Rookie of the Year after helping lead Coudersport to its second straight District 9 Class 2A title. She averaged 8.7 points per game while adding 4.3 rebounds, 3.0 assists and 2.0 steals per contest. She shot 40.5 percent on the season and hit 29 3-pointers while scoring in double digits nine times, including 15 or more points five times with a career-best 19 points vs. Cameron County. She lettered in all four sports she played and also helped Coudersport to a runner-up finish in Class 1A softball.
Post-High School Plans: She plans on attending a four-year university and hopes to play basketball.
Q&A With Sarah Chambers
D9Sports: What is your favorite sport to participate in and why?
SC: Although I enjoy many sports, my favorite to participate in is basketball. I enjoy basketball because it is something that I have been able to play with my brother, Owen. Watching Owen play has helped me to fall in love for the game even more because I know how hard he works and he has always been a huge inspiration to me, also being a fantastic role model.
D9Sports: What is your favorite memory, moment, game from playing high school sports?
SC: My favorite game from my freshman year would be the District 9 Championship in basketball. I enjoyed playing on the big floor at Tippin Gymnasium and having the opportunity to be a part of a district winning team.
D9Sports: Why do you play high school sports?
SC: I play high school sports because of the teamwork, discipline, time management, leadership, and other life lessons you are able to learn.
D9Sports: Who has had the most influence on your athletic career and why?
SC: My family has had the biggest influence on my athletic career. From my parents always supporting me, to my siblings challenging me to be the best athlete I can be.
D9Sports: Do you remember the first sport you played and did you like it right away or did it grow on you?
SC: The first sport I played was basketball in first grade. It was amusing to me because I was able to play with my brother and my dad.
D9Sports: Do you have a favorite number for a uniform? If so, what is the story behind that number?
SC: I don't have a favorite number.
D9Sports: What would someone who doesn't know you be surprised to find out about you?
SC: Someone that doesn't know me may be surprised to find out that I am afraid of chickens.
D9Sports: If you could eat dinner with anyone famous (living or dead) who would it be and why?
SC: If I could have dinner with any famous person it would be LeBron James. I have always loved watching and seeing the passion and love he has for the game.
D9Sports: Iphone or Android or Neither and why?
SC: I like iPhone more because I know the setup of iPhone's and how to work them.
D9Sports: What is your go-to Social Media and why?
SC: My go-to social media would probably be Snapchat because it is an easy way for me to stay in contact with my friends.
D9Sports: What do you like most about high school and why?
SC: What I like most about high school would be the friendships you make along the way. From playing sports or through academics, I have made many friends through school and many friendships that I will cherish.
D9Sports: What do you like least about high school and why?
SC: What I like least about high school would be the work and the stress.
D9Sports: What question do you wish I would have asked you? And what is the answer to it?
SC: I wish you would've asked me who is an athlete that I like to play alongside and that would be Shaelyn Black. I played basketball and softball with her and she is the type of person that will always put the team first as well as having a great work ethic. Her love for sports and her understanding of the importance of sports is something that I will miss very much once she graduates but I cannot wait to see where her life takes her.