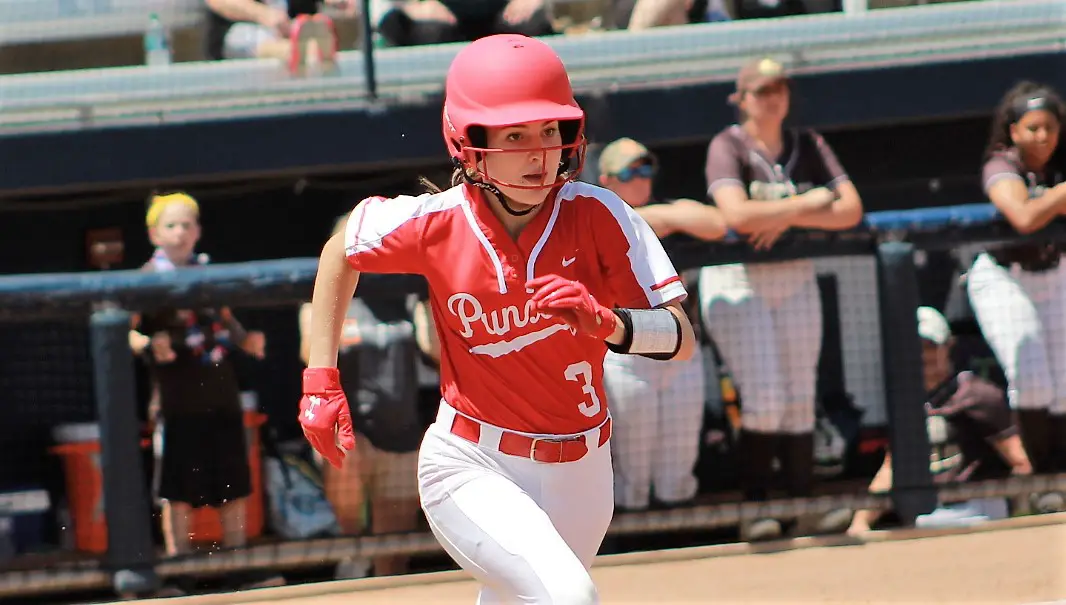 D9Sports.com/EYT Media is doing a series of player profiles on returning high-school athletes this summer. The year in school listed by the athlete is the year the athlete is entering this fall.
(Photo by Jared Bakaysa of JB Graphics. See more of Bakaysa's work here)
SARAH WEAVER – SOPHOMORE – PUNXSUTAWNEY
Daughter of: Michael and Heather Weaver
Sports Played: Basketball and Softball
Family Members Playing/Played Sports: Her brother Jacob and sister Olivia both play(ed). Her parents played as did her uncles, Jeff Weaver, Tom Weaver, Bill Weaver, Rob Weaver, Sean Weaver and Pat Weaver.
2017-18 Highlights: She made immediate impacts as a freshman in two sports for Punxsutawney and helped the Lady Chucks to District 9 titles in both basketball and softball. She then played a key role in Punxsutawney winning the PIAA Class 4A title in softball. In softball, she hit .408 with two home runs, four doubles, 15 RBIs and a team-leading 23 runs scored. In the PIAA playoffs, she hit a key home run in the semifinal win over Mt. Pleasant and was also 2-for-4 with two runs scored in the second round win over West Perry. In basketball, she was the third-leading scorer for the Lady Chucks averaging 7.6 points per game. That included seven double-digit contests, including twice reaching 15 points (vs. DuBois and vs. Bradford).
Post-High School Plans: She plans to be an architect, and she plans to play sports in college.
Q&A With Sarah Weaver
D9Sports: What is your favorite sport to participate in and why?
SW: My favorite sport is basketball because I love the adrenaline rush and the team game.
D9Sports: What is your favorite memory, moment, game from playing high school sports?
SW: My favorite memory is when we are in a close game against the other team. In that moment, every second counts.
D9Sports: Why do you play high school sports?
SW: I play high school sports because it keeps me in shape and I love the game and my team.
D9Sports: Who has had the most influence on your athletic career and why?
SW: My dad has the most influence on my athletic career because he has dedicated a lot of time towards me with every sport I play. He gives me the motivation to work harder and become better.
D9Sports: Do you remember the first sport you played and did you like it right away or did it grow on you?
SW: My very first sports were soccer and gymnastics. I did them both at the same time. Yes, I did like them right away because I loved kicking the soccer ball and flipping in the air.
D9Sports: Do you have a favorite number for a uniform? If so, what is the story behind that number?
SW: No. 24 is my favorite number for a uniform. The number 24 was the starting number of my basketball career.
D9Sports: What would someone who doesn't know you be surprised to find out about you?
SW: A few things that may surprise people if they did not know me would be that I am one of five children, I am a super-girly girl when I am outside of sports, and if there was a swim team at our school I would love to be on it.
D9Sports: If you could eat dinner with anyone famous (living or dead) who would it be and why?
SW: Chris Pratt because he has such a comical side and a strong faith.
D9Sports: Iphone or Android or Neither and why?
SW: iPhone because it's super easy to use and it's great for when you need something ASAP.
D9Sports: What is your go-to Social Media and why?
SW: Pinterest is my go-to social media because I love at looking at all the ideas people share.
D9Sports: What do you like most about high school and why?
SW: The one thing I like most about high school is spending time with my friends because I am a very social person.
D9Sports: What do you like least about high school and why?
SW: I do not like all the homework each teacher gives each night because I am already so busy with other extracurricular activities.
D9Sports: What question do you wish I would have asked you? And what is the answer to it?
SW: I wish you would have asked me what makes me want to become a better athlete. And what is the answer to it? The answer to that question is if you are given a God-given talent you should use it to the best of your ability because someone who doesn't have that would be so happy to have it.