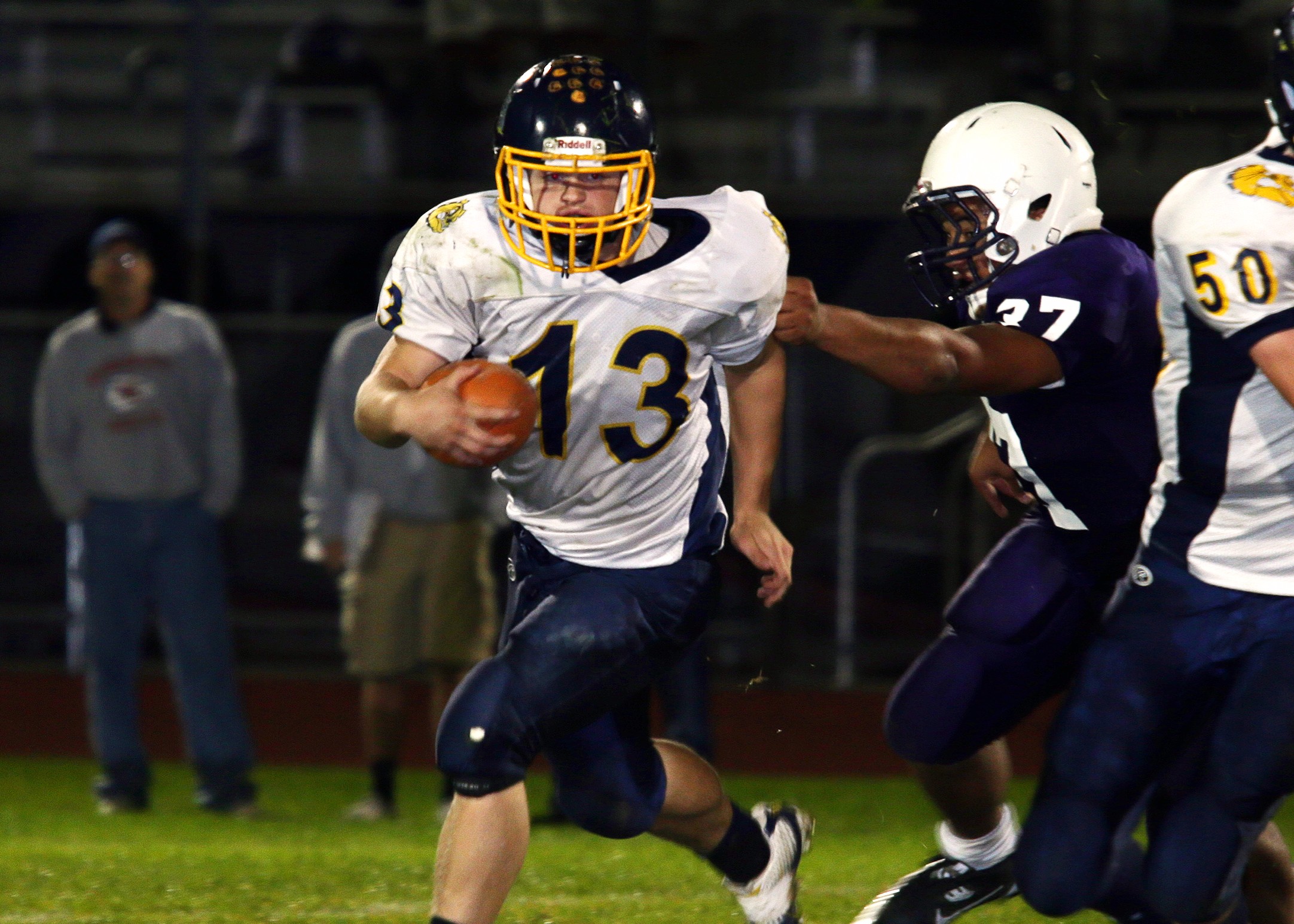 D9Sports.com and EYT Media are doing a series of player profiles on returning high-school athletes this summer. The year in school listed by the athlete is the year the athlete is entering this fall.
SETH DRUMMOND – Senior – Otto-Eldred
Son of: Dan and Jeannie Drummond
Sports Played: Football, Basketball and Baseball
2015-16 Highlights: A knee injury during football season cut Seth's sports playing short last year. He only played in five football games and then in a handful of baseball games near the end of the season. He still rushed for 305 yards and two touchdowns while making 29 tackles on defense. In 2014, he ran for 1,053 (7th in D9) and 11 touchdowns for the Terrors while also catching 23 passes for 342 yards and three scores while adding a kickoff return for a touchdown and making 50 tackles on defense, including four sacks, to go with an interception. In basketball, as a sophomore, he scored 6.7 points per game.
Post High School Goals: Seth plans on attending college to be a physician's assistant. He says playing college football has been a dream of his since he was young. He has an NCSA (recruiting) profile that has been viewed by over 25 schools and he is followed by 22 schools, mostly Division 3 with a few Division 2. He has been e-mailed by schools about attending their camps and stuff and he has e-mailed 10 schools to show interest.
Q&A With Seth Drummond
D9Sports: Do you have a favorite sport, and if so why?
SD: 6. Football is my favorite. I love football because it's a physical sport and is played with a lot of emotion. Also the game is very intense and fun to play.
D9: What is your best high-school related sports memory and why?
SD: I have so many memories lol. My favorite may be defeating Coudersport, an AML rival, my freshman year of football.
D9: Has there been a coach and/or teacher who has influenced you the most in your high-school career to this point, and if so, why?
SD: The coach who has influenced me the most is my father who has been an assistant coach for the Terrors for going on 3 years now but has been my personal coach since I was young. He's a great role model and was once a great player so he has taught me many things over the years.
D9: What do you like best about playing sports in high school?
SD: I love the bonding part of sports. I have made many or all of my friends through sports and competition and, to me, sports are all about having a good time and meeting new people but being competitive at the same time.
D9: What is the hardest part about playing sports in high school?
SD: The hardest part is playing sports while taking a hard course load in school. Being an accelerated student and a good athlete is very tough to do but I think I have done a good job of being both the past few years.
D9: How much offseason work do you put into your sports?
SD: I am a firm believer in athletes are made in the offseason. Every morning I get up and lift weights at my high school for an hour before school begins all school year. In the summer I weight train, condition, and practice football skills 4-5 days a week for at least 2-3 hours every day.
D9: What is your favorite subject in school?
SD: Biology and Math
D9: What do you like to do for fun when you aren't playing sports?
SD: If i am not playing sports I am watching them. I love watching NFL football and college football on the weekends. I also enjoying hanging out friends.
D9: What are your goals for the upcoming school year both sports wise and academically?
SD :My goal is to maintain a 4.0 GPA while taking several collegiate courses for academics. My goal is to bring home a banner to O-E in football by winning the AML North division.