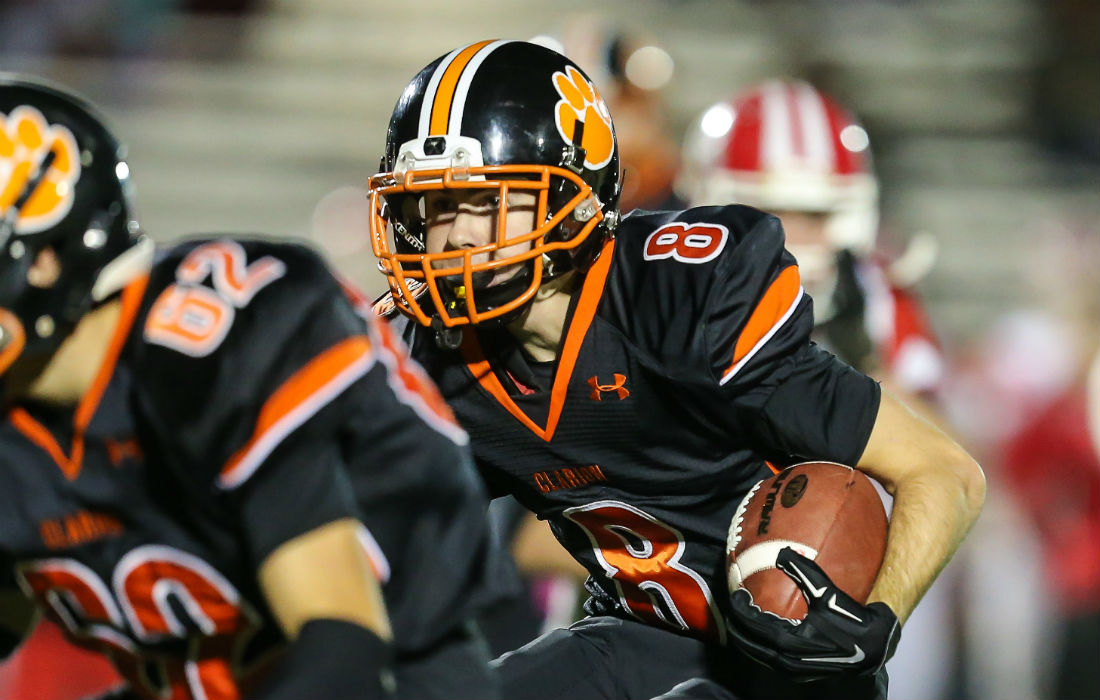 D9Sports.com and EYT Media are doing a series of player profiles on returning high-school athletes this summer. The year in school listed by the athlete is the year the athlete is entering this fall.
SPENCER MILLER – SENIOR – CLARION
Son of: Scott & Laura Miller
Sports Played: Football, Basketball, Baseball
2016-17 Highlights: Spencer was the starting quarterback for the Bobcats in 2016 and threw for 1,035 yards and 19 touchdowns while also running for 164 yards and two scores. He added 40 tackles, three interceptions and a fumble recovery on defense. In basketball, Spencer averaged 6.9 points per game while scoring in double figures seven times, and in baseball, he helped the Bobcats to the PIAA Class 1A title game by hitting a team-leading .412 with six doubles, a triple, 29 runs scored and 16 RBIs while stealing 18 bases.
Post-High School Goals: Spencer plans to attend college and pursue a degree in accounting while also playing baseball.
Q&A With Spencer Miller
D9Sports: What is your favorite sport to participate in?
SM: Baseball
D9: What is your favorite memory, moment, game from playing high school sports?
SM: My favorite memory is playing against Meyersdale in the state championship baseball game.
D9: Why do you play high school sports?
SM: I play sports because I am a competitive person and also for the friendships and memories I've made.
D9: Is there a high school player on your team or another team that you enjoy watching play? If so, why?
SM: Colton Rapp is fun to watch in football because he can always find a hole to get through even if there's not one.
D9: When not playing sports I would rather (pick one) – Go to work, play video games, shop, hang out with friends, play pickup sports, go the movies
SM: When not playing sports I would rather hang out with friends.
D9: If you could go anywhere in the world, where would it be and why?
SM: I would love to go to Alaska to see the mountains and wildlife.
D9: Who has had the most influence on you as a person?
SM: My parents have had the most influence on me at this point in my life because they push me to reach my goals.
D9: What do you like most about growing up in your hometown?
SM: I've known most of the kids in my grade since kindergarten and we are all close.
D9: What do you wish you could change about growing up in your hometown?
SM: It's difficult to get recruited from this area.
D9: What question do you wish I would have asked you? And what is the answer to it?
SM: What don't you know about me? I take my academics as seriously as athletics.
D9: Do you or have you had any siblings or other immediate relatives who have played high school sports?
SM: My brother, Bo Miller, plays football at Gannon and my Dad, Scott Miller, was an All-American football player for Lycoming college.