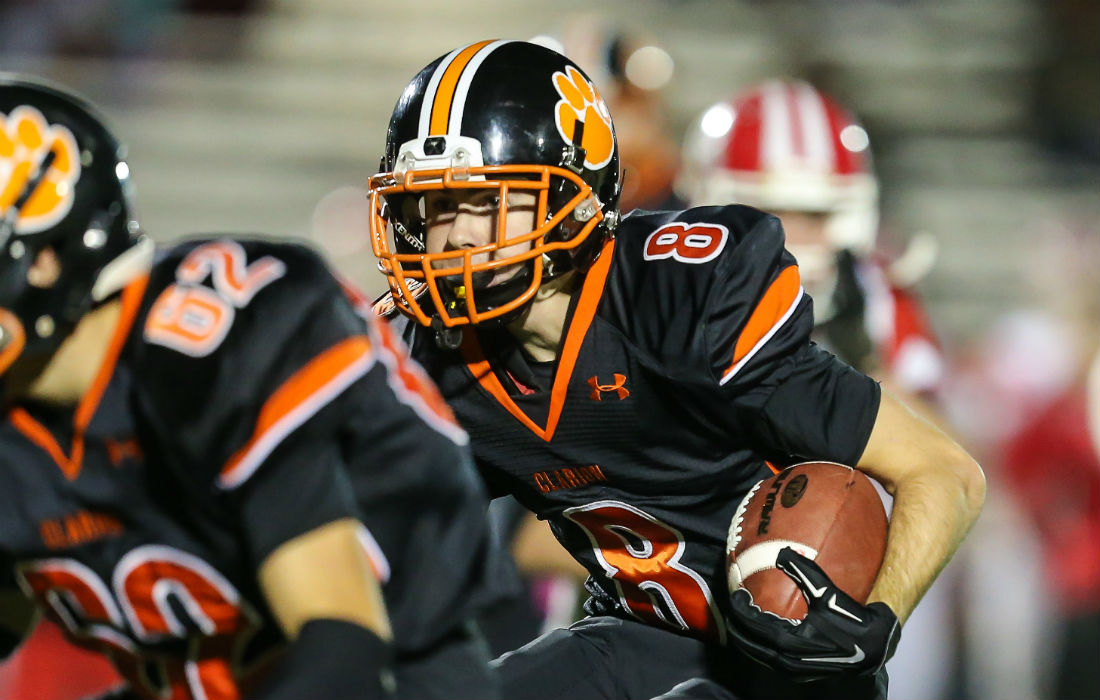 D9Sports.com and EYT Media are doing a series of player profiles on returning high-school athletes this summer. The year in school listed by the athlete is the year the athlete is entering this fall.
SPENCER MILLER – Junior – Clarion Area
Son of: Scott (Scooter) and Laura Miller
Sports Played: Football, Basketball, Baseball
2015-16 Highlights: In football, Spencer was all over the field for the Bobcats. He ran 22 times for 152 yards and two touchdowns, caught four passes for 46 yards and went 4 of 15 passing for 58 yards, a touchdown and an interception on offense while also making 67 tackles with 1 ½ sacks, two fumbles caused and four interceptions on defense. In basketball, he averaged 1.4 points per game for the District 9 Class A quarterfinalists 1.0 rpg. In baseball, despite missing time with an injury, he hit .385 with a double and four RBIs in seven games while stealing three bases and throwing a perfect inning of relief with two strikeouts.
Post High School Goals: Spencer plans on attending college and playing sports. He is currently leaning towards playing baseball in college and has gotten the basic recruiting e-mails and letters from different colleges.
Q&A With Spencer Miller
D9Sports: Do you have a favorite sport, and if so why?
SM: It's baseball because I have been playing it since I was about 5. Baseball is also a game of failure, which can be frustrating at times, but it also makes for a fun challenge and I enjoy challenges.
D9: What is your best high-school related sports memory and why?
SM: It would have to be when we beat Cranberry my freshman year in baseball. We were facing the best pitcher I had ever faced (Dylan Cyphert), and it was a 0-0 game going into the 8th inning. Our pitcher, Max Lane, couldn't pitch anymore so our coach put me in to close the game. We ended up winning in 10 innings, and it was my first time pitching in varsity.
D9: Has there been a coach and/or teacher who has influenced you the most in your high-school career to this point, and if so, why?
SM: My dad coaches me in football as a strong safety, and he helps me in baseball a lot too. He has influenced me a lot by always pushing me to do better because he knows that I can, and he has always told me to do the extra things outside of practice because that's how you really get better.
D9: What do you like best about playing sports in high school?
SM: I like meeting all of the people that I wouldn't have known if I hadn't played that specific sport. I also like the lessons that high school sports teach you.
D9: What is the hardest part about playing sports in high school?
SM: It has to be trying to balance my school work and work with the practices and games.
D9: How much offseason work do you put into your sports?
SM: I don't really have much of an offseason but all summer I am in the weight room at least three times a week, and I also try to throw passes to my receivers and get to the cage to hit a bucket of balls so I don't have to struggle as much on the first day of practice.
D9: What is your favorite subject in school?
SM: Most of the science classes
D9: What do you like to do for fun when you aren't playing sports?
SM: I like to go to the river, shoot my bow and hunt.
D9: What are your goals for the upcoming school year both sports wise and academically?
SM: My goals in football are to make all-conference, my goal in baseball is to get KSAC MVP and in school, I want to make principal's list all four quarters.