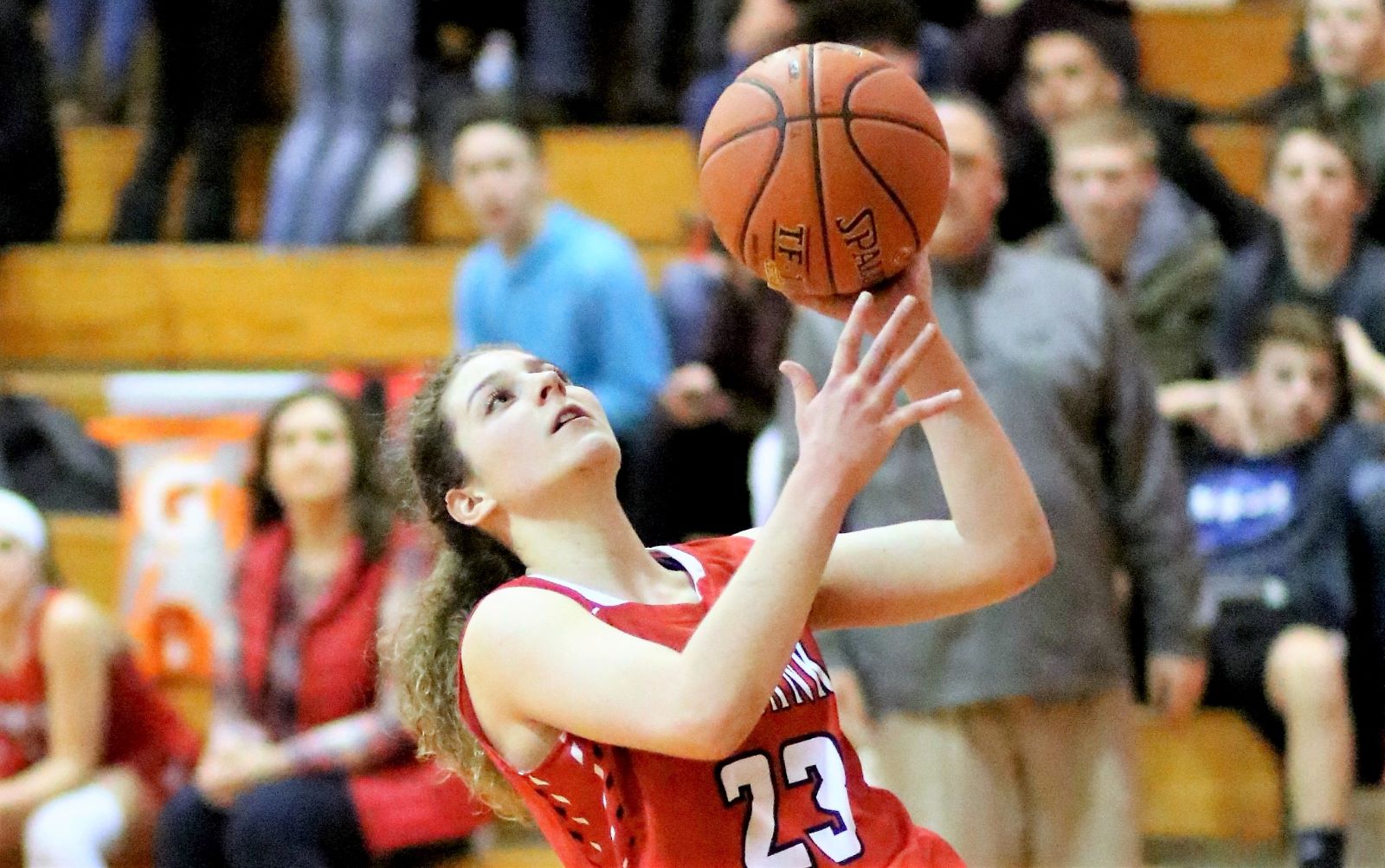 D9Sports.com/EYT Media is doing a series of player profiles on returning high-school athletes this summer. The year in school listed by the athlete is the year the athlete is entering this fall.
(Photo by Shelly Atzeni. Check out more of Atzeni's work here.)
TARA HINDERLITER – SENIOR – REDBANK VALLEY
Daughter of: Kaci and Rick Hinderliter
Sports Played: Volleyball and Basketball
Family Members Playing/Played Sports: Her older sister, Brooke, his Redbank Valley's all-time leading scorer with 1,997 career points and is a 1,000-point scorer at Slippery Rock University.
2018-19 Highlights: In basketball, she was named a third-team All American Awards & Engraving D9Sports.com All-District team member after averaging 18.2 points, 9.8 rebounds and 6.6 steals per game while hitting 41 3-pointers. In volleyball, she helped the Lady Bulldogs to the District 9 Class 2A title
Post-High School Plans: She plans to further her education and continue her athletic career while attending college.
Q&A With Tara Hinderliter
D9Sports: What is your favorite sport to participate in and why?
TH: Basketball is my favorite sport to participate in because I like the competitiveness and the fast pace.
D9Sports: What is your favorite memory, moment, game from playing high school sports?
TH: My favorite memory from high school sports would be winning the D9 championship in volleyball. My favorite game would be the Keystone game this year even tho we lost I felt like we all played as a team. My favorite moment would be the pass I made to Kelsie and she made a layup in the Union game.
D9Sports: Why do you play high school sports?
TH: I play high school sports because I like to compete.
D9Sports: Who has had the most influence on your athletic career and why?
TH: My sister Brooke had the biggest influence on my career I look up to her all the time. She was the one to make me fall in love with the game. She pushed me harder to try and make me a better player.
D9Sports: If you could change one thing about high school sports, what would it be and why?
TH: If I could change one thing in high school basketball I would add a shot clock.
D9Sports: If you could be president for a day, what would be the one major thing you would do?
TH: If I could be president for a day I would put more funds towards secondary education.
D9Sports: What is your ideal place to live? County, City, Suburb? Why?
TH: The ideal place to live is a small town. Living in a small town everyone knows each other. Small communities are a good thing because everyone comes together in time of need.
D9Sports: What would someone who doesn't know you be surprised to find out about you?
TH: Someone who doesn't know me would be surprised to find out that I never give up no matter what.
D9Sports: What is your strongest subject in school?
TH: My strongest subject in school would be psychology.
D9Sports: If there was one period in history or one event in history you could go back to, what would it be?
TH: I would go back to the 1980s so I could hang out with my mom when she was my age.
D9Sports: What question do you wish I would have asked you? And what is the answer to it?
TH: How's the camaraderie within your team? I feel that we have been playing really well as a team and we all get along really well even the freshman that are playing with us. We all do things off the court together and bond as friends.