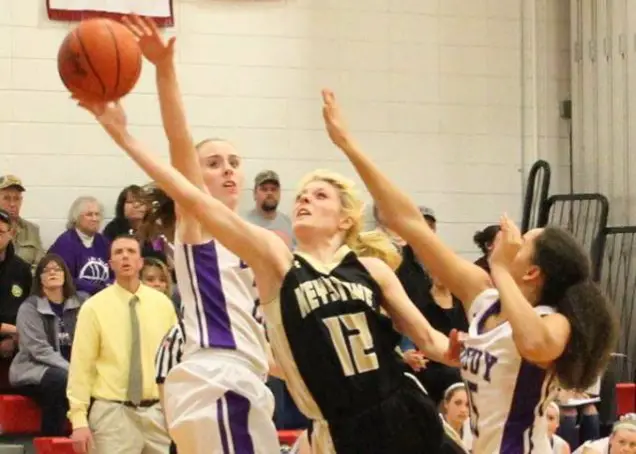 D9Sports.com and EYT Media are doing a series of player profiles on returning high-school athletes this summer. The year in school listed by the athlete is the year the athlete is entering this fall.
TAYLOR GEER – Junior – Keystone
Daughter of: Julie Hovis
Sports Played: Basketball, Volleyball, Cross Country and possibly track
2015-16 Highlights: Geer was a key reason Keystone won the District 9 Class A title while reaching the second round of the PIAA playoffs and finishing with 19-8 overall record. She was named a second-team All American Awards & Engraving D9Sports.com players after averaging a double-double with 13.3 points and 10.2 rebounds per game. She added 2.6 blocks, 2.3 steals and 1.1 assists per contest.
Post High School Goals: She plans on going to college after high school and majoring in something in either the medical field or the science field. She said she has a dream of being able to make other people's live better and to make an impact on people. She is hoping to play basketball in college and would love to play Division 1 hoops. She has already received at least a handful of letters from college including some from Division 1 schools.
Q&A With Taylor Geer
D9Sports: Do you have a favorite sport, and if so why?
TG: Basketball. I love the feeling of walking onto the court and being with my team and the feeling of winning, having fun and playing a great game both offensively and defensively. I also like how amazing it feels to have your hard work pay off.
D9: What is your best high-school related sports memory and why?
TG: Being District 9 champs last year in basketball. It was such an amazing feeling because no one thought we could do it due to the limited players we had. But we all worked so hard and made that our goal and made sure to achieve it. We had the most amazing friends and family who supported us, and we, as a team, made sure to support each other. It was also a joy watching our young players grow confidence through this win!
D9: Has there been a coach and/or teacher who has influenced you the most in your high-school career to this point, and if so, why?
TG: Coach Foust (Keystone head girls' basketball coach Barry Foust) has helped me so much throughout my years. He pushed me and is very hard on me. I'm so thankful for that because I know he sees my potential and love for the game. I have asked Coach Foust to stay late after many practices, and he was also willing to. He would help me with anything, and I know he saw my hard work. He's helped me not only grow as a basketball player but also as a person. He's always there to make me laugh and also to push me. Also, Coach Hovis, my mom, has always been there for me. She coached me from the beginning and was always way harder on me than anyone else. At the time, it bothered me. But, now I'm so glad she did that. She shoots with me just about every day and is always there for me on and off the court. It's amazing to have people like my mom and Coach Foust that love the game as much as I do. My family and friends have always supported me, and I couldn't do what I have done and am going to do without them. Lastly, our new volleyball coach Kari (Gougler, who was the athletic trainer at Keystone last year) is absolutely amazing. She has helped me through many things the past few years as I have had some struggles. She took such good care of me as our athletic trainer. I look up to her and her hard work a lot. She's helped me through injuries, and it wasn't for here I probably wouldn't have made it through the seasons physically.
D9: What do you like best about playing sports in high school?
TG: The amazing friends you make not only on your team but though playing other teams. When you play a team sport and you have a small team, you really get close with everyone and let me just say my teams are special to me. I'm so thankful for each and every one of them.
D9: What is the hardest part about playing sports in high school?
TG: It's balancing academics with athletics as well as a social life.
D9: How much offseason work do you put into your sports?
TG: I play and work at basketball every single day. I lift Monday through Thursday at 6 a.m. I run as well and do speed training. There's not a day that goes by that I don't have a ball in my hand or that I'm not doing something to make myself better. Sports are a HUGE part of my life and they help me through many things. I love working hard and being able to prove people wrong and show myself.
D9: What is your favorite subject in school?
TG: I would say science or history class.
D9: What do you like to do for fun when you aren't playing sports?
TG: That's a tough question. Sports are basically my life. I enjoy hanging out with friends and my boyfriend. I enjoy swimming and going on adventures. I love watching the sunrise, sunset and the stars. I love amusements parks and the beach as well.
D9: What are your goals for the upcoming school year both sports wise and academically?
TG :My goals for the upcoming school year are to excel immensely in my sports and academics. I plan on working extremely hard and putting a lot of time in NHS and especially basketball. Academically, being on the principals lists for my whole high school year is also part of a goal or mine.