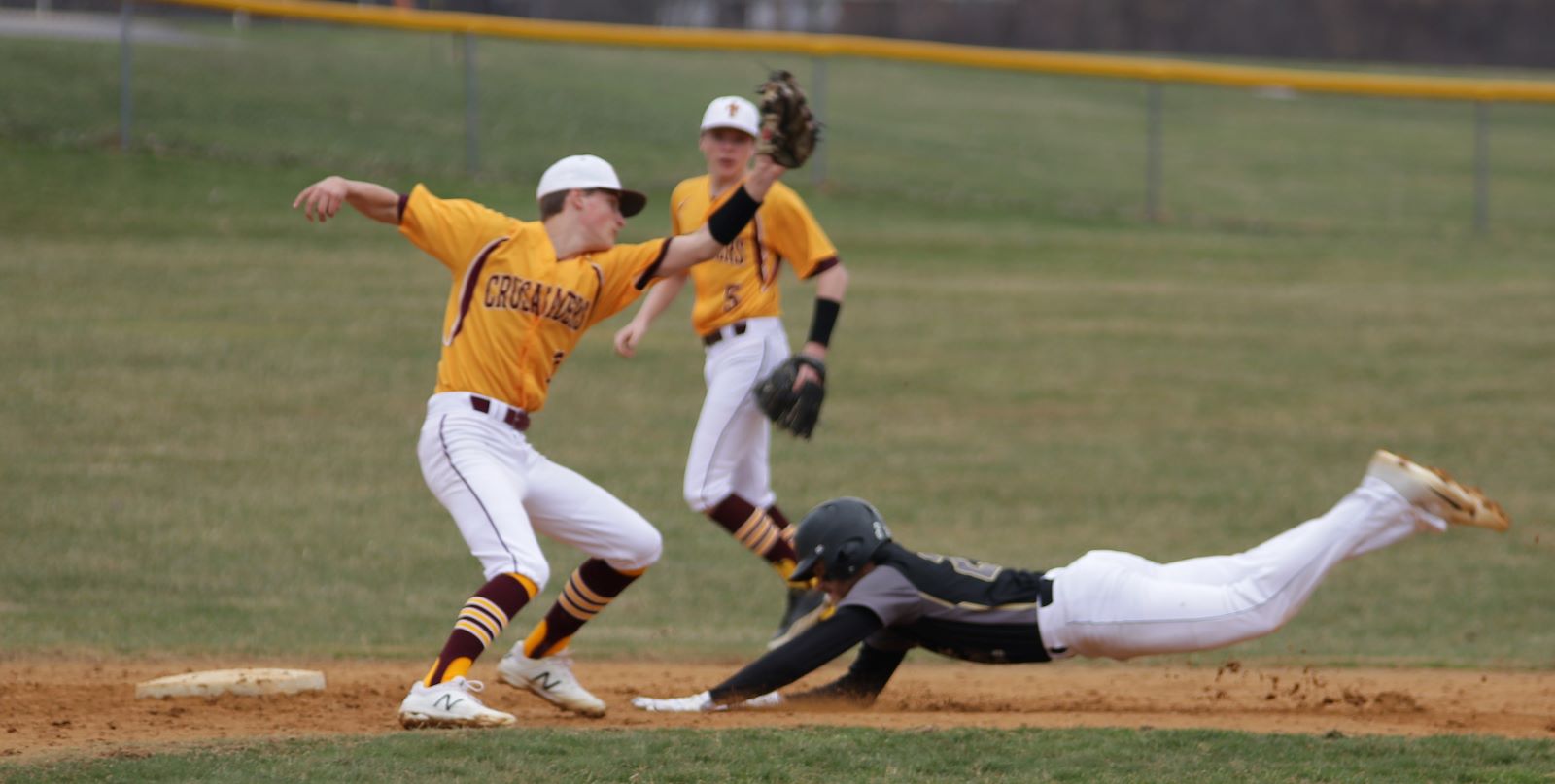 D9Sports.com/EYT Media is doing a series of player profiles on returning high-school athletes this summer. The year in school listed by the athlete is the year the athlete is entering this fall.
(Photo by Jared Bakaysa of JB Graphics. See more of Bakaysa's work here)
TOMMY SLAY – SOPHOMORE – ELK COUNTY CATHOLIC
Son of: James and Debbie Slay (Dad is the baseball manager at ECC)
Sports Played: Basketball and baseball
Family Members Playing/Played Sports: His dad played football, baseball, and basketball. His favorite sport was baseball. His cousin Brad Dippold played high school baseball and he looked up to him for his work ethic.
2018-19 Highlights: Helped ECC win the District 9 Class 1A baseball title by scoring nine runs, mainly as a pinch-runner. He also threw a four-hit shutout in his only appearance on the mound walking four and striking out three in a 1-0 win over Bradford May 16.
Post-High School Plans: He plans on going to college for a Graphic Design/Editing major as of now
Q&A With Tommy Slay
D9Sports: What is your favorite sport to participate in and why?
TS: My favorite sport is baseball because of the team effort involved, you cannot have one hero. Every ounce of every player has to be put in to have a true team win.
D9Sports: What is your favorite memory, moment, game from playing high school sports?
TS: My favorite memory is beating DCC in the district semifinals to advance to the D9 championship. They were the No. 1 seed.
D9Sports: Why do you play high school sports?
TS: I play high school sports to be with friends and to also play competitively.
D9Sports: Who has had the most influence on your athletic career and why?
TS: My father. He pushes me to do things that no one else does and gives me opportunities to get better any chance we get.
D9Sports: If you could change one thing about high school sports, what would it be and why?
TS: I would change the baseball season to late spring and early summer to get more games in. The early spring is tough to get games in.
D9Sports: If you could be president for a day, what would be the one major thing you would do?
TS: I would make soft tacos at Taco Bell be 5 cents again like it used to be on Sundays in my dad's day.
D9Sports: What is your ideal place to live? County, City, Suburb? Why?
TS: The city, I think there are more opportunities in the city and I love the environment.
D9Sports: What would someone who doesn't know you be surprised to find out about you?
TS: I'm in love with Billie Eilish (celebrity)
D9Sports: What is your strongest subject in school?
TS: Math
D9Sports: If there was one period in history or one event in history you could go back to, what would it be?
TS: The 70's
D9Sports: What question do you wish I would have asked you? And what is the answer to it?
TS: Celebrity Crush – Billie Eilish