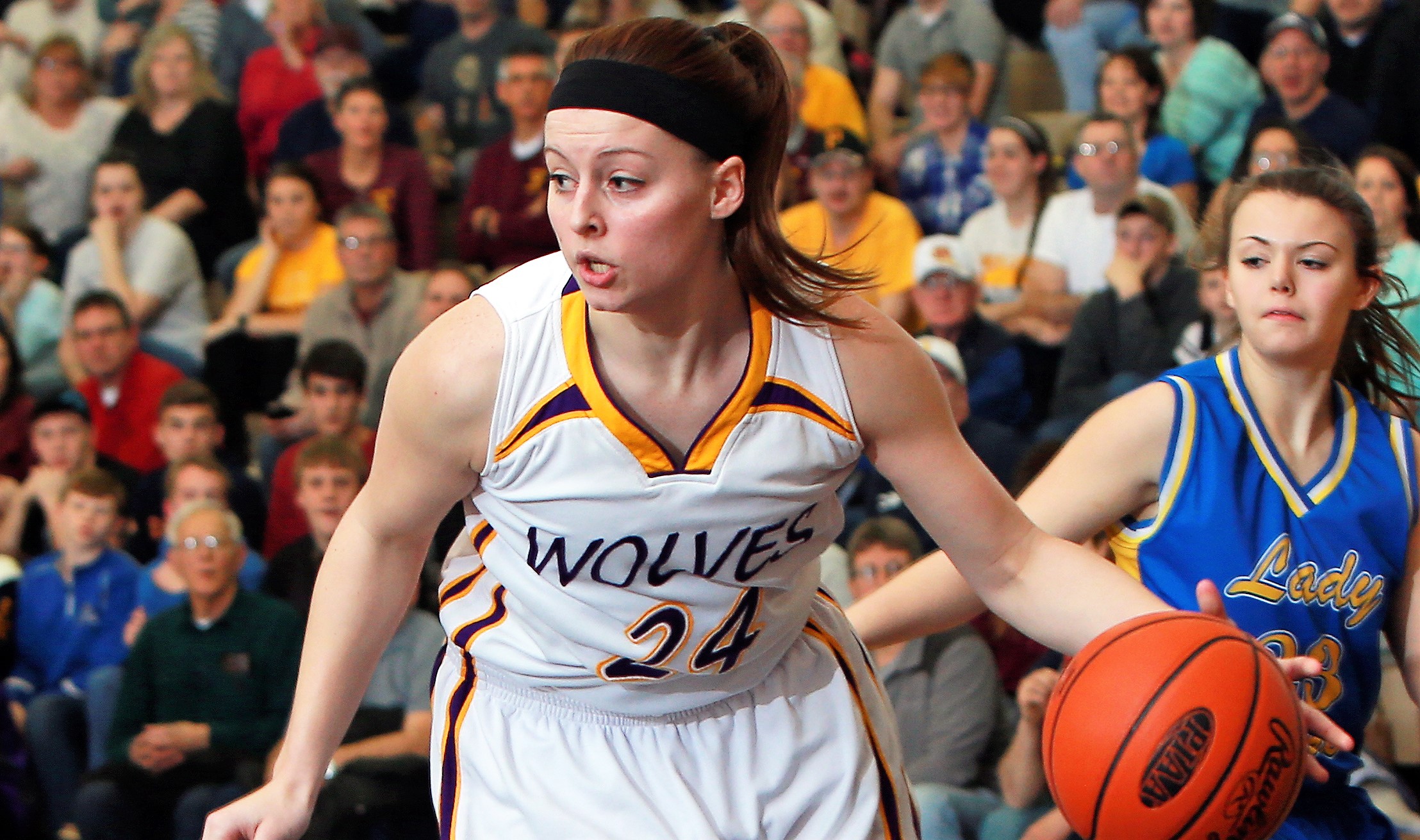 D9Sports.com and EYT Media are doing a series of player profiles on returning high-school athletes this summer. The year in school listed by the athlete is the year the athlete is entering this fall.
TORI OBENRADER – SENIOR – NORTH CLARION
Daughter of: Rick and Terri Obenrader
Sports Played: Volleyball, Basketball, Track & Field
2016-17 Highlights: Obenrader had one of the best all-around athletic seasons in recent memory. Her top sport was basketball where she was named a first-team Class 1A All-State player as well as the All American Awards & Engraving D9Sports.com District 9 Player of the Year after leading North Clarion to a 26-3 record, the KSAC and D9 1A titles and a berth in the PIAA quarterfinals. She led D9 in scoring at 23.6 points per game and was second in rebounding at 15.8 rebounds per contest while adding 3.2 assists, 2.0 steals and 1.0 blocks per game. In 29 games, she had 28 double-doubles and record 15 rebounds 18 times including seven 20-rebound contests. She scored over 4 points twice, including a career-high 42 while shooting 51 percent from the field and hitting 53 3-pointers. She set the North Clarion record for points in a season with 684 while also pulling down 457 rebounds and enters her senior season with 1,438 career points and 1,137 career rebounds. Obenrader isn't just a basketball player, however. She claimed District 9 gold in the shot put (40 feet, 4 ½ inches) while also finishing third in the discus (113-1) and fourth in the javelin (122-2) qualifying for the PIAA championships in all three throwing events. At the PIAA's, she was sixth in the shot put (40-2) and 10th in the javelin (126-2). Obenrader earned was also the co-KSAC MVP in the field events. In volleyball, Obenrader was also a first-team All-KSAC selection while helping the She-Wolves to the District 9 postseason.
Post-High School Goals: Obenrader plans on continuing her basketball career in college and has received interest from a number of schools, including Division 2 powerhouse Gannon. In college, she plans on majoring in Physical Therapy and Athletic Training.
Q&A With Tori Obenrader
D9Sports: What is your favorite sport to participate in?
TO: Basketball
D9: What is your favorite memory, moment, game from playing high school sports?
TO: It's hard to pick just one favorite memory when my whole junior year of basketball was so memorable. But I would have to pick winning the KSAC and District 9 titles.
D9: Why do you play high school sports?
TO: I play high school sports because it gives you the opportunity to have friendships you would never have any other way. It creates great bonds between teammates that are irreplaceable.
D9: Is there a high school player on your team or another team that you enjoy watching play? If so, why?
TO: I enjoy watching Olivia Boocks (A-C Valley) play because she is always playing at a fast pace and sees the floor extremely well and makes amazing passes. I also enjoy watching Abby Gatesman (her North Clarion teammate) play because she has so much knowledge of the game.
D9: When not playing sports I would rather (pick one) – Go to work, play video games, shop, hang out with friends, play pickup sports, go the movies
TO: When I'm not playing sports I would rather play pickup sports because sports are what I enjoy doing most.
D9: If you could go anywhere in the world, where would it be and why?
TO: If I could go anywhere in the world it would probably be Hawaii because it is such a beautiful place.
D9: Who has had the most influence on you as a person?
TO: My parents have had the most influence on me as a person because they always push me to do my best and have taught me how to be a good person.
D9: What do you like most about growing up in your hometown?
TO: What I like most about growing up in my hometown is that it's very small. Everyone knows each other and it's filled with great people.
D9: What do you wish you could change about growing up in your hometown?
TO: I don't really wish I could change anything about my hometown because I really enjoy growing up here.
D9: What question do you wish I would have asked you? And what is the answer to it?
TO: A question I wished you would have asked if what kind of players I enjoy playing against. I like playing against players that challenge me to play better and harder.
D9: Do you or have you had any siblings or other immediate relatives who have played high school sports?
TO: Both my brother Mitch and my sister Ashton played sports in high school. Mitch played basketball, golf, and Track and Field. Ashton played volleyball, basketball, and track and field. (Editor's note: Her brother was a multiple-time All-American in throwing events at the NCAA D3 level for Penn State Behrend and was also a 1,000-point scorer at North Clarion. Also, her cousin, Wendy Obenrader, is currently the all-time leading scorer at North Clarion having played in the early 1990s).