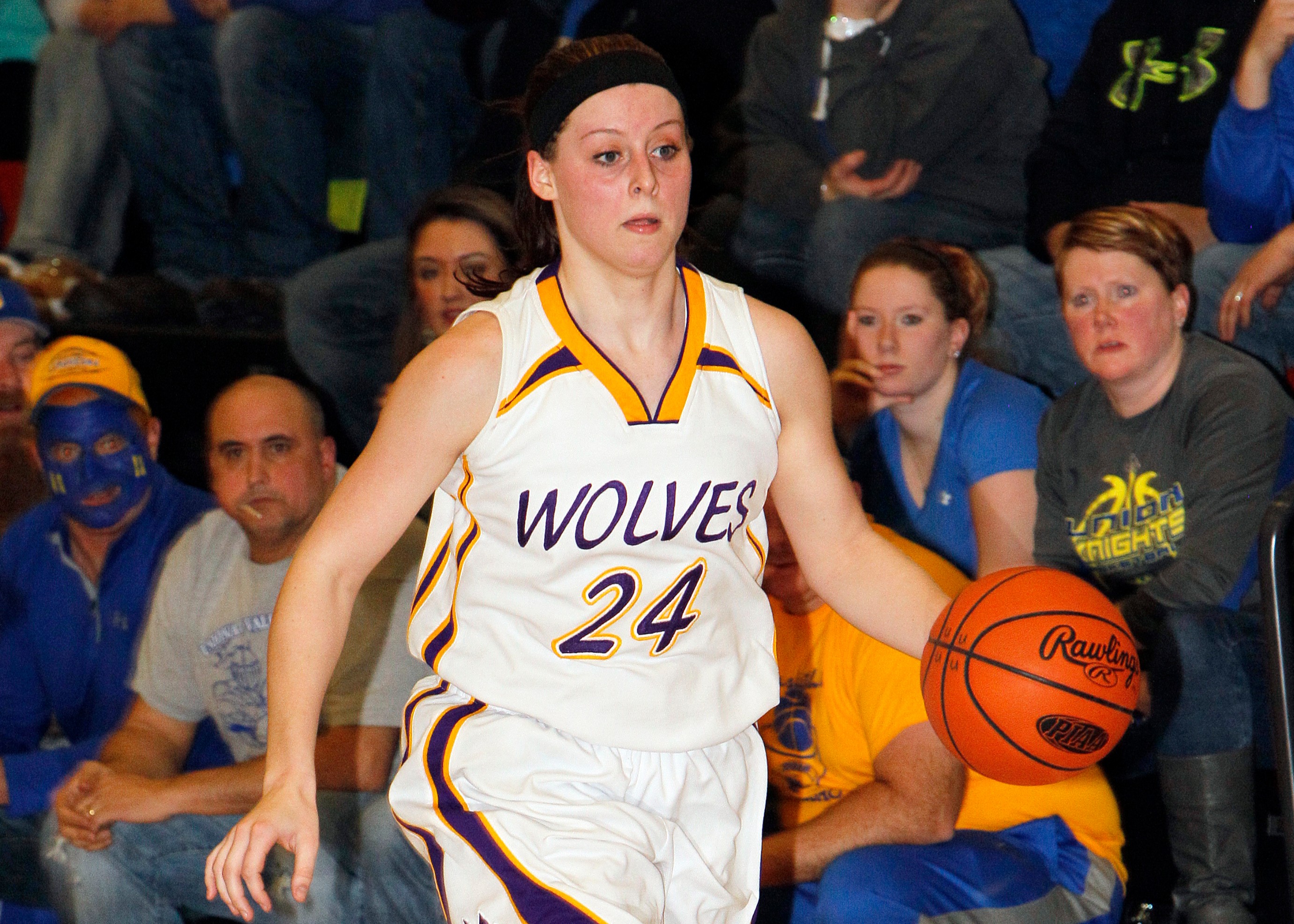 D9Sports.com and EYT Media are doing a series of player profiles on returning high-school athletes this summer. The year in school listed by the athlete is the year the athlete is entering this fall.
TORI OBENRADER – Junior – North Clarion
Daughter of: Terro and Rick Obenrader
Sports Played: Volleyball, Basketball, Track & Field
2015-16 Highlights: A three-sport athlete for the She-Wolves, basketball is Tori's No. 1 sport. She was a first-team All American Awards & Engraving D9Sports.com All-District 9 Selection as a sophomore after being a second-team choice and the Rookie of the Year in District 9 as a freshman. As a sophomore, she averaged a monster double-double of 16.4 points and 16.5 rebounds per game while recording double-doubles in 24 of her 27 contests and adding 4.4 assists, 1.9 steals and 1.6 blocks per game. She led North Clarion to the KSAC North title as well as the PIAA playoffs. During track season, she was fifth in D9 in the javelin and sixth in the shot put. In volleyball, she was a third-team All-District 9 selection.
Post High School Goals: Tori plans to attend college and major in Physical Therapy and Athletic Training. She also hopes to get her coaching certifications and she most definitely wants to play a sport in college. In fact, she says she would love to play both basketball and volleyball if possible and would choose a school where that could happen. She has already received a few e-mails and letters from some college coaches for both sports.
Q&A With Tori Obenrader
D9Sports: Do you have a favorite sport, and if so why?
TO: Basketball is my favorite sport. I enjoy playing all the sports I do, but basketball has always been on top. The feeling of playing the game and the intensity makes it that much more fun.
D9: What is your best high-school related sports memory and why?
TO: Getting the opportunity of playing with my older sister, Ashton, in not only one but all three of my sports my freshman year. But something I still will never forget is winning our double overtime game against Keystone (in January 2016). The experience was like none other, and the adrenaline that was going through the gym when the buzzer rang in the last overtime was the best feeling ever.
D9: Has there been a coach and/or teacher who has influenced you the most in your high-school career to this point, and if so, why?
TO: All my coaches, including Coach Dreihaup, Coach Irwin, Coach Foust, and Coach Bish, have always pushed me to be my best whether it was in school ball or in the AAU season. But one coach that has really influenced my game, is my mom. She coached me in elementary, Jr. High, and is now our JV coach. I may not always like listening to what she has to say, but in the end, she is still always there for me to help me improve my game.
D9: What do you like best about playing sports in high school?
TO: The bond that playing a team sport gives to you. You get great friendships with not only girls from your school but with girls from other schools as well.
D9: What is the hardest part about playing sports in high school?
TO: The hardest thing is not only maintaining your academics while working on your game, it's having good time management for a work schedule, social life and even sometimes finding time to eat.
D9: How much offseason work do you put into your sports?
TO: For basketball I play on two AAU teams, making for an all-year-round season. Volleyball I also play on a traveling team that gives me an extra season on that. Track and Field is usually just a workout with my brother (Division 3 All-American Mitch) in the backyard or weightlifting at the rec.
D9: What is your favorite subject in school?
TO: Math and Sciences have always been my favorite and what I excel in the most.
D9: What do you like to do for fun when you aren't playing sports?
TO: That is kind of a hard question because my life revolves around sports. But I like hanging out with my friends and family.
D9: What are your goals for the upcoming school year both sports wise and academically?
TO :I would like to maintain my A average in school and be successful in each of my sports.