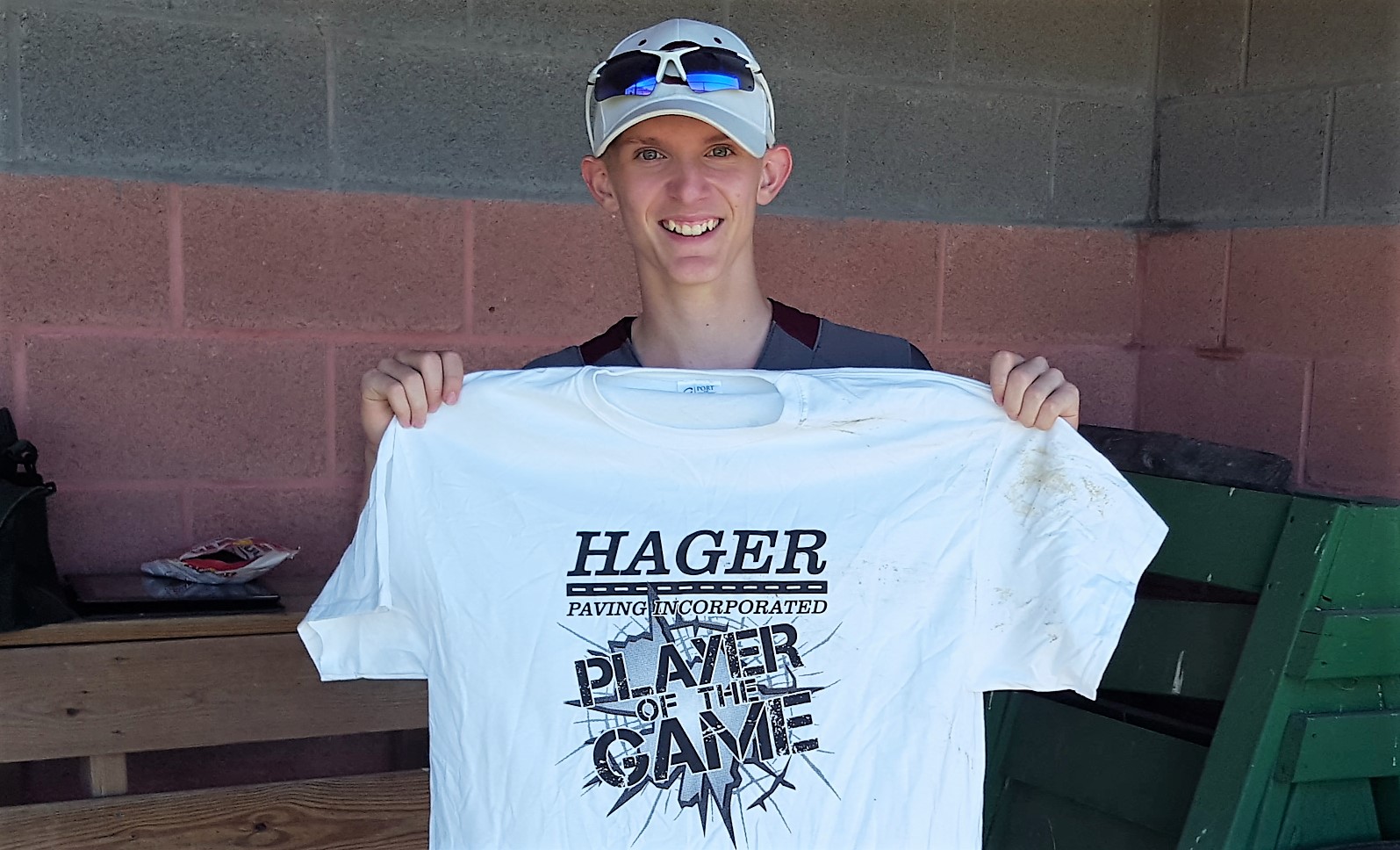 D9Sports.com and EYT Media are doing a series of player profiles on returning high-school athletes this summer. The year in school listed by the athlete is the year the athlete is entering this fall.
TREVOR GLADIN – SOPHOMORE – CRANBERRY
Son of: Matthew and Lynn Gladin
Sports Played: Baseball
2016-17 Highlights: Trevor exploded onto the high school sports scene in 2017 helping to lead the Cranberry baseball team to the District 9 Class 2A semifinals. He was named a second-team All-KSAC infielder as a freshman and was the starting shortstop. One of his more memorable games from the year was a 3-for-4 performance with triple, a run scored and six RBIs in a 19-0, three-inning win over Clarion-Limestone in Game One of a doubleheader May 15. He was also a key member of the Berries pitching staff and started his career with a shutout of North Clarion.
Post-High School Goals: Trevor would like to play college baseball and would also love to be a complete player by building his reputation and working hard.
Q&A With Trevor Gladin
D9Sports: What is your favorite sport to participate in?
TG: Baseball
D9: What is your favorite memory, moment, game from playing high school sports?
TG: Our first game against North Clarion when I pitched a 72-pitch, two-hit shutout and teammates chanting "he's a freshman" at the huddle.
D9: Why do you play high school sports?
TG: High school sports is a great way to get your name out there and it's also a really good chance to get to know people and even play with your friends. All around it's an amazing experience.
D9: Is there a high school player on your team or another team that you enjoy watching play? If so, why?
TG: I don't like to single anyone out. Baseball is a great sport in which different players have different positives and strengths. When all of those strengths come together as a team it's a beautiful thing to watch.
D9: When not playing sports I would rather (pick one) – Go to work, play video games, shop, hang out with friends, play pickup sports, go the movies
TG: Honestly, I would play video games. It's sort of like a stress reliever and kind of a time waster after practices.
D9: If you could go anywhere in the world, where would it be and why?
TG: If I could go anywhere in the world, I would go to my dream vacation of Paris, France. I absolutely love French culture and I feel that it would be an amazing sight seeing experience.
D9: Who has had the most influence on you as a person?
TG: My parents. Dad has been helping me day in and day out for as long as I can remember. He's been my biggest supporter through everything and I can't thank him enough for it. My mom is the one I turn to for advice when I have a bad game. She's always been good at lifting spirits and getting a good head back on people. My sister, Carlie, is someone I would also like to thank. She goes to all of my games and cheers for me and I could be more grateful. My high school coaches really played a role in this too. They were the ones to convince me to play high school sports and I'm so glad I did.
D9: What do you like most about growing up in your hometown?
TG: The best part about growing up in Cranberry is everyone knows everyone. You rarely can go to Walmart and go through there without stopping and talking to someone you know.
D9: What do you wish you could change about growing up in your hometown?
TG: I live among good hearted, hard working people in this area who care deeply for this school district and do their best to provide their families. I envy people of the Cranberry School District and appreciate what value they bring to this county. I would change nothing.
D9: What question do you wish I would have asked you? And what is the answer to it?
TG: I would've liked if you asked if I could spend time with one baseball player, alive or deceased, who would I choose and why? I would've chosen Jackie Robinson because he had to defy all odds to become the legend he is today. No one thought he would make it anywhere, but now he's in the hall of fame and will be forever remembered in the name of baseball.
D9: Do you or have you had any siblings or other immediate relatives who have played high school sports?
TG: My dad and my mom. My cousins Hunter Gladin, McKenna Greene, Kourtney Kiser, Kelsey Kiser, Kaitlynn Kiser, Mariah Howell, Melissa Stewart, Brian Weber, Michael Howell, Brett Newton, Taylor Newton, and Kalie Newton. My uncle, Dennis Gladin. My aunts, Jodi Greene, Wendy Shaffer, Kellie Knickerbacker, Laura Kiser.