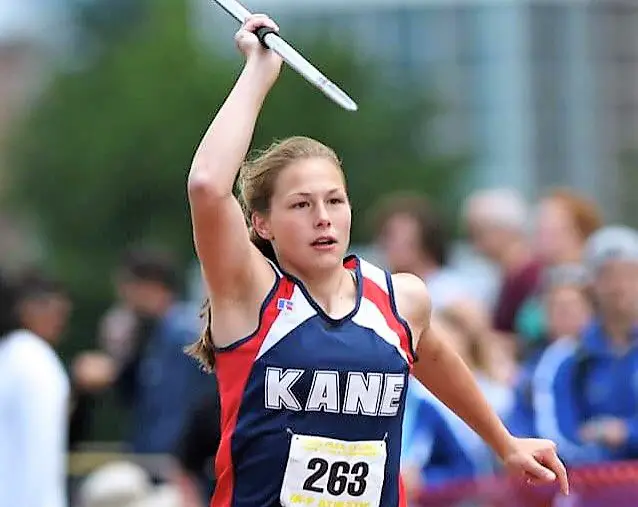 D9Sports.com and EYT Media are doing a series of player profiles on returning high-school athletes this summer. The year in school listed by the athlete is the year the athlete is entering this fall.
TRINITY CLARK – KANE – SENIOR
Daughter of: Deb & Buddy Caldwell (guardians) Brian Allen & Danise Clark (parents)
Sports Played: Volleyball, Basketball, Track & Field
2016-17 Highlights: Trinity finished in the Top 5 in three throwing events at the District 9 Class 2A track & field championships taking third in the javelin (125-feet, 6 inches), fourth in the shot put (38-½) and fifth in the discus (108-2) while qualifying for the PIAA meet in the javelin and shot put. At the PIAA Championship, she finished seventh in the javelin with a throw of 130-6 becoming one of three District 9 girls to medal in the event. During basketball season, she was part of Kane's dynamic duo inside with Ella Marconi and finished second on the team averaging 13.4 points per game while helping the Lady Wolves to a District 9 Class 2A runner-up finish and a PIAA berth. In volleyball, Clark lifted Kane to the D9 2A title game and a second-place finish.
Post-High School Goals: Trinity plans to attend college for track and major in childhood development or physical education
Q&A With Trinity Clark
D9Sports: What is your favorite sport to participate in?
TC: My favorite sport would be track because it's all on me. If I do good, it's on me. If i do bad, it's on me. I love how every day track makes you strive to be better than you were the day before. You are always trying to beat your personal best.
D9: What is your favorite memory, moment, game from playing high school sports?
TC: This was the hardest question to answer but I'd have to say bus rides with my teammates/best friends. They always made me laugh and we just have so many crazy moments together, especially Ella Marconi. She would always bring in crazy masks and scare us.
D9: Why do you play high school sports?
TC: I play high school sports because not only do I love sports but they teach me so many life lessons. They teach me that the harder I work the more I can receive, which is true in life. They have gifted me with positive mentors who have taught me many things. High school sports teach you about time management, discipline, how to be a leader when the time is right and how to be a follower. Finally, sports teach you how to set and achieve goals in sports and in life.
D9: Is there a high school player on your team or another team that you enjoy watching play? If so, why?
TC: I enjoy watching Tori Obenrader (North Clarion). She is such a powerhouse and I can't wait to see where sports take her. I'll be proud to say that I've played against her in high school.
D9: When not playing sports I would rather (pick one) – Go to work, play video games, shop, hang out with friends, play pickup sports, go the movies
TC: Hang out with friends
D9: If you could go anywhere in the world, where would it be and why?
TC: I'd want to travel to all 50 states in one trip
D9: Who has had the most influence on you as a person?
TC: I have a special bond with every one of my coaches. I know that if there was ever a time I needed them for anything they would be there. They are like my second parents but the most influential person is Rae El Whitman. She is the best coach on the court, on the field and most importantly, life. She is my human compass. She guides me through life and I couldn't thank her enough. She was a stellar athlete in high school and college. If you know her you'll agree that she's a great person and if you don't know her you're missing out.
D9: What do you like most about growing up in your hometown?
TC: From tragedies to victories Kane comes together, and I think that's the most important, having a hometown that will always support and believe.
D9: What do you wish you could change about growing up in your hometown?
TC: Kane is known as the "ice box" of PA. Some say it's because it's so cold but others say it's because of all of the drugs. So if I could change one thing about Kane it would be to decrease the amount of drugs we have in town.
D9: What question do you wish I would have asked you? And what is the answer to it?
TC: What sport do you wish you would have played? I wish I would have played football. I played as a pee-wee but back then I was a lot bigger than the dudes.
D9: Do you or have you had any siblings or other immediate relatives who have played high school sports?
TC: I do not.