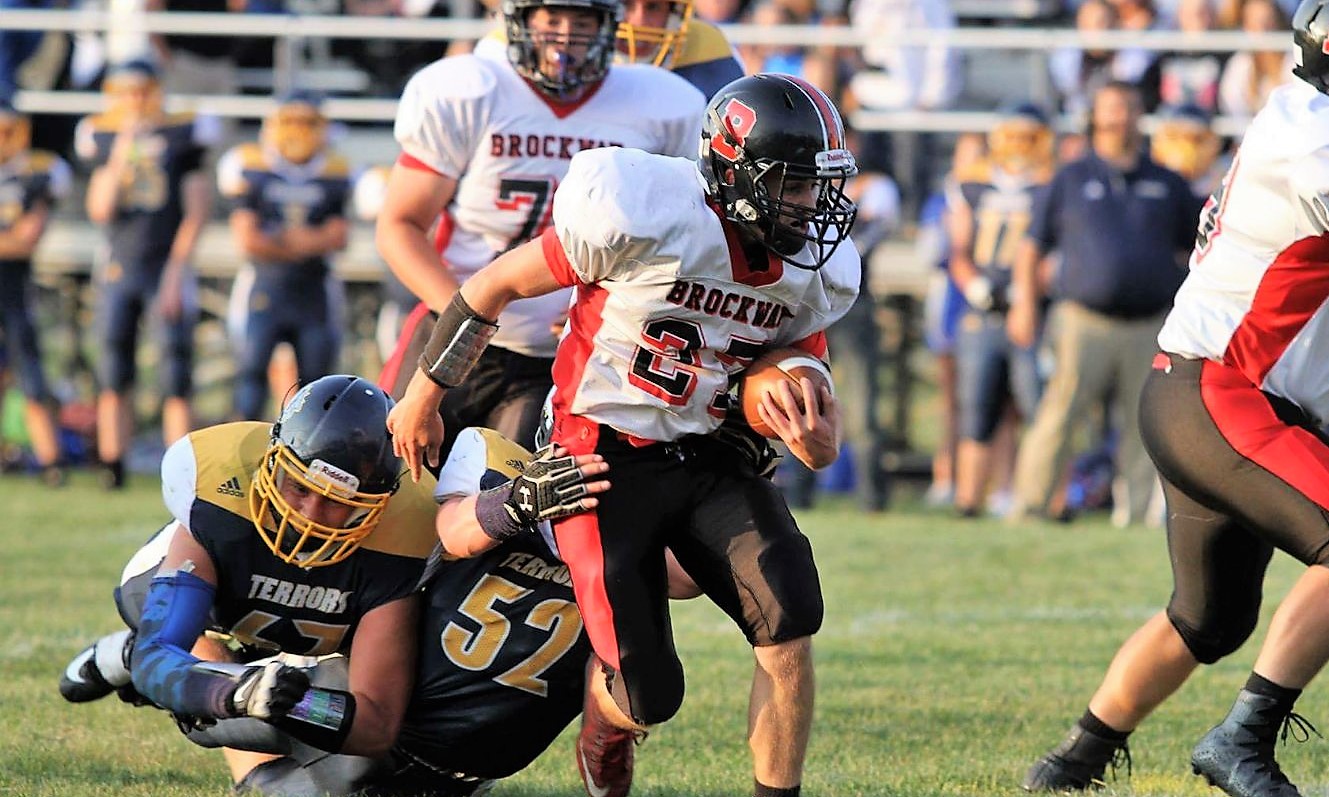 D9Sports.com/EYT Media is doing a series of player profiles on returning high-school athletes this summer. The year in school listed by the athlete is the year the athlete is entering this fall.
(Submitted photo)
TYLER SERAFINI – SENIOR – BROCKWAY
Son of: Jason and Melissa Serafini
Sports Played: Football and baseball
Family Members Playing/Played Sports: His father, Jason Serafini played football and golf. His mother, Melissa Serafini, played basketball, and soccer.
2017-18 Highlights: In football, he was the second-leading rusher for the Rovers running for 652 yards and six touchdowns while also catching 13 passes for 146 yards and two scores. In baseball, he hit .255 for the D9 2A runners-up with a double, 10 RBIs and six runs scored. He also stole six bases and was 3-3 on the mound with a 1.69 ERA. In a team-high 49 ⅔ innings pitched he struck out 50 while walking only 16.
Post-High School Plans: His goals for the future are to be accepted to Penn State DuBois and tryout for the baseball team.
Q&A With Tyler Serafini
D9Sports: What is your favorite sport to participate in and why?
TS: I like football and baseball equally. I like baseball because there are a lot of games so you get more playing time but I like the excitement and environment of football.
D9Sports: What is your favorite memory, moment, game from playing high school sports?
TS: My favorite memories are playing in any district championship games because of the increased excited, completion and atmosphere.
D9Sports: Why do you play high school sports?
TS: I play high school sports to compete, have fun and win.
D9Sports: Who has had the most influence on your athletic career and why?
TS: My father because he has always supported me, been the first person in the stands and makes sure I have the equipment needed to be successful.
D9Sports: Do you remember the first sport you played and did you like it right away or did it grow on you?
TS: I played baseball first and liked it right away.
D9Sports: Do you have a favorite number for a uniform? If so, what is the story behind that number?
TS: I have always worn the number 7 and just got used to it.
D9Sports: What would someone who doesn't know you be surprised to find out about you?
TS: They may be surprised about how hard I work to stay healthy. I lift weights all the time and stay late after practice to prepare.
D9Sports: If you could eat dinner with anyone famous (living or dead) who would it be and why?
TS: Kevin Hart because I would be laughing the entire time.
D9Sports: Iphone or Android or Neither and why?
TS: Neither, I don't spend a lot of time on my phone.
D9Sports: What is your go-to Social Media and why?
TS: Snapchat because it's the easiest way to talk to your friends.
D9Sports: What do you like most about high school and why?
TS: Hanging out with my friends and creating new games.
D9Sports: What do you like least about high school and why?
TS: Having to wake up early, I would rather sleep in.
D9Sports: What question do you wish I would have asked you? And what is the answer to it?
TS: What is the hardest thing about playing a sport? Sacrificing your time. Why do I do it? Because it is worth it in the long run. Playing sports teaches life skills.