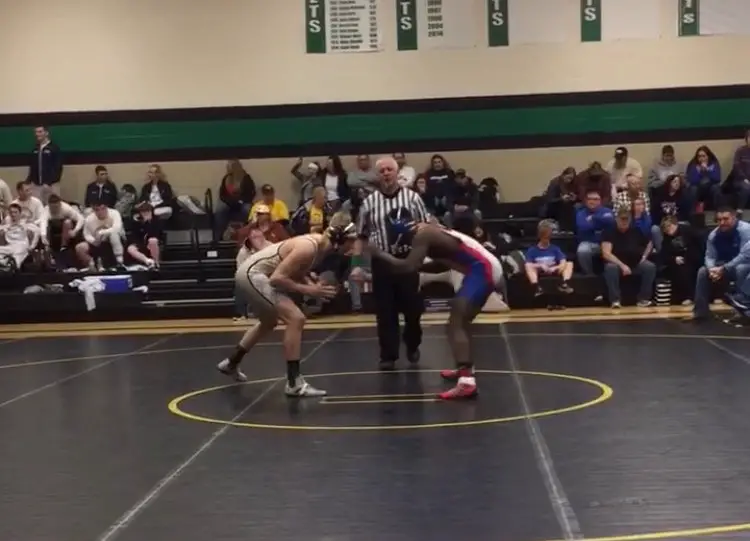 D9Sports.com/EYT Media is doing a series of player profiles on returning high-school athletes this summer. The year in school listed by the athlete is the year the athlete is entering this fall.
(Submitted photo)
TYLER VANTASSEL – SENIOR – KEYSTONE
Son of: Stewart and Shannon VanTassel
Sports Played: Football and wrestling
Family Members Playing/Played Sports: Marshall VanTessel (wrestling at Union City)
2017-18 Highlights: In wrestling, Tyler finished third in District 9 at 195 pounds and was a Regional Qualifier. He was also the Fred Bell runner-up and went 24-10 on the season with eight pins. In his wrestling career, he has two D9 third-place finishes and a second-place ending (as a sophomore) while going 66-30 with 20 pins. In football, he made 11 tackles in 2017 while also recovering a fumble and blocking a field goal.
Post-High School Plans: He plans to join the United States Military (he isn't sure which branch yet) and he hopes to be able to wrestle in the military.
Q&A With Tyler VanTassel
D9Sports: What is your favorite sport to participate in and why?
TV: Wrestling, easily, because I've been doing it since I was four and can actually win.
D9Sports: What is your favorite memory, moment, game from playing high school sports?
TV: My freshman wrestling season we sent four to regionals, including me. For me to qualify as a freshman was great! The senior class was awesome and made me the wrestler I am today! I cannot thank those men (Chad Rodgers, Evan Redding and Tyler Beal) enough.
D9Sports: Why do you play high school sports?
TV: To make a statement.
D9Sports: Who has had the most influence on your athletic career and why?
TV: For this question, it's very hard to just pinpoint one person. My mom and dad have always driven me and pushed me. The minute they started seeing success in me and even my little brother it became an addiction for them as much as us. I can never thank them enough for the endless hours and money.
D9Sports: Do you remember the first sport you played and did you like it right away or did it grow on you?
TV: It was wrestling. I remember coming home from Clarion and telling mom I hated it because there was no tables ladders or chairs, hahaha.
D9Sports: Do you have a favorite number for a uniform? If so, what is the story behind that number?
TV: I can't say i do.
D9Sports: What would someone who doesn't know you be surprised to find out about you?
TV: Nothing
D9Sports: If you could eat dinner with anyone famous (living or dead) who would it be and why?
TV: LaMarr Woodley, simply because he's a legend.
D9Sports: Iphone or Android or Neither and why?
TV: iphone because I don't like seeing pixel blocks when I take a selfie.
D9Sports: What is your go-to Social Media and why?
TV: Twitter. It seems to always be something on there to make me laugh.
D9Sports: What do you like most about high school and why?
TV: I hate high school, but my friends are pretty cool.
D9Sports: What do you like least about high school and why?
TV: The annoying people, and the kids who think they're entitled to something.
D9Sports: What question do you wish I would have asked you? And what is the answer to it?
TV: I wish you would have asked about my goals for this season. To be honest with you, I'm headed to the podium! We're working hard this summer and getting some good mat time.