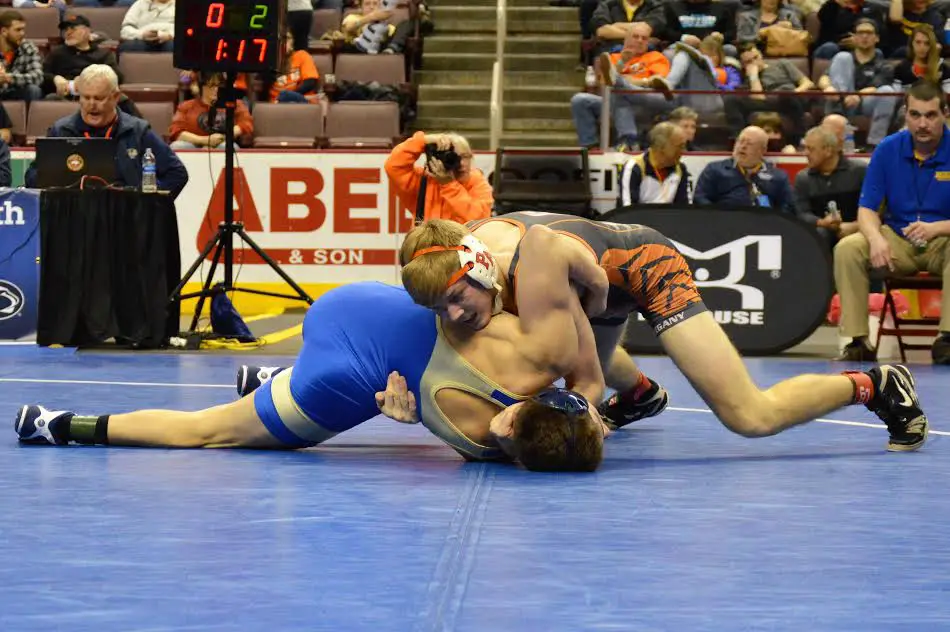 HERSHEY, Pa. — Port Allegany's Jake Kallenborn knows how to win the close matches and it has put him on the cusp of a state championship in the PIAA Class 2A Wrestling Championships.
(Photo of Port Allegany's Jake Kallenborn. Photo by Robin Brinkley)
Kallenborn won two one-point matches Friday, putting him into the championship match Saturday afternoon.
Kallenborn's opponent will be Northwestern Lehigh's Caleb Clymer. Clymer scored a second period escape to beat West Branch's Derek Yingling, 1-0. Kallenborn is the first Port Allegany finalist since Nick Budd in 2013 and is trying to become the first Gator to win a state title since Dale Budd in 1988.
Kallenborn won his opener Thursday, pinning Burrell's Shaun Gates in 5:58.
But Friday, the matches were much tighter and the Gator was up to the task.
In the quarterfinals, Kallenborn fell behind 4-1 midway through the second period before staging a big rally against Athen's Nate Bradley.
Bradley scored a takedown with 51 seconds left to go up 4-1. Kallenborn needed blood time a few seconds later.
When he came out of that, he escaped to cut the lead. Kallenborn then took down Bradley with 18 seconds left to tie the match at 4-4.
Kallenborn escaped to begin the third and it was enough.
In Friday night's semifinal match, Kallenborn beat Chestnut Ridge's Jared McGill, 8-7.
McGill jumped out to a quick 2-0 lead with a takedown at the 1:36 mark.
But Kallenborn dominated the rest of the period with a takedown at 1:16 and three nearfall points to take a 5-2 lead.
McGill responded with an escape and a takedown to tie the match at 5-5. Kallenborn escaped to end the second with a 6-5 lead.
He upped his lead to 7-5 with an escape to begin the third before McGill's takedown a few seconds later made it 7-7.
Kallenborn's escape with 1:39 left gave him the winning margin and a berth in the finals.
While District 9's Class 2A wrestlers have taken most of the spotlight during the season and the first two rounds of postseason wrestling, there are two 3A wrestlers that are still in the hunt for state titles after Friday's action at the PIAA Championships at Hershey's Giant Center.
DuBois Beavers 145-pounder Kolby Ho and Clearfield 195-pounder Luke McGonigal each won their quarterfinal matches Friday afternoon to make it to Saturday morning's semifinals.
Ho battled Penn Trafford's Job Chishko in the quarterfinals, scoring a 3-2 decision to guarantee himself a medal.
Chishko scored first with an escape, but Ho got going in the third period. His escape at the 1:48 mark tied it, then his takedown with 1:08 left made it 3-1.
Chishko put the heat on with an escape with 39 seconds left, but Ho held him off to reach the semis.
For McGonigal, a state medalist a year ago, he continued his dominating ways with a punishing, 13-3, win over Boyertown's Elijah Jones.
The Bison led 4-1 after one period, then used a 5-point move early in the second to go up 9-1.
McGonigal added a takedown and a nearfall to cruise home to a 13-3 win.
McGonigal will face Cathedral Prep's Dorian Crosby in the semifinals.
State College's Cole Urbas, the only wrestler to beat McGonigal this season, is still alive for a title after winning his quarterfinals match Friday.  Wins Saturday for the Little Lion and the Bison will set them in a Saturday night rematch of the Northwest Regional finale that Urbas won 1-0.
For the other D9 Class 3A wrestler still alive Friday, DuBois' Ed Scott was pinned by Parkland's Nick Dolak to end his tournament.
In Class 2A, in addition to Kallenborn, five other grapplers will medal Saturday.
They include two Brookville Raiders, 145-pounder Caleb Hetrick and 285-pounder Colby Whitehill.
Hetrick came up short in his bid for a state title when he lost 8-2 in the semifinals to Boiling Springs' Kollin Myers.
Whitehill dropped his first match, but three straight. Friday, he pinned Mount Pleasant's Cody Vokes in 4:35 and then beat Line Mountain's Jaron Renn, 5-2.
Whitehill dropped a 6-3 decision to North Penn's Justin Kriner in the fourth round consolations.
Two Curwensville Golden Tide wrestlers will also medal, including 113-pounder Blake Passarelli and 285-pounder Steve McClure.
McClure made the semifinals with a 5-1 win over Line Mountain's Jaron Renn. In the semis, South Side Beaver's Bishop McCoy had takedowns in the first and second periods to beat McClure, 4-3.
For Passarelli, he opened Friday morning's action with a 3-1 loss to Montoursville's Wyatt Lutz but rallied to beat Warrior Run's Noah Hunt, 17-8, to ensure a medal.
In his next match, Southern Columbia's Pat Edmondson beat Passarelli, 5-4.
Ridgway Elker 138-pounder Lukas McClain will also claim a medal. He was pinned in the quarterfinals but rallied to beat Penn Cambria's Brock Talko, 4-2 and Saucon Valley's Brock Talko, 5-1.
The remainder of District 9's 2A wrestlers fell from medal contention Friday.
For Brockway's Anthony Glasl, he dropped a consy match to finish 1-2. Garrett McClintick lost two matches and finish 1-2.
Redbank Valley's Mason Songer and Clarion's Tom Wurster each lost consy matches to be eliminated.
The same was true for Oswayo Valley's Dylan Pesock, Bradford's Tyler Thompson, Ridgway's Logen McClain, Kane's Alec English and Coudersport's Julian Smith and Elijah Ayers.
Saturday's action begins at 9 a.m. with the Class 3A semifinals at 9 a.m.
The 2A place matches, including finals, begin at 2 p.m.
The 3A place matches, including finals, begin at 7 p.m.