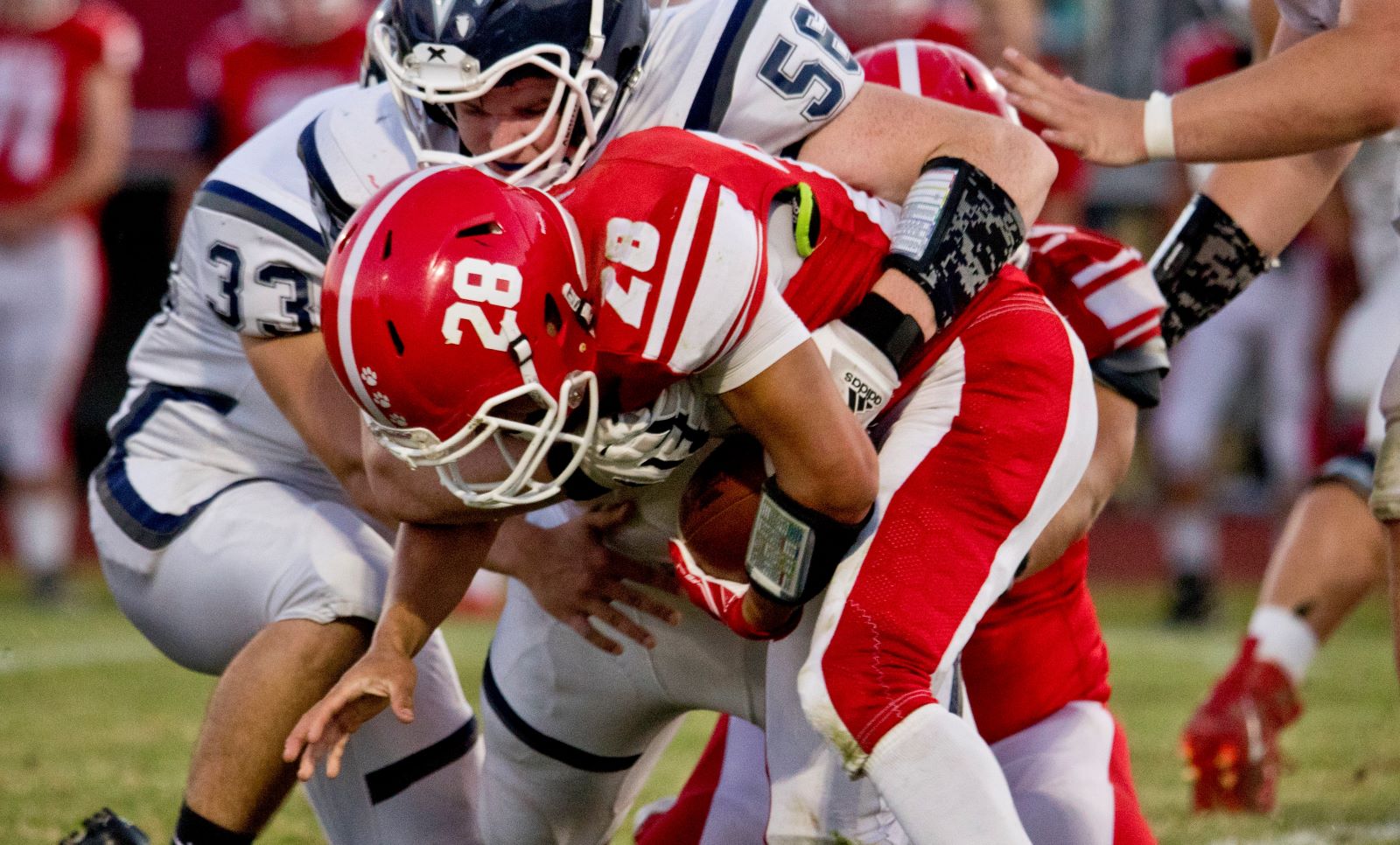 High school football preview: Punxsutawney Chucks
(Photo courtesy of Kyle Yates)
Punxsutawney Chucks
Head Coach: Alan Nichol
Last Season: 0-10, Last Place in D9 Large School Division
Key Returners: Kameron Falgout (682 rushing yards, 289 passing yards), Josh Miller (76 tackles, 7.6 tackles per game) and Brandon Ishman (5.7 tackles per game)
Quick Hit
The Punxsutawney Chucks are looking to rebuild their squad after a winless 2019 season. Leading the Chucks' reconstruction is former head coach Alan Nichol, who returns to lead Punxsutawney in 2020. Nichol is promising a more physical brand of football this season, as he looks to capitalize on his experienced offensive and defensive lines. Stellar athlete Kameron Falgout is expected to start under center, and he possesses a playmaking threat with both his arm and his legs. If the Chucks can avoid turnovers and maintain a high level of physicality, they should prove to be a competitive opponent who could surprise unsuspecting teams.
What to Watch For
Physicality is the cornerstone of Punxsutawney's new system under head coach Alan Nichol, who returns to the lead the Chucks after a five-year hiatus from the team. While the coronavirus has limited the number of full-pad practices available for teams prior to the start of the season, Nichol has emphasized physicality at all points in the preseason: "For the most part, we're more of a physical team and not a finesse team. I think that's [been] a big switch for the for the players."
Nichol believes his players are embracing his new philosophy: "I think the players have listened to what we've told them. We want to be a physical football team, and [to do that] they're going to have to practice differently, and I think we have been practicing differently. We're not where we want to be, because we haven't been together that long, but I see that the players want to get there. I think the easiest way to improve yourself is to be more physical. You have to have physical practices, and you have to practice that way."
For Nichol, focusing on strength and physicality will also enable his team to play looser football: "[We can't] worry about making mistakes. We just [have to] get off the ball hard and low and see what happens. If you make a mistake, you make a mistake, that's all a part of the game. It's not that easy up front [when] you got people right on you, but you got to get off the ball and hit somebody. I've been in a lot of film sessions in my many years in football, and I've never really seen anybody get chewed out for pancaking somebody, even if it was the wrong guy, and that's what I tell [my players]."
If the Chucks can be stronger and tougher than they were last season, they should have a solid base from which to rebuild their program. Football is a collision sport, and thriving in this contact is vital for any successful team. The uptick in physicality should help the Chucks on both sides of the ball, as they can better clear running lanes for their fast athletes to exploit, while also improving their ability to shut down opposing backs.
Kameron Falgout was a versatile threat for the Chucks in 2019, ranking second on the team in passing, rushing, and receiving yards. This season, Falgout has earned the starting role under center, and Nichol is eager to use his unique skillset: "He's a big, strong, and pretty fast player, and you definitely want to see him with the ball in his hands, [both] throwing [and] running the ball." After the graduation of leading receiver Max London, Falgout will have to find a new favorite passing target. Nichol has  tapped Alex Phillips and Gabe Kengersky as potential wide receiver options, noting that Kengersky had a "good summer" and is "stronger and faster" than he was last season.
On the ground, Punxsutawney will look to their veteran offensive line to provide stability. Josh Miller and Brandon Ishman highlight an offensive line that is looking to step things up this season, and Nichol is excited to build around his experienced players. "It's good to have good solid guys like [Miller and Ishman] to build on and [help] bring the younger guys along," said Nichol, who is looking also to Quinton Voelkel, Gage Bair, and Logan Gotwald to make a big impact on the offensive front. Meanwhile, the strong front five should carve some rushing lanes for new feature back Zeke Bennett, whom Nichol describes as "quick-footed" and a multitalented threat out of the backfield.
Josh Miller and Brandon Ishman are leaders and playmakers on the defensive side of the ball, and they were two of Punxsutawney's best tacklers last season. Nichol will also look to safety Justin Miller as an influential player in the secondary, and Miller will hope to add to his one interception last season. Most of the components of the Chucks' strong offensive line will also feature on defense, giving plenty of opportunities for Punxsutawney to show off their strength and tenacity.
The Chucks struggled last season, losing all ten of their games. Nichol hopes that his players learn from their failures, but maintain a strong focus on the present and future: "I think what you do is focus on the next play, and we teach that from the beginning. We think it's a life lesson. You're going to make mistakes in life, you can't look back, [but] you can learn from it, [and] you got to go forward, because you got the next job to do. We're going to play one play at a time [and] go as hard as we can on that play and every play. Then, at the end of the game, we're going to look up to see how what the score is. It's going to keep us focused. [Some] play[s] you can't do anything, something happens, [but you] can't get your head down. You got to be ready to go [on the] next play. You can't win the last play, but you can win the next play."
The one-play-at-a-time mentality should allow the Chucks to play worry-free physical football, while also keeping things in perspective when they struggle. Punxsutawney's mature front five should give them a strong base, while new athletes at running back and receiver could help reinvigorate the program. Coach Nichol led the Chucks out of their last big losing streak, and he has the pieces and veteran leadership to replicate the feat this season. Good luck to the Chucks this year!