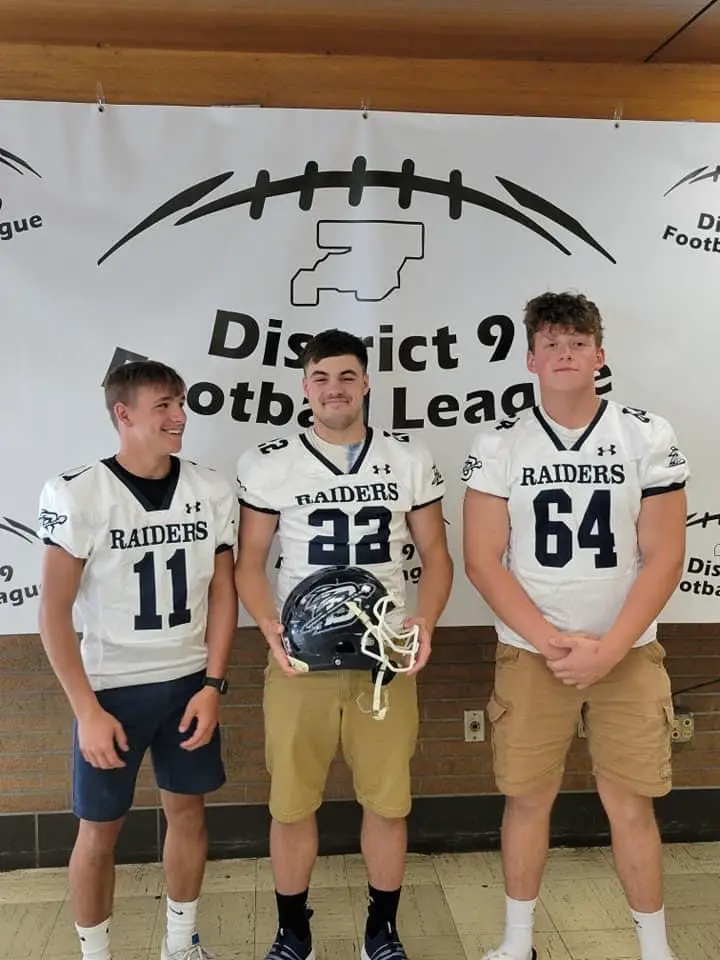 BROOKVILLE, Pa. (EYT/D9) — The Brookville Raiders have some big shoes to fill after a key senior class graduated last season, but there are still many familiar faces that make up the nucleus of the Raiders' team.
(Pictured left to right, Brayden Kunselman, Tate Lindermuth and Hunter Smith/ Photo courtesy of head coach Scott Park.)
"It's always the next-guy-up mentality with us," said head coach Scott Park. "I'm really happy where we're at so far. We have all the talent that we need, once we get the young guys up to varsity speed, we'll be ready when Bradford comes to town."
Replacing four-year starters on either side of the ball is never easy, particularly at the quarterback position, but the Raiders will still have the same look offense of past Brookville teams.
"Things are going to look the same for us," said Park. "Obviously we won't be as explosive as we were last year off the bat, but I think we have the potential to get back to that level by the end of the season."
"I like where we are at," Park smiled. "If we can get the running game going we will be even better. That's something that we struggled with last year and we want to improve on that this year.
The core of the returning Raiders is on the offensive and defensive lines.
"Our best area this year is our line on both sides of the ball," stated Park, "Our front four on defense is going to be pretty solid.
"We also have Braden Kunselman back this year playing at the safety position, so we get really good at that position too," Park said.
Brookville is a unit that wants to control the line of scrimmage on defense and force you to beat them with the pass.
"We're going to have a stout defense, you can bet that," Park said. "I don't see things changing too much.
The Raiders come off a season where they remained perfect in the regular season, posting a 6-0 record, and losing to Karns City in the District 9 Championship game. With a 7-1 record last season there are always expectations to get back to the playoffs and have success.
"We want to get better every day," Park said. "If we can walk off the field and say we got better as a team, then by the time the end of the season rolls around, we will be in a position that we want to be in. That's really the message and what we are preaching right now."
"People are going to see us play some tough football this year, like every year," said Park. "You won't be disappointed with the product that we put on the field this season."
That toughness starts with the big guys up front, particularly Hunter Smith, a senior lineman with experience to give for the Raiders.
"It's great having the turnout that we have so far," said Smith. "Everyone knows the expectations, so we're working really hard."
There's so much great tradition at Brookville Stadium nestled on the side of Interstate 80.
"Coming out of that locker room for that first home game with the band, the fans, the cheerleaders, it's going to mean everything to us," smiled Smith. "There's a lot of guys who haven't even gotten a chance to experience that yet so it's going to be special."
The name of the game for the Raiders is to be better than other teams up front on defense.
Smith, a defensive end for Brookville, racked up 38 total tackles in just eight games, averaging close to five tackles a game.
"On defense, the expectations are to be better than last year," said Smith. "Definitely think that's possible."
For junior Brayden Kunselman, this season is long overduemissing last season because of an injury.
"There are some butterflies, but I can't wait to put the pads back on, Kunselman said, "I just try to take every season the same way as the previous season and come prepared to play."
The linebacker position in particular is going to be a place to fill for the Raiders.
"We have some younger guys to bring along, stated Kunselman, "They're learning a getting better every day."
"We just want to prove to the town and the community that we are still that same Brookville Football Program," Kunselman said. "Walking out on that field in front of those fans, making a big play, and hearing that roar behind you, it's just unmatched."
The Raiders open the 2021 season at home, hosting the Bradford Owls at Brookville Stadium.
BROOKVILLE AT A GLANCE
COACH: Scott Park
LAST YEAR: 7-1. Lost in the District 9 Championship to Karns City 16-14 on a last-second field goal.
STRENGTHS: The interior offensive and defensive lines. The Raiders will look to establish the run and control the line of scrimmage. … Tackle Hunter Smith is set to anchor the offensive, while also being a key component to the success of the Raider defense at Defensive End.
WEAKNESSES: Youthfulness. With a key senior class graduating last season, the Raiders will turn to underclassmen to power the offense.
OUTLOOK: If Brookville can get their young guys game ready and up to par with what Coach Park expects, don't be surprised if the Raiders find themselves in another deep playoff run in District 9.
Preseason coverage on Explore and D9Sports is brought to you by The Haskell House – The area's premier event venue. For more information, visit Facebook.com/thehaskellhouse.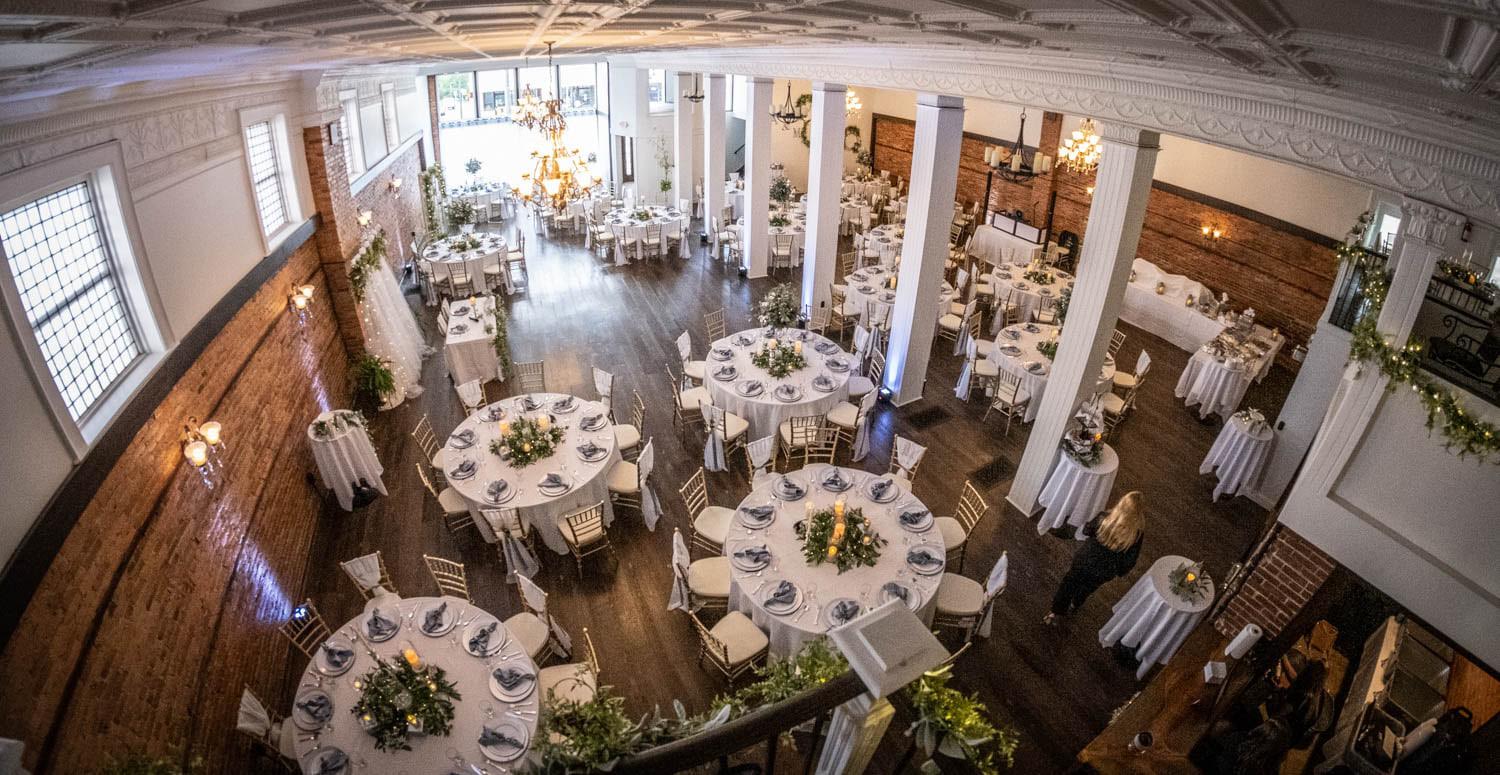 Photo courtesy Pittsburgh Wedding DJ | Schiemer Entertainment Services https://www.facebook.com/pghdj/