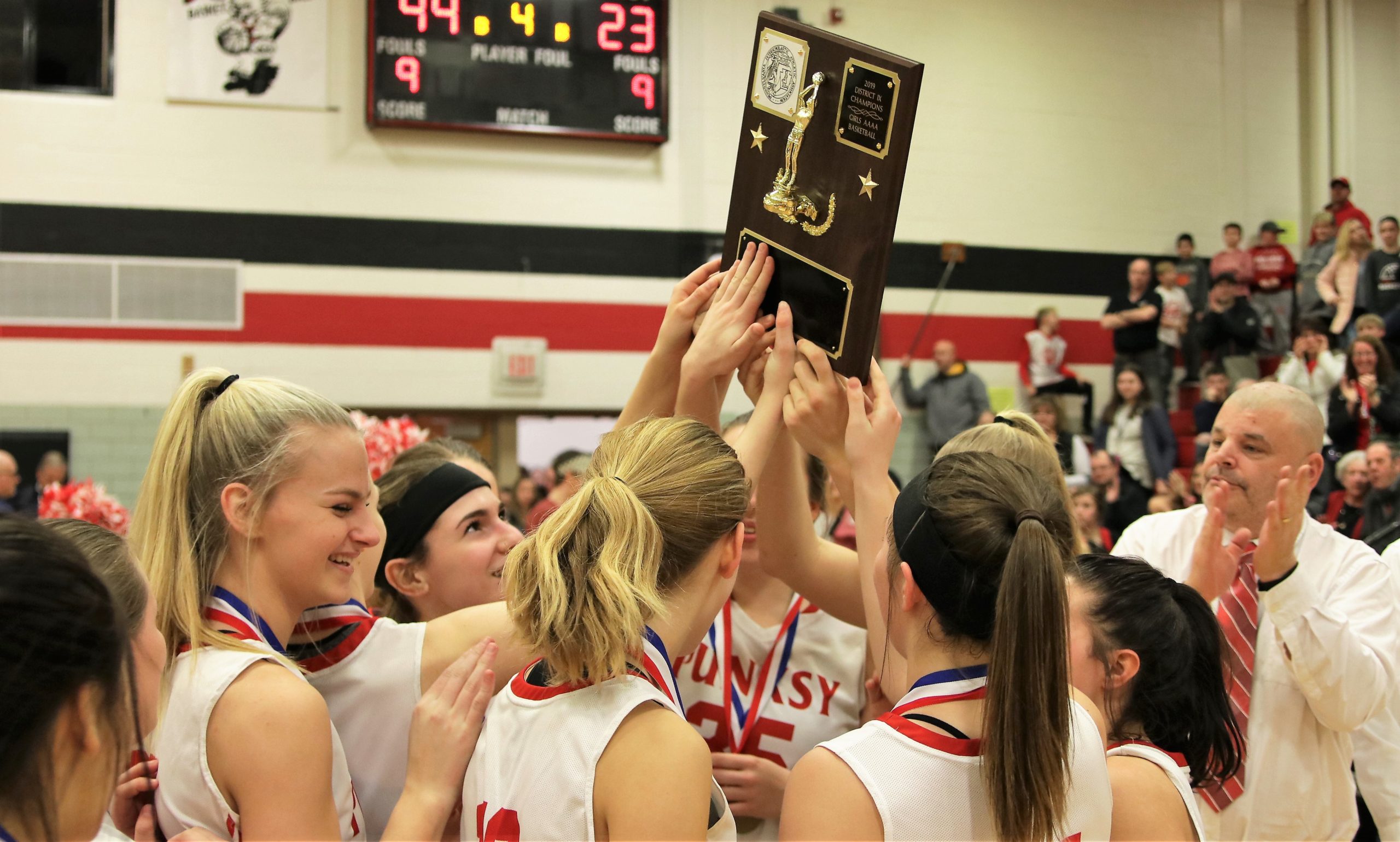 As we inch closer to the potential beginning of the 2021 basketball season, D9Sports.com took some time to catch up with area coaches to ask them some questions about the upcoming season. The Punxsutawney Chucks are primed and ready for 2021, with their girls team seeking to remain atop the D9 League, while their boys side looks to become a competitor once again.
(Photo by: Jared Bakaysa)
Punxsutawney Girls Basketball
Coach: Mike Carlson
Last Season: 19-5 (10-0 in D9 League, 1st)
D9 Class AAAA Champions, Lost in Round One of PIAA Playoffs
Punxsutawney was one of the premier teams in all of District 9 last season, winning both the regular season D9 League title and the Class AAAA D9 Playoff title. The Chucks appear primed to make another run at the title after returning four of their five starters and graduating only one senior. Riley Presloid, Chloe Presloid, Sarah Weaver, and Kierstin Riley are all back for Punxsutawney, who also returns Katelyn Griebel, who missed most of last season due to injury.
Coach Carlson wants to play fast, up-tempo basketball this season. "We are small, but athletic and quick," said Carlson. "We need to find a way to get our share of rebounds and make other teams play at our speed." Controlling the tempo should allow the Chucks to utilize their high powered offense, one of their strong points last season.
The Chucks have faced some early season adversity, as several players have been forced to miss practice due to COVID quarantine procedures. To help stop the spread, Punxsutawney's players have worn masks during all athletic activities, a procedure that has been "handled well," according to Carlson.
The Chucks should be one of the teams to watch in D9, and it will be interesting to see if they can replicate last year's successful playoff run.
Punxsutawney Boys Basketball
Coach: Jake Perrin
Last Season: 7-15 (0-10 in D9 League, Last)
Punxsutawney struggled last season, failing to win a game in the D9 League. The highlight of the Chucks' season was a mid-season 57-54 upset of A-C Valley in which the Chucks were able to limit the Falcons' offense. This season, the Chucks look to improve under first year head coach Jake Perrin, a Brockway graduate and former D9 Basketball All-Star who played college basketball for Penn State DuBois.
Perrin believes that his team's versatility is one of their strong suits. "I really like our team dynamic this season. We have a bunch of guys that all contribute in their own way, and all excel at different roles," said Perrin. Punxsutawney's strong team play should aid in the rebuilding of their program, as they hope to reestablish themselves as a competitor for the D9 League title.
Perrin doesn't want his team to get too caught up in wins and losses, rather, he strives to develop his players into strong willed young men. "Success, to me, isn't directly proportional to our end of season record. To me, success is watching a group of young men develop into people who have the tools and mindset to achieve anything they want in life, [as well as] people that have an understanding that [the team] is bigger than themselves, and people that truly care about one another and represent the Punxsutawney area." Perrin's holistic philosophy will be key in promoting a fun and invigorated team environment, vital to the success of any program.