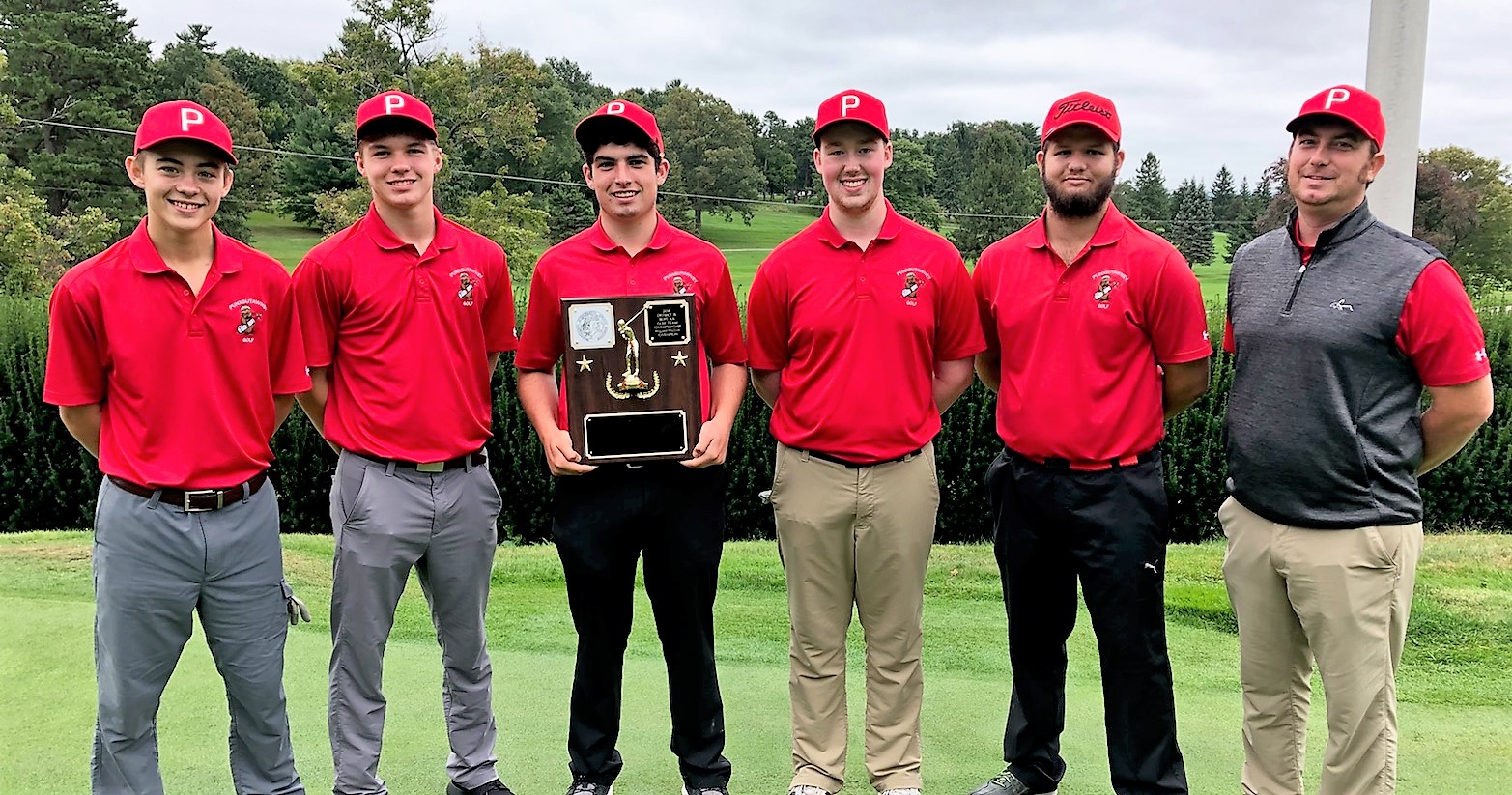 BROOKVILLE, Pa. – Punxsutawney and Bradford claimed District 9 boys' golf titles Monday at the District 9 golf championships at Pinecrest Country Club in Brookville.
(Photo: Punxsutawney golf team from left: Zack VanLeer, Graham McFarland, Ryan Roberts, Sean Deeley, Easton Rend and Coach Josh Conrad)
The Chucks took home the Class 2A title with a score of 349 topping second – place Clarion-Limestone by two shots. St. Marys was a distant third with a score of 373.
Bradford won the Class 3A title with a round of 362 which was 15 shots ahead of the only other team in the field, DuBois. It was the Owls fifth title in six years (no team entered in 2016).
Ryan Roberts led Punxsutawney with a 77 followed by Zack VanLeer with an 86, Sean Deeley shot a 91 and Easton Rend a 95.
Spencer Cornelius paced Broadford with an 85, Joe Gorse shot a 90, Thomas Anderson a 92 and Joey Frigo a 95.
Both teams advance to the PIAA West Regional Team Tournament.
In addition to the team championships being crowned, Monday also served as the first round of the District 9 individual championships with the Top 16 golfers in Class 2A advancing to Saturday's final round and the Top 4 in Class 2A. Saturday's action at Pinecrest will start at 9 a.m.
Smethport's Connor Alfieri shot the top round in Class 2A with a 76 followed by Roberts' 77. Kane's Curt Barner was third with an 80 and two golfers – Brookville's Dane Lyle and Curwensville's Nathan Hryn – tied for fifth with an 84.
Also qualifying for Saturday where Moniteau's Nathan Tack (85), Clarion – Limestone's Ian Callen (85), VanLeer from Punxsutawney (86), Nate Beimel from St. Marys (86), Brookville's David Cable (86), C – L's Hayden Siegel (86), Ridgway's Zack Zameroski (88), ECC's Will Iberti (88), Kane's Max Bizzak (88), Clarion's Josh Craig (89) and C – L's Hayden Callen (89).
The top score in Class 3A belonged to Cornelius with his 85 four strokes ahead of DuBois' Alex Beers. Shane Woodhall of Brashear (Brashear is in District 8 but played as part of a sub-region with District 9) and Bradford's Gorse also qualified for Saturday by shooting 90 apiece.
FULL RESULTS
Team Standings
Class 2A
1. Punxsutawney – 349
2. Clarion-Limestone, 351
3. St. Marys, 373
4. Smethport, 378
5. Elk County Catholic, 385
6. Ridgway, 395
Class 3A
1. Bradford, 362
2. DuBois, 377
Individual Results
Class 2A
1. Connor Alfieri, Smethport – 76
2. Ryan Roberts, Punxsutawney – 77
3. Curt Barner, Kane – 80
4(t). Dane Lyle, Brookville – 84
4(t). Nathan Hryn, Curwensville – 84
6(t). Ian Callen, Clarion-Limestone – 85
6(t). Nathan Tack, Moniteau – 85
8(t). David Cable, Brookville – 86
8(t). Hayden Siegel, Clarion-Limestone – 86
8(t). Zack VanLeer, Punxsutawney – 86
8(t). Nate Beimel, St. Marys – 86
12(t). Will Uberti, Elk County Catholic- 88
12(t). Max Bizzak, Kane – 88
12(t). Zack Zameroski, Ridgway – 88
15(t). Josh Craig, Clarion – 89
15(t). Hayden Callen, Clarion-Limestone – 89
Missed the Cut
Matt Bellina, St. Marys – 90
Alex Rezzelle, Kane – 90
Kaden Park, Clarion-Limestone – 91
Max Forcey, Kane – 91
Sean Deeley, Punxsutawney – 91
Eric Christoff, Ridgway – 91
Ryan Clouser, Coudersport – 91
Zach Dittman, Moniteau – 93
Cam Walney, Cranberry – 93
S. Miller – 94
Mark Kraus, Elk County Catholic – 95
Jackson Fox, Clarion – 95
Easton Rend, Punxsutawney – 95
Lucas Benjamin, St. Marys – 96
Nick Daghir, Elk County Catholic – 96
Jordan DePrator, Elk County Catholic – 97
Brady Schneider, Elk County Catholic – 98
Graham McFarland, Punxsutawney – 98
Thomas Fink, Venango Catholic – 98
Ethan McDeavitt, Moniteau – 99
Michael Hill, Smethport – 99
Brady Streich, Coudersport – 99
Landon Lauer, Forest Area – 99
Devon O'Brien, Cranberry – 100
Lucas Erich, St. Marys – 101
Dino Brown, Cameron County – 102
Camdon Graves, Oswayo Valley – 102
Nathan Roberts, ECC – 104
Lake Staub, Clarion – 105
Greg Simon, Ridgway – 106
Tyler McIntosh, DuBois Central Catholic – 106
Marcus Brown, Cameron County – 107
Troy Johnson, Keystone – 107
Hunter Helsley, Smethport – 110
Zyler Hargenrader, Forest Area- 111
Ian Larson, Keystone – 111
Gunner Bean, Oswayo Valley – 113
Individual Results
Class 3A
1. Spencer Cornelius, Bradford – 85
2. Alex Beers, DuBois – 89
3(t). Joe Gorse, Bradford – 90
3(t). Shane Woodhall, Brashear – 90
Missed the Cut
Dayne Bauman, DuBois – 92
Thomas Anderson, Bradford – 92
Kaleb Hand, DuBois – 92
Joey Frigo, Bradford – 95
Luke Roach, Clearfield – 100
Jeremy Krise, DuBois – 104
Justin Maines, Clearfield – 129
Ron Verbonich, Brashear – 168