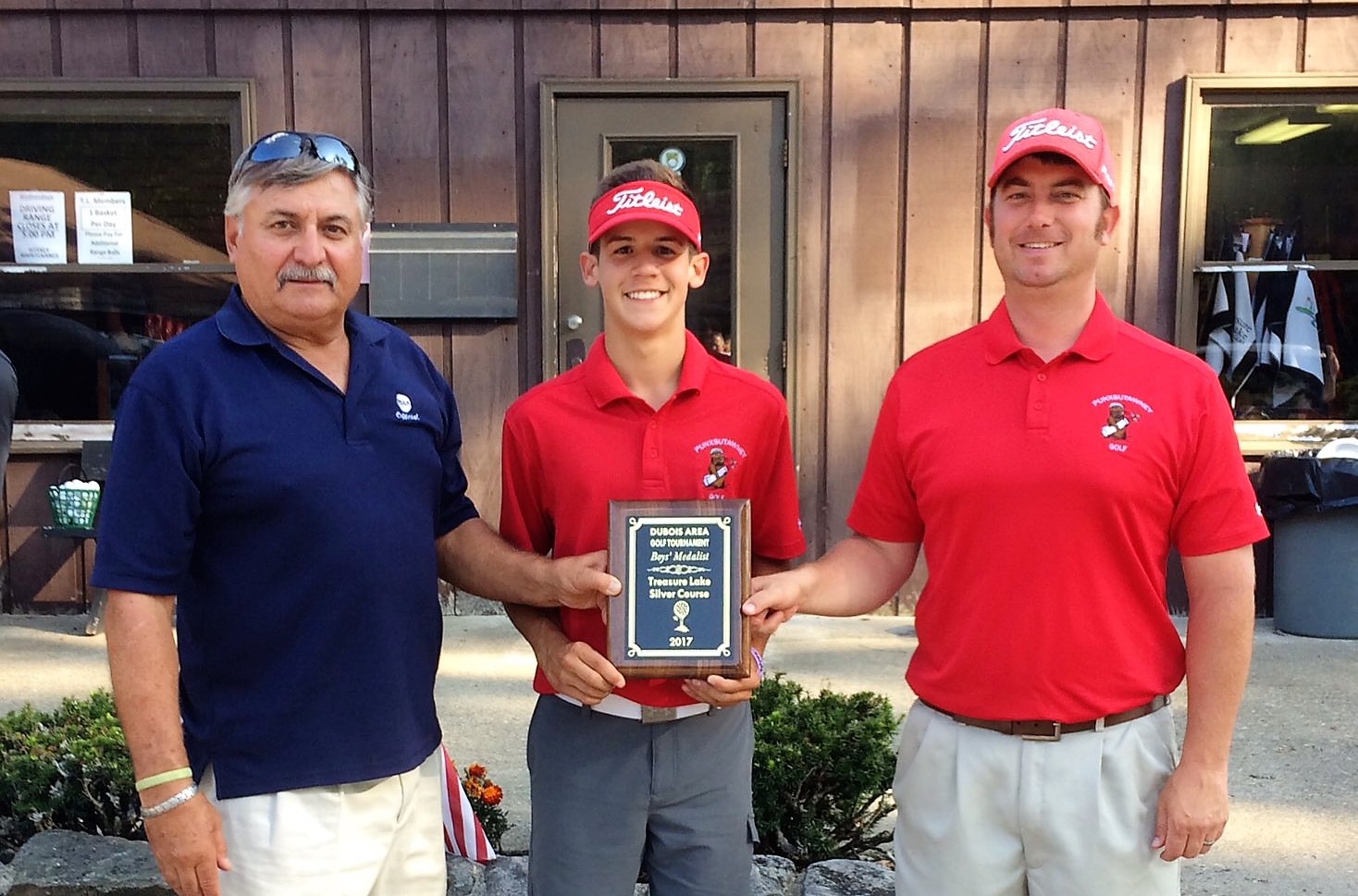 Team Scores • Individual Scores
BRADFORD, Pa. – Punxsutawney and Bradford took home District team golf championships Monday at the Pennhills Club in Bradford.
(Photo: Punxsutawney's Willie Hoover after winning the DuBois' Tournament earlier in the year. Hoover had the top individual score Monday while helping the Chucks win the D9 Class 2A title. Photo courtesy of DuBois' Area School District.)
Punxsutawney won the District 9 Class 2A title with a score of 341 topping second-place Elk County Catholic by 18 shots. Moniteau finished third with a 366.
Bradford, meanwhile, needed a playoff to defeat Somerset for the Sub-Regional District 5-9 title in Class 3A. Both teams finished with a 382 before the Owls edged out the victory in the sudden-death playoff by outpacing Somerset 21-24.
Both teams advance to the PIAA Western Sub-Region taking place Oct. 12 at the Treasure Lake Golf Course (Silver).
Meanwhile, in the individual competition, 16 golfers in Class 2A and five in 3A advanced to Saturday's championship round.
Leading the 2A pack was Punxsutawney's Willie Hoover with a 78, while Clarion-Limestone's Hayden Siegel, Kane's Christo Park and Moniteau's Weston Kimmey all tied for second with an 82.
Also advancing to Saturday in 2A were Elk County Catholic's Ryan Newton (83) and Brady Schneider (90), Punxsutawney's Ryan Roberts (85), Easton Rend (88) and Zack Vanleer (90), Ridgway's Zack Zameroski (85), Karns City's Logan Pistorius (85) and Hunter Gifford (86), Smethport's Connor Alfieri (86), Brookville's Dane Lyle (89), Moniteau's Nate Tack (89) and St. Marys' Ryan Bressler (91).
Moving on to Saturday in 3A were Bradford's Brice Whelan (79), DuBois' Nick Cotter (87), Clearfield's Alec Graham (88) and Somerset's Jacob VanLenton (88) and Hunter Story (94).