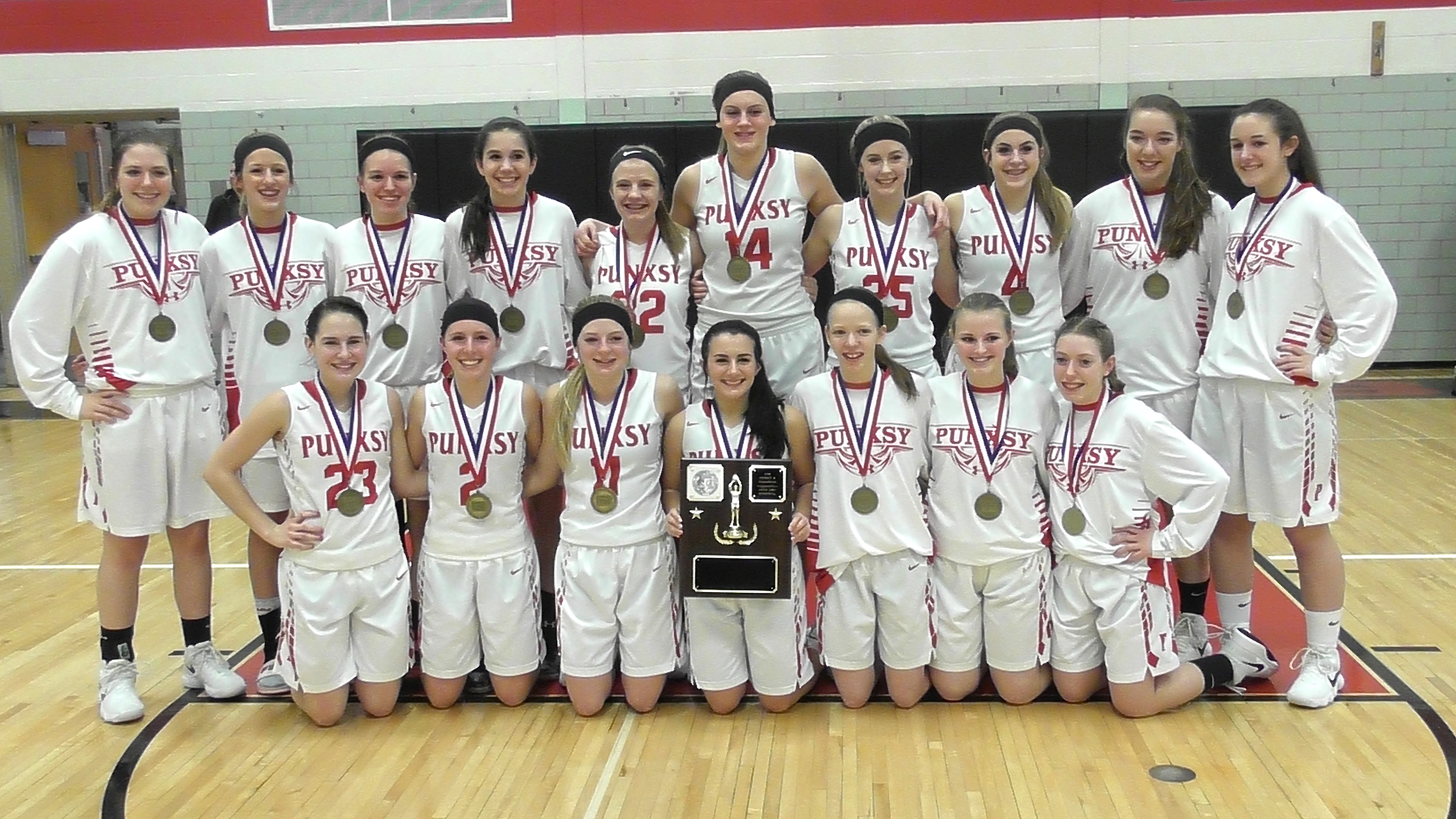 DUBOIS, Pa. — The Punxsutawney Lady Chucks girls' basketball team won its fourth straight District 9 championship with a 47-24 triumph over St. Marys Wednesday evening at DuBois Area High School.
Punxsy's four-peat of titles includes two in Class 3A and the last two in 4A.
Kate Horner hit three 3-pointers and led all scorers with 17 points, Leah Miller had 11 points and 18 rebounds, Abby Gigliotti added eight points and Sarah Weaver had seven tallies.
Punxsy hit five treys while St. Marys had none.
Wednesday's game was a defensive struggle as Punxsy led just 20-12 at halftime.
But while the Lady Chucks came out strong in the third quarter with 19 points, St. Marys' offensive woes continued and it was the end of the Lady Dutch's title hopes.
"While we get frustrated with not putting points on the board at times, the coaches reminded me that we'd only given up 12 points, that we're fine," Lady Chucks head coach Mike Carlson said. "It's good to know we have that defense."
Listen to more of what Carlson had to say.
Punxsy allowed an average of just 36 points per game in two regular-season meetings with St. Marys and the Lady Dutch didn't get anywhere near that Wednesday.
Their best offensive quarter was the second when they scored eight points and pulled to within eight points at the half, 20-12.
But a dominating third quarter for Punxsy – the Lady Chucks outscored St. Marys 19-5 – was the difference.
Weaver started the third with a basket and Miller hit a free throw before St. Marys scored just one of two buckets.
Then the Lady Chucks started hitting from long range as Horner hit two threes, Gigliotti hit one and Weaver beat the third-quarter buzzer with a three to send her team to the fourth quarter with a 22-point lead, 39-17.
"We knew Leah and Kate were going to have their usual good games, but Abby came off the bench and gave us a real lift," Carlson said.
Punxsy led by as many as 14 points, 18-4, with 5:20 left in the second quarter before St. Marys pulled closer, making it an eight-point game.
The Lady Chucks will get the WPIAL fifth-place team, which will be either Ambridge or Belle Vernon.
"Now, we're going to give the kids a few days off, look at some film and start game planning for next week," Carlson said.
St. Marys was led by Lauren Eckert's seven points. Bekka Bauer had six while Samantha Hayes and Megan Quesenberry scored four each.
PUNXSUTAWNEY 47, ST. MARYS 24
Score by Quarters
St. Marys 4 8 5 7 – 24
Punxsy 10 10 19 8 – 47
St. Marys – 24
Kaylee Muccio 1 0-2 2, Abby Adamski 0 0-0 0, Kyla Johnson 1 0-0 2, Amanda Foster 0 0-0 0, Allison Schlimm 1 1-2 3, Samantha Hayes 1 0-0 2, Bekka Bauer 2 2-2 6, Megan Quesenberry 1 0-0 2, Lauren Eckert 2 3-6 7. Totals: 9 6-12 24.
Punxsy – 47
Mia Lingenfelter 1 0-1 2, Elyse White 0 0-0 0, Kate Horner 7 0-0 17, Sarah Weaver 2 2-2 7, Leah Miller 4 3-5 11, Abby Gigliotti 3 1-1 8, Riley Presloid 1 0-1 2, Jordyn Powell 0 0-0 0. Totals: 18 6-10 47.
Three-pointers: Punxsy 5 (Horner 3, Weaver, Gigliotti).