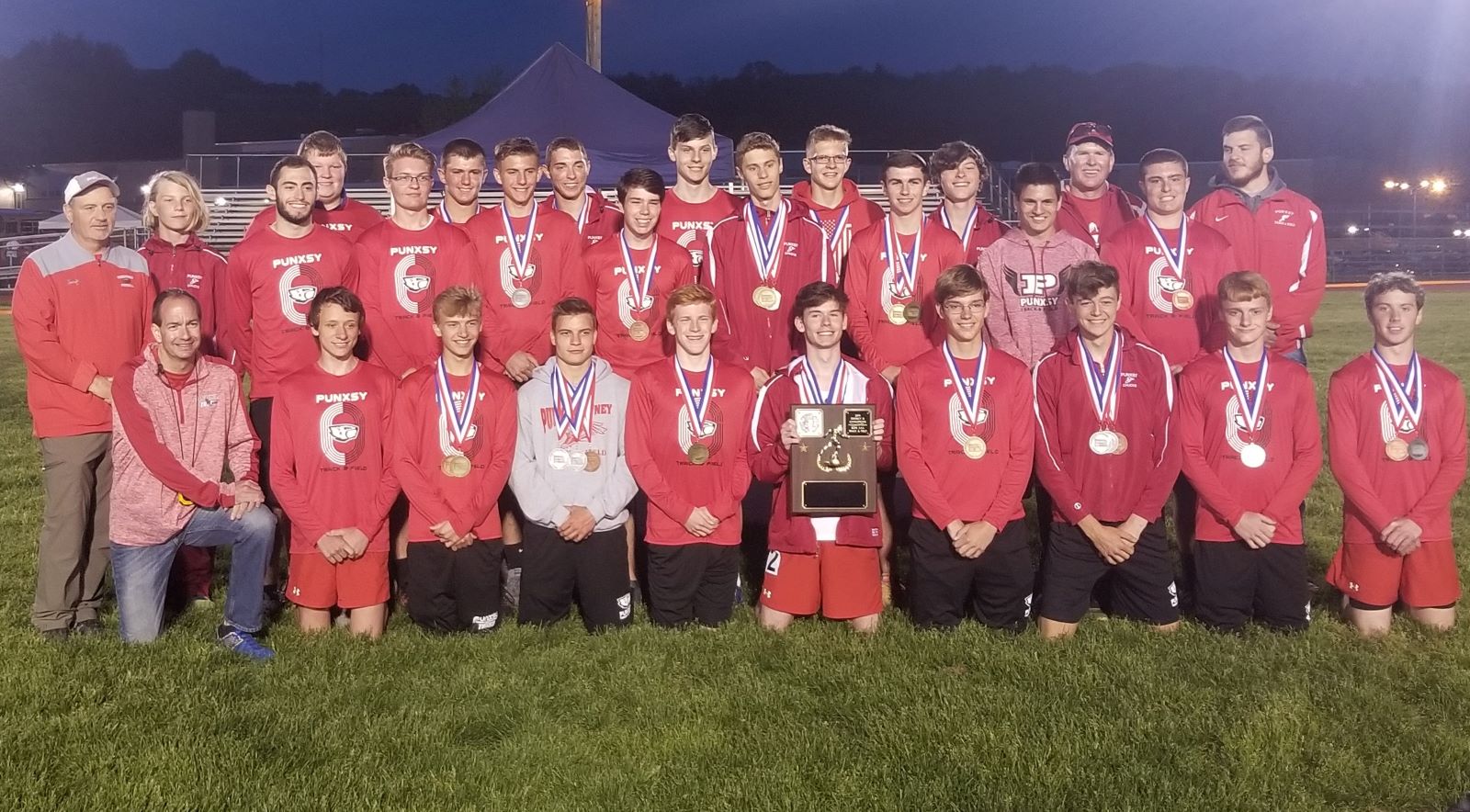 BROOKVILLE, Pa. – Punxsutawney ended Bradford's reign of four straight District 9 Class 3A boys' track and field titles in impressive fashion beating the second-place Owls, 120-83, Friday at the Championships at Brookville High School.
It is just the second time in 21 years Bradford has won the 3A boys' title.
The Chucks had five individual champions and a relay champion.
Bayden Lyle won both the 100-meter dash (11.06 seconds) and the 200-meter dash (22.30), while Andrew Wehrle won the 800-meter run (2:03.08), Owen Bartlebaugh won the 1,600-meter run (10:18.31), Aiden McLaughlin won the 3,200-meter run (10:18.31) just ahead of Bartlebaugh (10:19.08) and the 4×800-meter relay team of Wehrle, Bartlebaugh, Kevin Ingros and Emmet Jamieson won in a time of 8:29.10.
Lyle talked about winning the 100 title.
St. Marys' Adam Park won the Jim Manners Award as the boys' Class 3A meet MVP after sweeping the three throwing events.
Park won the shot put (50-feet, 9-inches), the discus (150-8) and the javelin (166-3).
Bradford had four individual champions and two relay winners.
Michael Bosworth won the 400-meter dash (51.70), Dylan Phillips won the 110-meter hurdles (15.92), Alex Liners won the 300-meter hurdles (42.25) and Steven Kellam won the pole vault (13-3).
Bradford 4×100-meter relay of Owen Kane, Donny Pattison, Bosworth and Jake Pattison won in a time of 44.64, and the Owls 4×400-meter relay team of Bosworth, Tyler Kraft, Jarid Wilmoth and Liners won in a time of 3:32.14.
Bosworth also qualified for the PIAA meet in the 200 finishing second to Lyle in a time of 22.47.
DuBois' Jordan Meinert won a pair of field events taking home titles in the long jump (20-9) and the high jump (6-1), while Clearfield's lone champion was Taye Lynch in the triple jump (42-6 ¾).