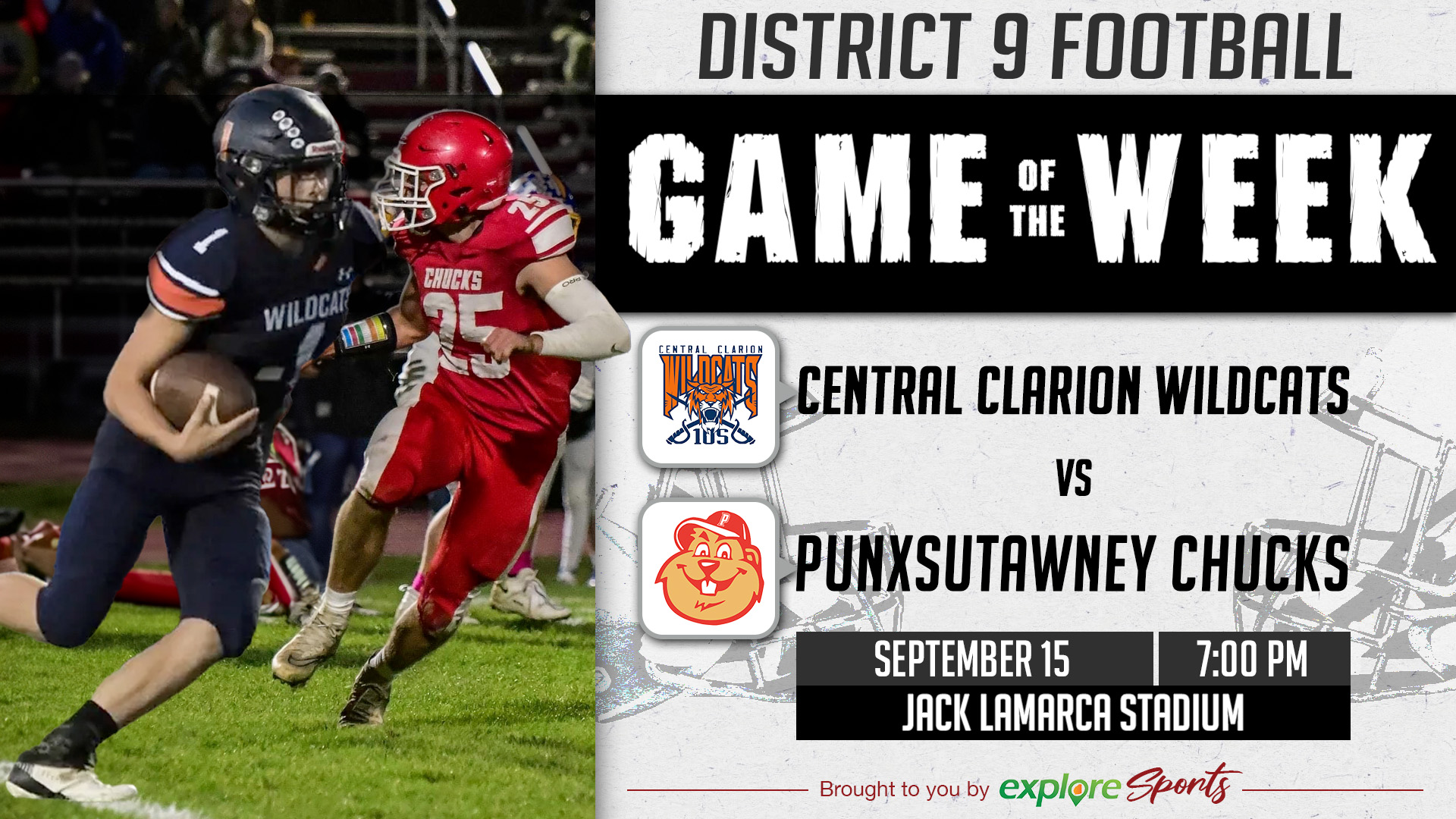 PUNXSUTAWNEY, Pa. (EYT) – The Kerle Tire Game of the Week continues tonight with a Friday night matchup between Central Clarion and Punxsutawney, and Explore Sports will have all of the action live from the Weather Capital of the World.
The Kerle Tire Pregame Show will start at 6:30 p.m. followed by kickoff at 7:00 p.m. with Mike Kalinowski and Dave Katis on the call.
ABOUT THE GAME
Central Clarion (3-0) will face perhaps its stiffest test yet when it takes to the road to battle Punxsutawney on Friday.
The Chucks stood toe to toe and went punch for punch with Redbank Valley last week before falling 50-27.
Punxsutawney also has a talented line and a slew of weapons around sophomore quarterback Maddox Hetrick, who threw for 215 yards last week against the Bulldogs, most of those coming in the first half.
Hetrick is 36 of 50 for 547 yards and five touchdowns this season for the Chucks.
"Their quarterback is a good athlete and he has a couple of really good receivers," Eggleton said. "They have a solid line. I feel like they're big and physical, so it's gonna be a tough matchup."
Punxsutawney got a huge piece of its offense back last week when senior Noah Weaver returned from injury.
He hauled in nine passes for 179 yards and a pair of touchdowns in the loss to Redbank Valley.
"It's nice to have Noah Weaver back," said Punxsutawney coach Alan Nichol. "It's good to get him back in the flow of practice every day, and I think we're gonna keep improving. Like every team, we've had a few guys out and there's young guys like Beau Thomas playing his heart out all over the place."
Read the full game preview here.
HOW TO WATCH
The video feed can be found at exploreClarion.com, explorejeffersonpa.com and D9Sports.com.
The following local sponsors have signed on to make this year's Kerle Tire Game of the Week possible:
BATTERY WAREHOUSE
BAUER TRUCK REPAIR
BOBCAT OF CLARION, KANE, AND OLEAN
BROOKVILLE EQUIPMENT
CLARION COUNTY COMMUNITY BANK
CLARION FORD
CLARION FOREST VNA
COUSIN BASILS ITALIAN BAR AND RESTAURANT
DUBROOK, INC.
ERIC SHICK AGENCY
FRANKLIN INSURANCE AGENCY
FUN BANK
GATESMAN AUTOBODY
HAGER PAVING
HEETER LUMBER
HOPPER CORP
J&J FEEDS & NEEDS
J&J TRAILER SALES
JANNEY
KAHLE'S KITCHENS
KERLE TIRE COMPANY
LANDPRO
LAUREL EYE CLINIC
LUTON'S PLUMBING & HEATING
MCMILLEN'S CARPET OUTLET
MHY FAMILY SERVICES
NICK'S AUTO BODY
NORTHERN PENNSYLVANIA REGIONAL COLLEGE
OCHS LUMBER
PENN STATE DUBOIS
REDBANK CHEVROLET
SIMPLY SKIN MEDICAL SPA
SWEET BASIL ITALIAN RESTAURANT AND BAR
TIONESTA BUILDERS
UNIVERSAL FOREST PRODUCTS
ZACHERL MOTORS