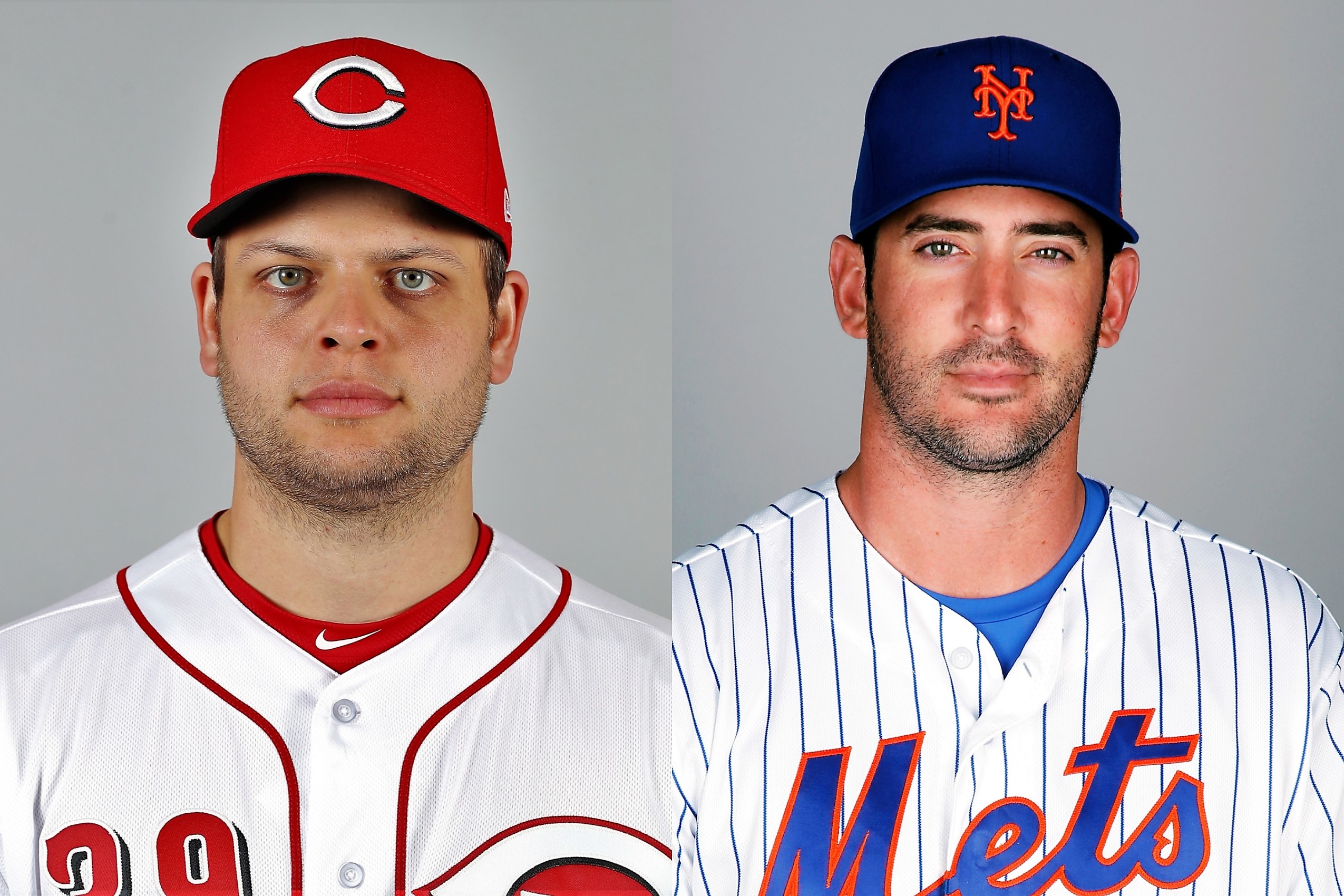 CINCINNATI – Punxsutawney graduate Devin Mesoraco was traded by the Cincinnati Reds to the New York Mets Tuesday in exchange for Matt Harvey.
(Photo of Devin Mesoraco (left) and Matt Harvey. Photos courtesy of the Cincinnati Reds and New York Mets)
"It's just another quality guy to bring into the clubhouse, and help us at a position that we've been struggling a little bit with since the injuries," Mets special assistant to the general manager J.P. Ricciardi told MLB.com.
Mesoraco's Baseball-reference.com page • Harvey's Baseball-reference.com page 
Mesoraco, a one-time All-Star, had played in just 95 games from 2015-2017 because of injuries but had appeared in 18 games for the Reds this season hitting .220 with a home run and three RBIs.
An All-Star in 2014 when he appeared in a career-high 114 games hitting .273 with 25 home runs, 25 doubles and 80 RBIs, Mesoraco signed a four-year contract worth $28 million dollars after that season but has never come close to reproducing those numbers due to injury. He was the Reds top pick (15th overall) in the 2007 MLB draft after leading Punxsutawney to a PIAA Championships in Class 3A.
Harvey was once considered one of the top pitching prospects in all of baseball and was an All-Star in 2013, his first full season when he compiled a record of 9-5 with a 2.27 ERA. That year he struck out 191 batters in 178 ⅓ innings of work.
But, a lot like Mesoraco, injuries derailed a once-promising career, and Harvey was designated for assignment by the Mets last week after starting the season 0-2 in eight appearances, four starts, with an ERA of 7.00.
That start continued a trend for Harvey, who was 5-7 with a 6.70 ERA last year and 4-10 with a 4.86 ERA in 2016 after going 13-8 with a 2.71 ERA in 2015 after missing the entire 2014 season.
In the last three years, Harvey's strikeout numbers have plummeted to 163 in 212 ⅓ innings of work including 20 in 27 innings this season. He has not pitched more than 92 ⅔ innings since pitching 189 ⅓ in 2015.
"Suffice to say that (our coaches) were optimistic that there were things that we could tweak," Reds general manager Dick Williams told MLB.com. "Certainly it's not like the stuff has disappeared. There is stuff there. The velocity's been good and we really like the changeup. It may be more of a pitch mix and approach than a big mechanical change, I think is what we're looking at."
The Reds also sent cash to the Mets to help offset the difference in Mesoraco's $13.1 million contract and Harvey's $5.6 million contract.
Mesoraco didn't have to go far to join his new team, as the Mets are in Cincinnati.