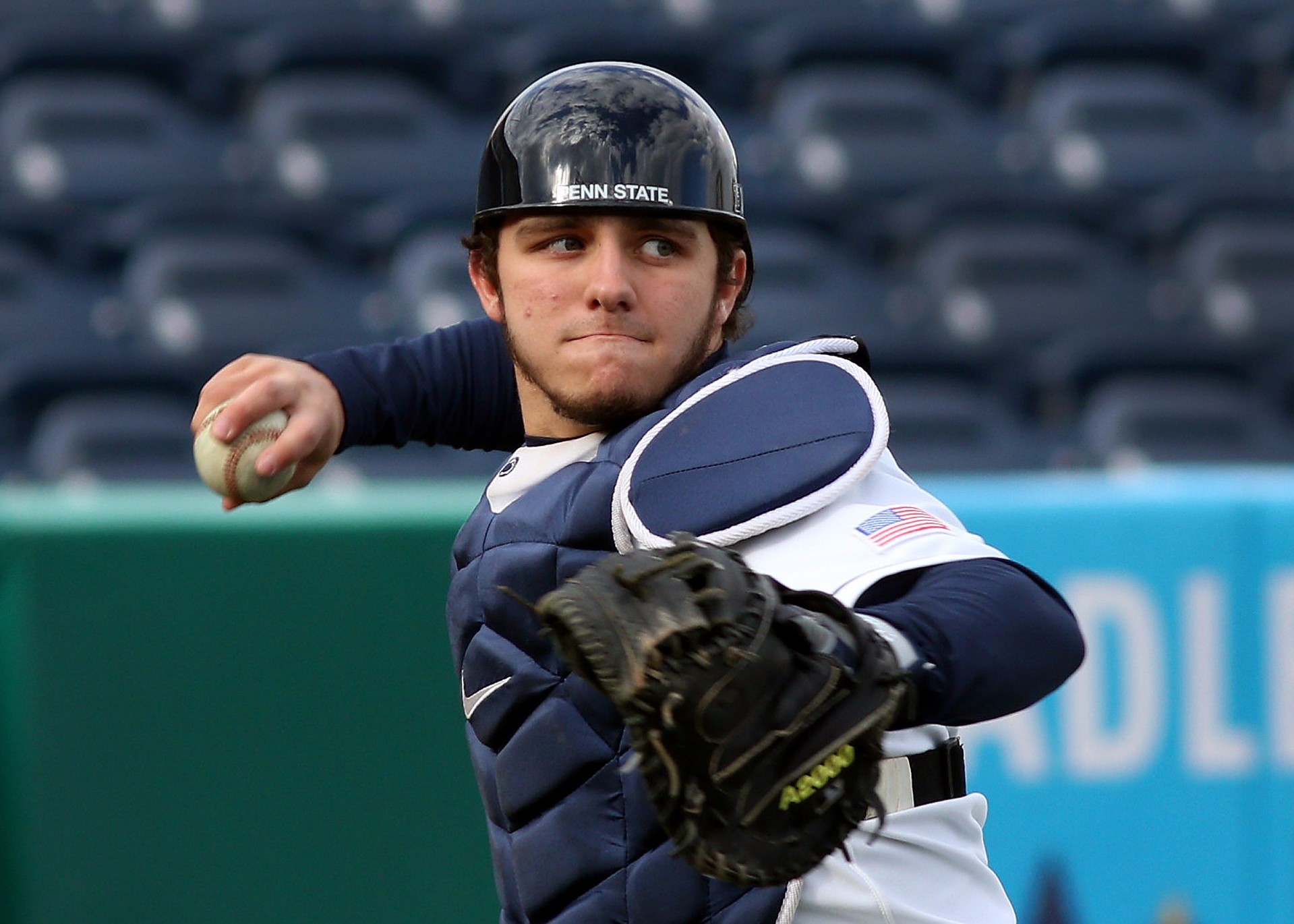 By Chris Rossetti
UNIVERSITY PARK, Pa. – For Penn State freshman catcher Ryan Sloniger, a Punxsutawney graduate, it's all about slowing the game down.
"Being able to slow things down has been my biggest adjustment," Sloniger said. "Being able to handle the mental side, it's a game of failure, being able to put the past behind me and being able to move on."
Sloniger has had some success as well as some failure in his short time in a Nittany Lion uniform.
As a true freshman this season he started 13 of Penn State's first 15 games and had three doubles and four RBIs. But he also struggled some at the plate hitting .162 (6 of 37) with 10 strikeouts. Those struggles have led to him taking step back from the starting role to work on some things.
"I'm just trying to slow things down at the plate and not get myself out in front," Sloniger said. "I need to slow things down and be able to make adjustment in game and pitch-by-pitch. I've been working on that between games now and in practice working a lot with our hitting coach, Coach (Ross) Oeder."
Sloniger is loving his time at Penn State and playing for the red-hot Nittany Lions, who, going into Wednesday's game with Lafayette, had won seven in a row and 11 of 13 to move to 14-11 on the year following a 7-0 blasting of rival Pitt Tuesday at home.
"I love things here," Sloniger said. "I love the coaching staff. Obviously, as a team right now we are playing really well. It's a fun group be be around. It's a good time to be here."
Watch part of the interview with Sloniger
Sloniger believes his coaches at Punxsutawney, starting with head coach Mike Dickey, prepared him well for Division I college baseball.
"I feel my coaches back home really prepared me for this level in all aspects of the game," Sloniger said. "The mental side, the tools, they helped me with everything. They do a great job there. I loved playing for them. They prepare everyone. They do a great job every year. That's why we've always had good talent there and good teams."
Sloniger said the biggest adjustment he has had to make from Punxsutawney to Penn State is the caliber of pitching both defensively as a catcher and offensively as a hitter.
"It's just getting comfortable catching our pitchers," Sloniger said. "Obviously, pitchers get better at this level. It takes a while to get use to that. And facing those pitcher too, they are a lot better. You are facing high-quality pitching everyday. That makes it a lot more fun. It makes it a lot tougher, also."
When asked about goals for the rest of the season, Sloniger was all about what he hopes his team accomplishes.
"We want to be playing deep in the playoffs, we want to win a Big 10 title," Sloniger said. "We want to get into the Big 10 Tournament. We are playing well right now, and we want to continue to play well."
Early in the Big 10 season, the Nittany Lions are 4-2 and are coming off a three-game sweep at home over Purdue last weekend. They will host a three-game series with Michigan State starting Friday. After that, they play six of their next seven on the road before returning home for six tough games at the end of April and start of May against Maryland and TCU.