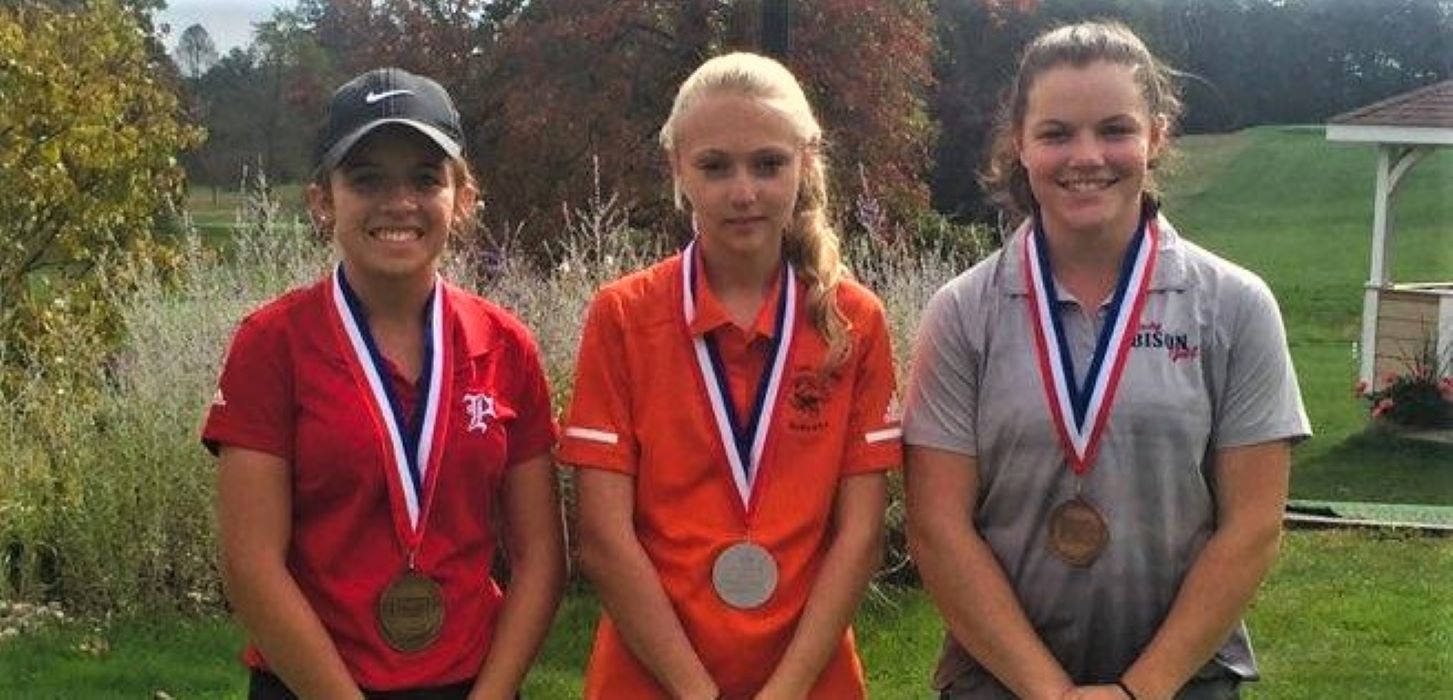 BROOKVILLE, Pa. – Punxsutawney's Brianna Hoover and Bradford's Elyse Godding captured District 9 individual girls' golf titles Monday at Pinecrest Country Club outside of Brookville, while Punxsutawney and Bradford won team titles.
(Photo: Brianna Hoover of Punxsutawney (left) won the District 9 Class 2A girls' golf title while McKala Kerle of Clarion (center) was second and Christina McGinnis of Clearfield (right) was third. Both Kerle and McGinnis also qualified for the PIAA Regionals. Photo courtesy of Kevin Doverspike)
Hoover won the Class 2A title while shooting an 89 and helping the Lady Chucks win the 2A team title with a score of 306 well ahead of second-place Clearfield (338) and third-place Moniteau (340).
Godding won the Class 3A title with a score of 80 and helped the Lady Owls roll past DuBois, 319-352.
Two additional Class 2A golfers qualified for the Oct. 15 Western Regionals at Tom's Run Golf Course at Chestnut Ridge Golf Resort in Blairsville.
Clarion's McKala Kerle finished second with a score of 95 with Clearfield's Christina McGinnis finishing third with a score of 100.
CLASS 2A INDIVIDUAL SCORES
(Top three qualify for Regionals)
1. Brianna Hoover, Punxsutawney – 89
2. McKala Kerle, Clarion – 95
3. Christian McGinnis, Clearfield – 100
4(t). Laney Gilmore, Ridgway – 101
4(t). Lizzie Sikora, Punxsutawney – 101
6. Kendall Grossman, Moniteau – 104
7. Haley Pry, Moniteau – 111
8(t). Andrea Zeigler, Cranberry – 116
8(t). Kierstan Riley, Punxsutawney – 116
10. McLain Alt, Clearfield – 118
11. Kathryn Barnes, Clearfield – 120
12. Sylvia Pisarchick, Brockway – 122
13. Caitlyn Magarigal, Coudersport – 124
14(t). Rachel Haight, Kane – 125
14(t). Brynn Barger, Moniteau – 125
16. Olivia Schott, Smethport – 130
17. Maeve Hanley, Punxsutawney – 131
18. Ally Rodgers, Keystone – 136
19. Emily Richnafsky, Cameron County – 137
20. Regan Ganoe, Brookville – 144
21. Kaitlyn Amacher, Ridgway – 153
22. Jensen Duke, Curwensville – 155
23. Audrey Barrett, Brookville – 156
24. Leah Larsen, Coudersport – 176
25. Becca Lander, Keystone – 177
26. Erin Herzog, Smethport – 183
CLASS 3A INDIVIDUAL SCORES
(Top golfer qualifies for Regionals)
1. Elyse Godding, Bradford – 80
2. Kate Huber, Bradford – 93
3. Alexas Pfeufer, DuBois – 115
4. Sarah Henniger, DuBois – 118
5. Maddy Gray, DuBois – 123
6. Sadie Oliver, Bradford – 146
TEAM SCORES
CLASS 2A
1. Punxsutawney – 306
2. Clearfield – 338
3. Moniteau – 340
CLASS 3A
1. Bradford – 319
2. DuBois – 352