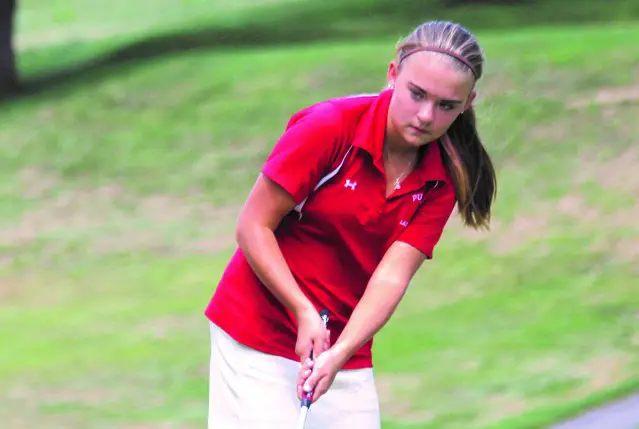 PUNXSUTAWNEY, Pa. – Punxsutawney's Morgan Vanleer and Bradford's Elyse Goding took home District 9 golf titles Monday, while Punxsutawney won the 2A team title.
Played at the Punxsutawney Country Club, Vanleer shot a 90 to edge Kane's Haley Oknefski by one shot for the title. Moniteau's Kennedy DeMatteis also qualified for the Western Regional by carding a 98.
Gooding won a field of five golfers beating teammate Kate Huber by four shots. Gooding carded a 96 with Huber scoring 100.
Punxsutawney won the 2A team title with a team score of 442 edging second-place A-C Valley by three strokes.
2A Individual Scoring

Player

School

Score

Morgan Vanleer*

Punxsutawney

90

Haley Oknefski*

Kane

91

Kennedy DeMatteis*

Moniteau

98

Allie Sherman

AC Valley

99

Erin Paulson

Kane

101

Kristina DeMatteis*

Moniteau

104

Cortney Claypool

Moniteau

105

Ellie Thompson

AC Valley

107

Aleya Shaffer

Punxsutawney

110

Nicole Belkowski

Clearfield

112

Stephanie Fry

Coudersport

114

Hannah Hoover

Curwensville

116

Tess Dubler

Cameron County

118

Katlyn Cappetta

Brockway

119

Alyvia McKimm

Cameron County

120

Alexis Zeigler

Cranberry

120

Mary Kate Elenchin

Coudersport

121

Dani Francisko

Curwensville

122

Sarah Wagner

Forest Area

123

Erin Hultman

Brockway

128

Autumn Haney

Smethport

134

Jena Soult

Clearfield

136

Bailey Ganoe

Brookville

140

Kyleigh Craddock

Clarion

147

Claire Warner

Keystone

151

Laney Gilmore

Ridgway

153

Taylor Hoffman

Keystone

153

Jenna Grant

Brookville

165
*Qualified for Western Regional
2A TEAM SCORES
School

Score 1

Score 2

Score 3

Score 4

Final Total

Punxsutawney

90

Morgan Vanleer

110

Aleya Shaffer

112

Toya   Jones

130

Brianna Hoover

442

AC Valley

107

Ellie Thompson

99

Allie Sherman

108

Camie McNany

131

Jayden Rottman

445

Cameron County

118

Tess Dubler

120

Alyvia McKimm

104

Madi Guisto

105

Kendyl

Guisto

447

Kane

91

Haley Oknefski

101

Erin Paulson

121

Riana Smith

148

Rachel Keller

461

Clearfield

136

Jena  Soult

112

Nicole Belkowski

139

Josie

Grice

137

Molly Sartin

524

Coudersport

114

Stephanie Fry

121

Mary Kate Elenchin

122

Annie Chambers

187

Jillian Furman

544
3A Individual Scoring

Player

School

Score

Elyse Gooding*

Bradford

96

Kate Huber

Bradford

100

Kiersten Pierce

Dubois

105

Abby Zickefoose

Bradford

108

Kacey Marsh

Dubois

139
*Qualfiied for Western Regionals