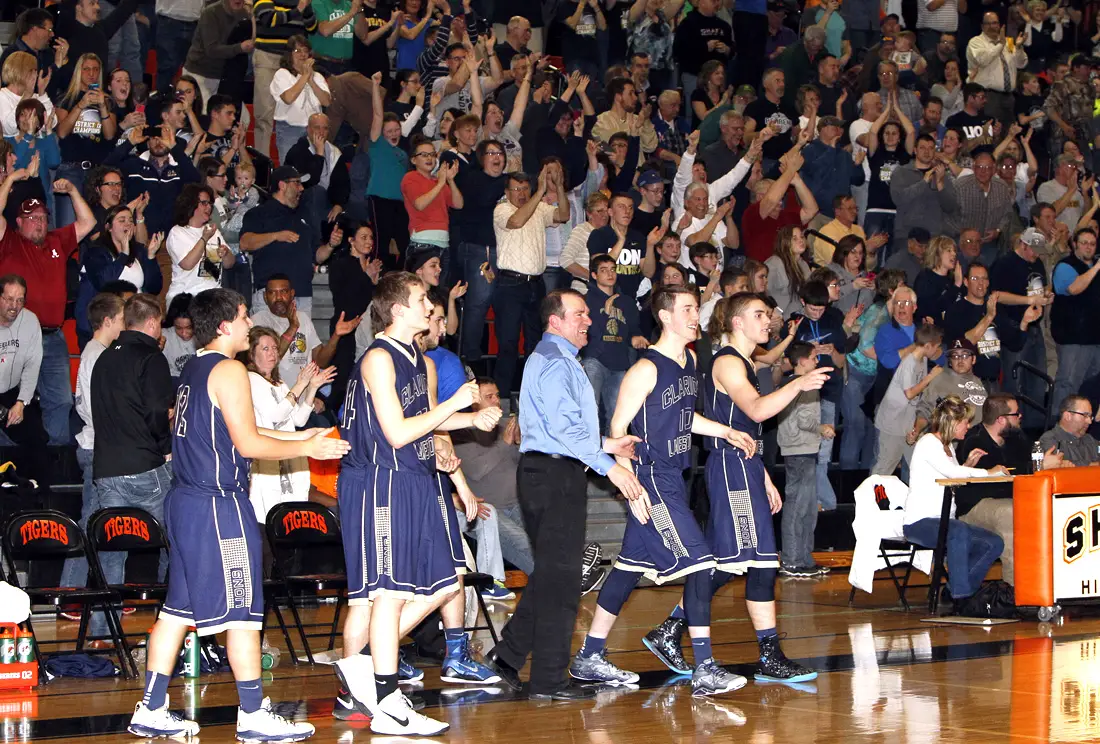 (9-1) CLARION-LIMESTONE (25-3) vs. (10-2) FARRELL (23-4)
When: 7 p.m. Friday, March 13
Where: Clarion University's Tippin Gym
How they got here: Both teams won second-round matchups Tuesday. C-L outgunned WPIAL third seed Vincentian, 97-90, at Sharon High School while Farrell routed Elk County Catholic, 79-49. In the first round, C-L beat WPIAL fifth-place finisher Cardinal Wuerl North Catholic, 60-45. Farrell opened with a 76-55 win over WPIAL runner-up Jeannette before beating ECC.
Who the winner plays: The (7-1) Monessen vs. (10-1) Kennedy Catholic winner next Tuesday, March 17, at a site to be determined.
About Clarion-Limestone: The Lions won their first District 9 title since 1961 and are in the PIAA quarterfinals for the first time since 1976. That squad finished third in the district playoffs and reached the quarterfinals with wins over District 6 champion Juniata Valley (52-46) and Rockwood (66-49) before losing to eventual state runner-up Uniontown St. John's (73-47). … Thanks to its 97-point outburst Tuesday, the Lions raised their season average almost a point to 73.1 points per game. The school's all-time leading scorer RJ Laugand leads the team at 17.8 ppg., but his 21-assist explosion against Vincentian was a sight to behold, helping the Lions shoot nearly 56 percent from the floor. The twin towers of 6-foot-5 senior Kolton Stiglitz and 6-foot-6 Dan Callen add 13.6 ppg and 12.3 ppg. Also for the Lions, Josh Kahle adds 9.9 ppg, Jesse Pezzuti 7.1 and Noah Rankin 6.9. Rankin has been strong in the postseason scoring 12.7 ppg. over the last three games. … Against Vincentian, the Lions nearly put four players at 20 points or more, led by Callen's 22 points despite playing on an injured ankle. Laugand had 20 points to go along with his dish-fest while Stiglitz and Kahle each scored 19 points. Rankin had 10 points off the bench.
About Farrell: The Steelers were the favorites to win District 10 before being upset in the title game by Kennedy Catholic, a team they had beaten twice in the regular season … Farrell's other losses came to Aliquippa (80-63) Dec. 20, Poland Seminary (77-68) Dec. 13 and West Middlesex (59-53) Dec. 30). … The Steelers led Elk County Catholic 34-25 at halftime before breaking the game open with a 28-8 third-quarter binge. They wound up shooting 61 percent (33-for-54) against the Crusaders squad that fell to C-L in overtime in the D9 semifinals. Malik Miller made 11 of 15 shots from the field and scored 30 points, putting him over the 1,000-point milestone. Jamel Brown scored 19 points. Leon Lewis finished with 15 points. … The 6-foot-3 swing guard Miller, a junior, who averages 20 ppg., is one of four Steelers averaging in double digits. Six-foot-4 senior forward Thomas Ripley adds 14 ppg, while the 5-9 senior point guard Brown and 5-10 junior swingman Terrance Holloway each had 12 ppg. The junior forward Lewis, who is undersized at 5-foot-11, adds 9 ppg. … Head coach Roland Shannonhouse should be familiar to District 9 fans, as his kids, Liz and Roland Jr., played for Clarion HIgh School … Shannonhouse has had a lot of success at Farrell winning 220 games in 11 years. … The Steelers, whose school district is nestled in the Sharon Area, are a longtime state power in Pennsylvania with seven state championships coming in a span from 1952 through 1972 along with 13 WPIAL titles — they are obviously a D10 school now. This is also the first year that the school has ever played in Class A. For many years, the Steelers actually played up to Class AAAA and were the WPIAL champions in 1992 when Punxsutawney beat them 56-55 in the second round. The Chucks reached the state finals that year.
D9 CLASS A (or Class C) TEAMS IN QUARTERFINALS
Note: From 1950 to 1971, the D9 champion opened in the quarterfinals. A Class C state playoff tournament didn't start until 1948 and only played through to a Western and Eastern Regional final until 1951 when a championship game was played. In 1972, the bracket was initially expanded to a similar setup to today. Initially, it was a 30-team bracket.
Current four-classification setup
2013: Johnsonburg 54, Smethport 43
Note: Johnsonburg beat Lincoln Park, 59-53, in semifinals before losing to Vaux, 83-63 in finals.
2012: Ridgway 58, VisionQuest 51
Note: Ridgway lost to Lincoln Park, 65-46, in semifinals.
2009: Elk County Catholic 63, Serra Catholic 51
Note: ECC lost to Kennedy Catholic, 58-44, in semifinals.
2008: Kennedy Catholic 58, Coudersport 43
2007: DuBois Central Catholic 49, Clairton 46
Note: DCC beat Kennedy Catholic, 51-50, in semifinals before losing to Reading Central Catholic, 58-33, in finals.
2006: Elk County Catholic 67, Kennedy Catholic 34
Note: State championship run for ECC, which beat Blairsville, 77-62, in semifinals before beating Bishop Hannan, 71-61, in finals.
2005: Kennedy Catholic 51, Elk County Catholic 48
2005: Blairsville 54, Coudersport 51
2004: Sewickley Academy 52, Elk County Catholic 49
2004: Johnsonburg 58, Vincentian 37
Note: Johnsonburg lost to Sewickley Academy, 45-36, in semifinals.
2002: Monessen 73, Elk County Catholic 51
2001: Kennedy Christian 64, Elk County Christian 48
1999: Duquesne 50, Elk County Christian 49
1998: Bishop Carroll 49, Keystone 46
1996: Coudersport 54, Carmichaels 34
Note: Coudersport lost to Juniata Valley, 51-39, in semifinals.
1994: Kennedy Christian 48, Elk County Christian 30
1994: Duquesne 85, Johnsonburg 63
1992: Elk County Christian 45, Youngsville 44
Note: ECC lost to Duquesne in semifinals, 45-33.
1988: Elk County Christian 55, Sharpsville 51
Note: ECC lost in semifinals to Monessen, 54-44.
1984: Cornell 73, A-C Valley 47
Three-Classification Setup (AAA-AA-A)
1983: Karns City 68, Lawrenceville 61
Note: Karns City beat Cornell in semifinals before losing to Northwest in finals.
1982: Serra Catholic 64, Johnsonburg 61
1980: East Brady 56, Bishop Carroll 54
Note: State championship run for East Brady, which beat Fairchance, 60-56, in semifinals before beating Darby, 72-66, in finals.
1979: East Brady 59, Karns City 55
Note: East Brady lost to Conemaugh Twp. in semifinals, 63-57.
1978: Geibel 64, East Brady 61
1977: Geibel 53, East Brady 46
1976: Uniontown St. John's 83, C-L 67
1976: DuBois Central Catholic 73, Ferndale 47
Note: Uniontown St. John's beat DCC, 76-68, in the semifinals. DCC won the state consolation game, 52-49, over Weatherly while Uniontown St. John's lost to Scranton Bishop Klonowski, 81-78.
Three-Classification Setup (A-B-C)
1975: Rockwood 47, Bradford Central Christian 39
   Note: Rockwood lost in state final to Darby, 57-28.
1974: Union 62, Laurel Valley 41
  Note; Union beat Union City, 73-59, in semifinals before losing to Holy Ghost Prep, 63-48, in finals.
1973: A-C Valley 75, Glendale 62
  Note: A-C Valley beat Ferndale, 76-64, in semifinals before losing to Freeland MMI, 77-71, in finals.
1972: Karns City 64, Juniata Valley 47
   Note: Karns City beat Laurel Valley, 52-47, in semifinals before losing to Mount Penn in finals, 58-47.
(10-team bracket)
1971: A-C Valley 65, Union City 57
  Note: A-C Valley lost in semifinals to Laurel Valley, 40-32.
1970: Union City 86, Union 67
1969: Northest 69, Union 67
1968: Northeast 76, A-C Valley 68
1967: Union 73, Wattsburg 64
Note: Union beat Williamsburg, 51-40, in semifinals before losing to Darby in finals, 51-44.
1966: Clarion 83, Conneaut Lake 81
  Note: Clarion lost to Williamsburg, 79-73, in semifinals.
1965: Conneaut Lake 62, Sheffield 58
1964: Coudersport 73, Lawrence Park 47
Note: Coudersport beat Williamsburg, 65-48, in semifinals before losing to Conshohocken, 63-48, in the finals.
1963: Clarion 63, Spartansburg 58
  Note: Clarion lost to Rothrock, 51-44, in semifinals.
1962: Clarion 69, Conneaut Lake 52
     Note: Clarion beat Hyndman, 55-47, in the semifinals before losing to Jim Thorpe, 51-40, in state final.
1961: Commodore Perry 64, C-L 60, OT
1960: Commodore Perry 81, Sheffield 65
1959: Randolph 46, Sheffield 37
1958: Randolph 48, Penn Township (District 9) 46
1957: Sykesville 59, Fairview 57
       Note: Sykesville lost to Williamsburg, 65-40, in semifinals.
1956: Fredonia 78, Sheffield 61
1955: Fredonia 69, Sykesville 65
1954: West Middlesex 72, Sykesville 42
    Note: State opener for Sykesville in both 1954-55
(9-team bracket)
1953: Fredonia 38, Chicora (District 9) 36.
(10-team bracket)
1952: Coudersport 64, Stoneboro 57
  Note: Coudersport advanced to state final with a 45-40 win over Roaring Spring in semifinals. The Falcons lost to Jenkintown in final, 83-68.
(8-team bracket)
1951: Fredonia 51, Coudersport 34
(10-team bracket)
1950: Fredonia 63, Penn Township (District 9) 44