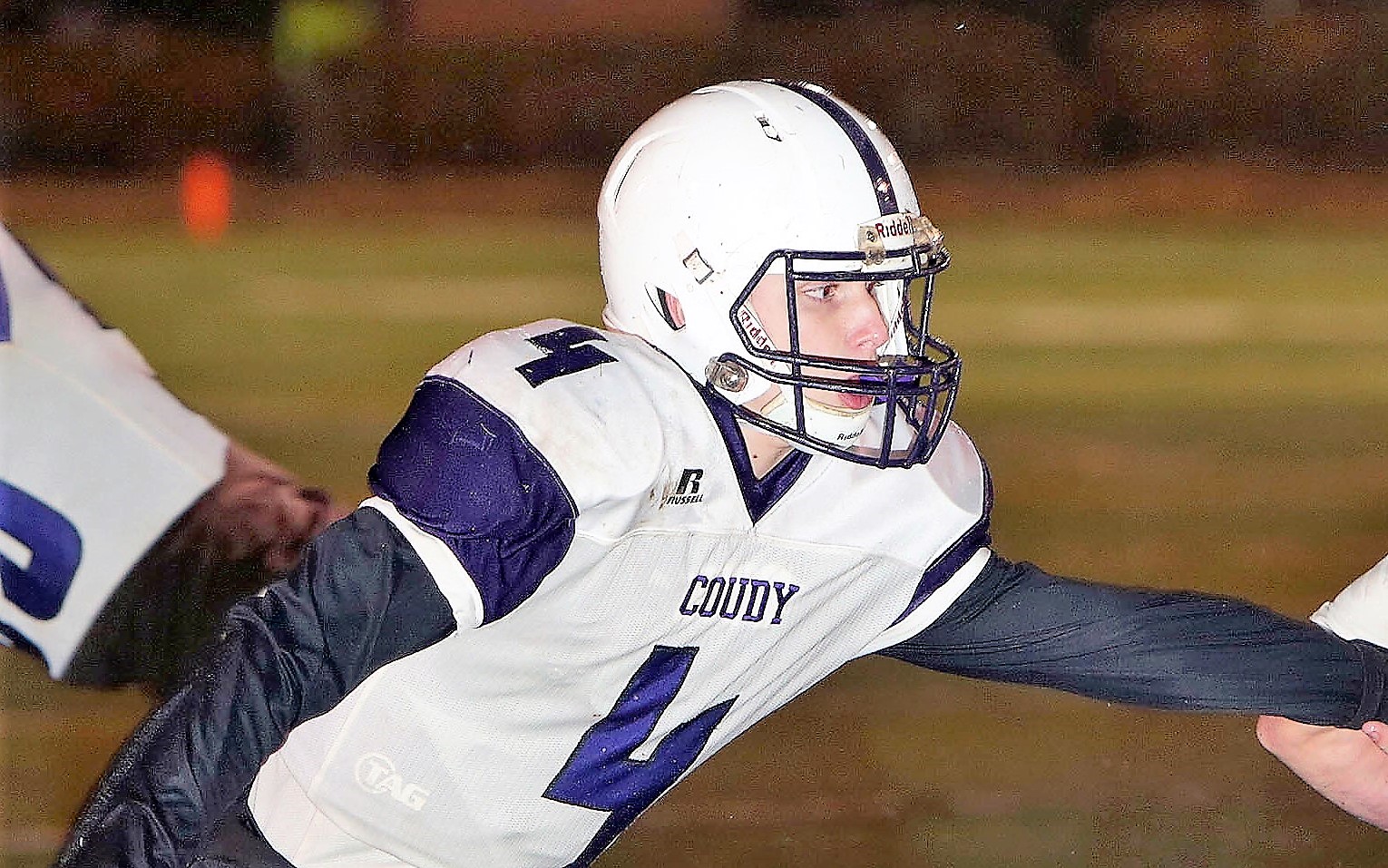 SLIPPERY ROCK, Pa. – Jourdan Townsend caught three touchdown passes from Kyi Wright, and Christian Lewis also scored three times to lead Farrell to a 48-6 win over Coudersport in the PIAA Class 1A quarterfinals Saturday afternoon at Slippery Rock University.
(Photo of Hayden Keck of Coudersport, who returned a kickoff for a touchdown Saturday. Photo by Paul Burdick. Check out more of Burdick's work here)
Townsend, who caught six passes for 172 yards while adding three carries for 31 yards, caught first-half scoring passes of 22, 8 and 83 yards to help the Steelers take a 48-0 halftime lead.
Lewis, who ran 12 times for 109 yards, added touchdown runs of 47 and 13 yards and returned a punt 77 yards for Farrell's final touchdown.
Wright, meanwhile, was a perfect 8 of 8 passing for 176 yards, as Farrell threw just one incomplete pass on the night (11 of 12) for 187 yards and racked up 407 yards of total offense while averaging 7.7 yards per play.
Lewis' 47-yard scoring run got things started for the Steelers, who led 14-0 at the end of a quarter after Townsend caught the 22-yard scoring pass from Wright.
Five more Farrell touchdowns in the second quarter put the game away.
Townsend scored on the 8-yard pass before Tymir Green found paydirt on a 28-yard run. Lewis then scampered in from 13 yards before Wright hooked up with Townsend on the 83-yard scoring pass. Lewis then returned the punt for a touchdown after Farrell called a timeout to conserve the clock.
Hayden Keck accounted for Coudersport's lone score when he returned the second-half kickoff 61 yards for a touchdown.
Keck led the Falcons with 86 yards rushing on seven carries while going 1-for-4 passing for 11 yards.
FARRELL 48, COUDERSPORT 6
Score by Quarters
Coudersport 0 0 6 0 – 6
Farrell 14 34 0 0 – 48
Scoring Summary
First Quarter
F – Christian Lewis 47 run (Brian Hilton kick)
F – Jourdan Townsend 22 pass from Kyi Wright (Hilton kick)
Second Quarter
F – Townsend 8 pass from Wright (Hilton kick)
F – Tymir Green 28 run (Hilton kick)
F – Lewis 13 run (Kick blocked)
F – Townsend 83 pass from Wright (Hilton kick)
F – Lewis 77 punt return (Hilton kick)
Third Quarter
C – Hayden Keck 61 kickoff return (pass failed)
TEAM STATS
Coudersport – Stat – Farrell
24-132 – Rushes-Yards – 41-320
11 – Passing Yards – 187
1-4-0 – Passing: Comp-Att-Int – 11-12-0
28-143 – Plays-Yards – 53-407
INDIVIDUAL STATS
Rushing: Coudersport – Hayden Keck 7-86, Stephen Kelly 14-39, Kolby VanWhy 2-5, Thomas Wilson 1-2. Farrell – Christian Lewis 12-109, Tymir Green 3-81, Jaden Harrison 15-61, Jourdan Townsend 3-31, Tony Stallworth 4-18, Kyi Wright 2-12, Christian Hartley 2-8.
Passing: Coudersport – Coudersport – Hayden Keck 1-for-4, 11 yards. Farrell – Kyi Wright 8-for-8, 176 yards, 3 touchdowns. Christian Hartley 3-for-4, 11 yards.
Receiving: Coudersport – Brandt Kightlinger 1-11. Jourdan Townsend 6-172, Marion Odom 1-12, Brian Hilton 1-5, Christian Lewis 1-negative 1, Brice Butler 1-negative 2.