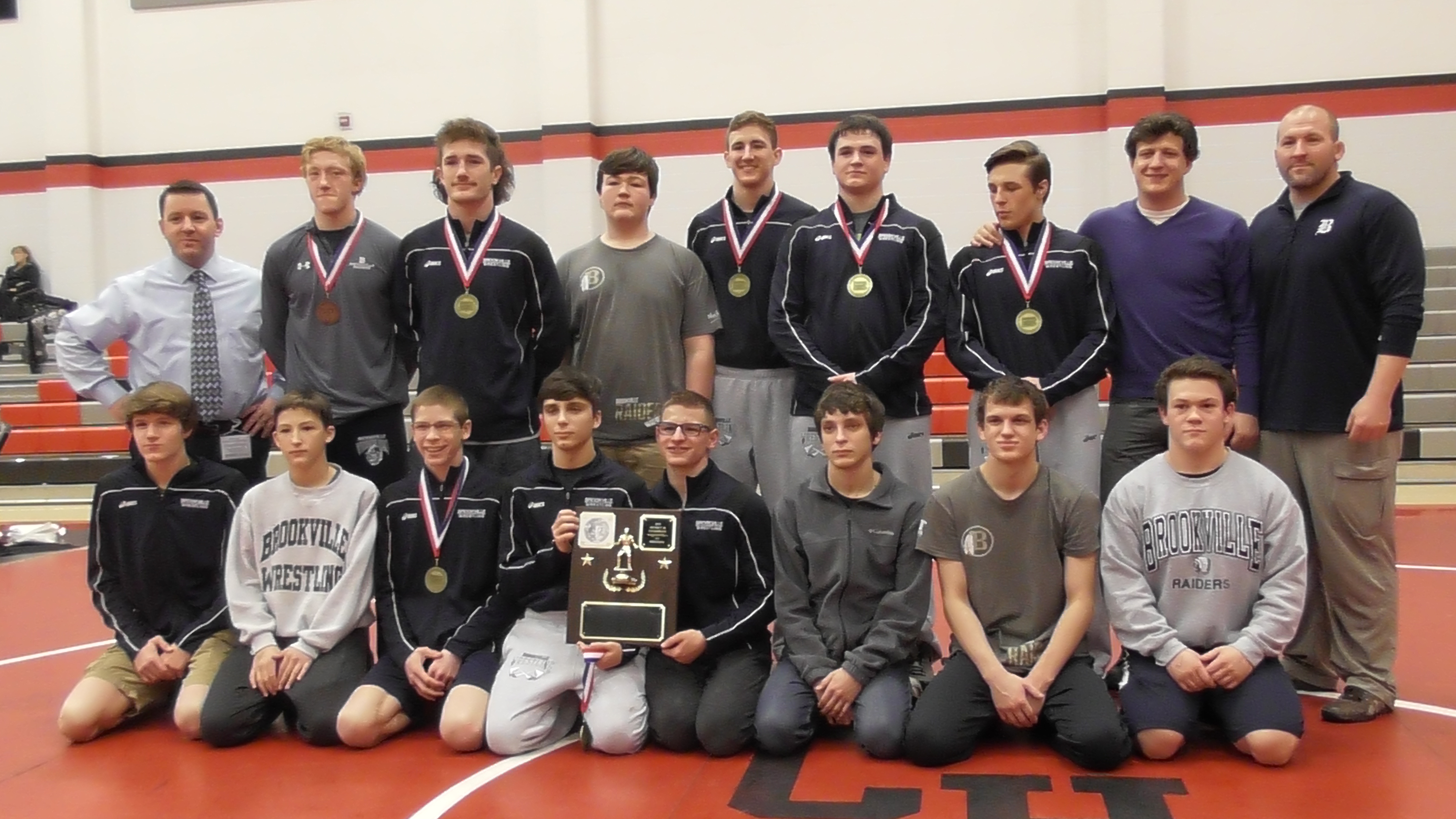 HYDE, Pa. — While the 2017 team is different, the results were very similar for the Brookville Raiders wrestling team which won the District 9 2A Championship Saturday night at Clearfield Area High School.
The Raiders crowned six champs in 2016, just as they did this year. Head coach Dave Klepfer was named the Coach of the Year again.
The Raiders also had the Outstanding Wrestler again. Tate Ortz took the honor in 2016, this year, it was Gavin Park, although he did have to share it with Port Allegany's Jake Kallenborn.
Brookville rolled to the team title with a total of 242 points, 98 more than runner-up Coudersport.
Park (36-3) needed just 131 seconds of mat time to score four pins in winning the 120-pound weight class.
Other Raiders champs included senior Keelan Kunselman (113), junior Caleb Hetrick (152), senior Noah Cieleski (182) junior Xavier Molnar (195) and junior Tyler Cook (220).
Brookville has five others advancing to regionals, including third-place finishers junior Kai Sorbin at 126, junior Dontae Constable at 132, senior Clayton Peace at 160, sophomore Braden MacBeth at 170, and 285-pounder Colby Whitehill, who was fourth.
The Ridgway Elkers had a very good tournament, crowning four champs with a total of six qualifiers.
Three of those champs were the McClain brothers.
At 132, junior Lukas McClain was the first sibling to win a title when he beat Johnsonburg's Devon Norlin.
Junior Logan McClain followed with another crown at 138, edging Coudersport's David Kudrick, 3-1.
Senior Colton McClain capped the Elkers tournament performance with an ultimate tiebreaker win, 5-4, over Curwensville's Steven McClure at 285 pounds.
Elkers junior Bryce Barclay was the first Ridgway wrestler to stand atop the podium when he won a title at 126 pounds, beating Kane's Noah Blankenship, 3-0.
Also placing was Kyle Bush, who was second at 113 and Luke Tomaski, who was fourth at 120.
Curwensville is sending four to Sharon, including Zach Holland at 106, Blake Passarelli at 113, Kaleb Witherite at 182 and McClure (285).
The Coudersport Falcons had one champ and are sending a total of six to regionals. Isaac Wright won it all at 170 pounds.
Their qualifiers include Dustin Kudrick (145), Julian Smith (152), Gage Arnold (160), Eli Ayers at 182 and Corey Thompson (220).
The Kane Wolves are sending five to regionals, including Blankenship at 126, Alec English at 145, Aiden Hulings at 152, Teddy Race at 160 and Ty Stahli at 195.
For the Brockway Rovers, their lone champ was freshman 106-pounder Anthony Glasl, who had three pins and a technical fall in his march to his first district crown.
Brockway has two other regional qualifiers in sophomore Garrett McClintick (170) and sophomore 220-pounder Justin Smith.
The Port Allegany Gators have three regional quaifiers, led by junior Jake Kallenborn, the D9 champ at 160. Reese Vollmer (106) and Treyton Stiles (126) also qualified.
The Oswayo Valley Green Wave have four qualifiers, including Dylan Pesock (106), Trevor Olney (120), Isaiah Barney (138) and Grant West (182).
The Cranberry Berries have three qualifiers, including senior Josh Hancock (145) and Timmy McCauley (285) who were each third, and sophomore CJ Shreffler (138) who placed fourth.
Clarion had three placewinners, including junior Tom Wurster (220) who was second, senior Mike LeFay (152) who was third and freshman Ben Smith (195) who was fourth.
The Redbank Valley Bulldogs are sending two wrestlers to regionals in Hunter Martz (120) and Mason Songer (113).
The Bradford Owls have two qualifiers, including D9 champ Dillon Keane at 145 pounds and Tyler Thompson at 132.
For the Keystone Panthers, sophomore 195-pounder Tyler Van Tassel will carry the school banner to regionals after a runner-up finish.
Smethport's lone qualifier was Akete Kindle at 170.