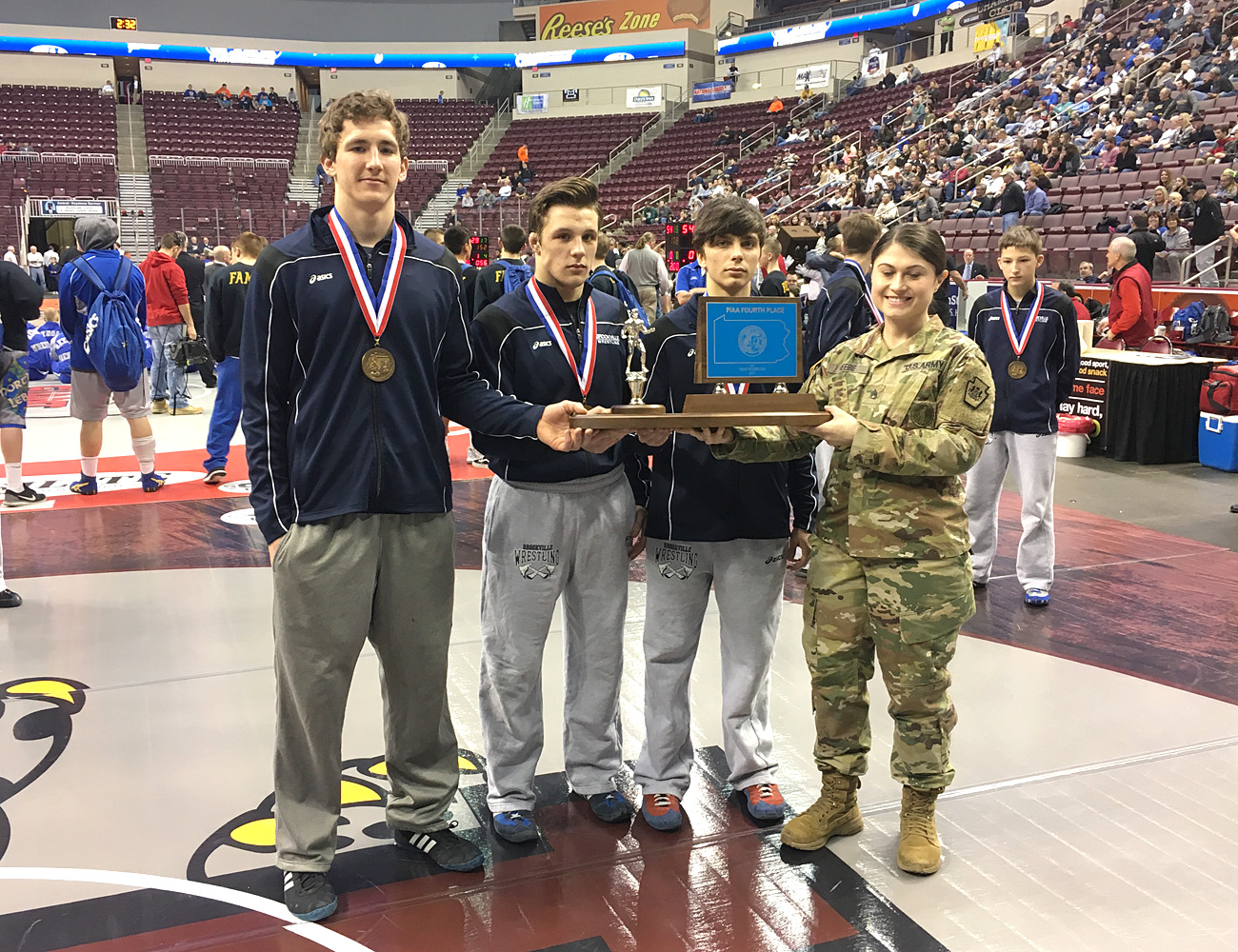 HERSHEY, Pa. — Picking up their fourth top-four trophy in program history the hard way, the Brookville Raiders wrestlers finished fourth at Saturday's PIAA Class 2A Dual Meet Championships at the Giant Center.
Brookville Raiders wrestling team captains, from left, Noah Cieleski, Caleb Hetrick and Gavin Park accept the fourth-place trophy at Saturday's PIAA Class AA Dual Meet Championships.
After dropping their opener Thursday against eventual runner-up Northern Lebanon, the Raiders won four straight matches, including two Saturday morning wins against Saegertown (37-31) and Bishop McDevitt (37-33) to earn a consolation finals berth against Southern Columbia.
In the battle for third against Southern, the Raiders fell 33-29 to finish fourth for the second time in program history. They were fourth in 2012 before winning it all last year. The Raiders also won the inaugural championship back in 1999.
Against the District 4 champion Tigers, the Raiders split their 14 bouts but it was Southern that scored more bonus points. Southern led 33-23 going into the final bout at 170 and forfeited to Tyler Park to set the final score.
Other winners for Brookville were Xavier Molnar (major) at 195, Cabe Park (pin) at 106, Gavin Park (major) at 126, Kai Sorbin (decision) at 132, Dontae Constable (decision) at 138 and Caleb Hetrick (decision) at 152.
The 25-3 Raiders, who have two more dual meets this week at Punxsutawney Wednesday and home against Coudersport Thursday, have losses against the top three finishers in this year's dual tournament. Reynolds beat Northern Lebanon, 54-18, to win the state title. Reynolds beat the Raiders earlier this year at the Johnson Motors Ultimate Duals.