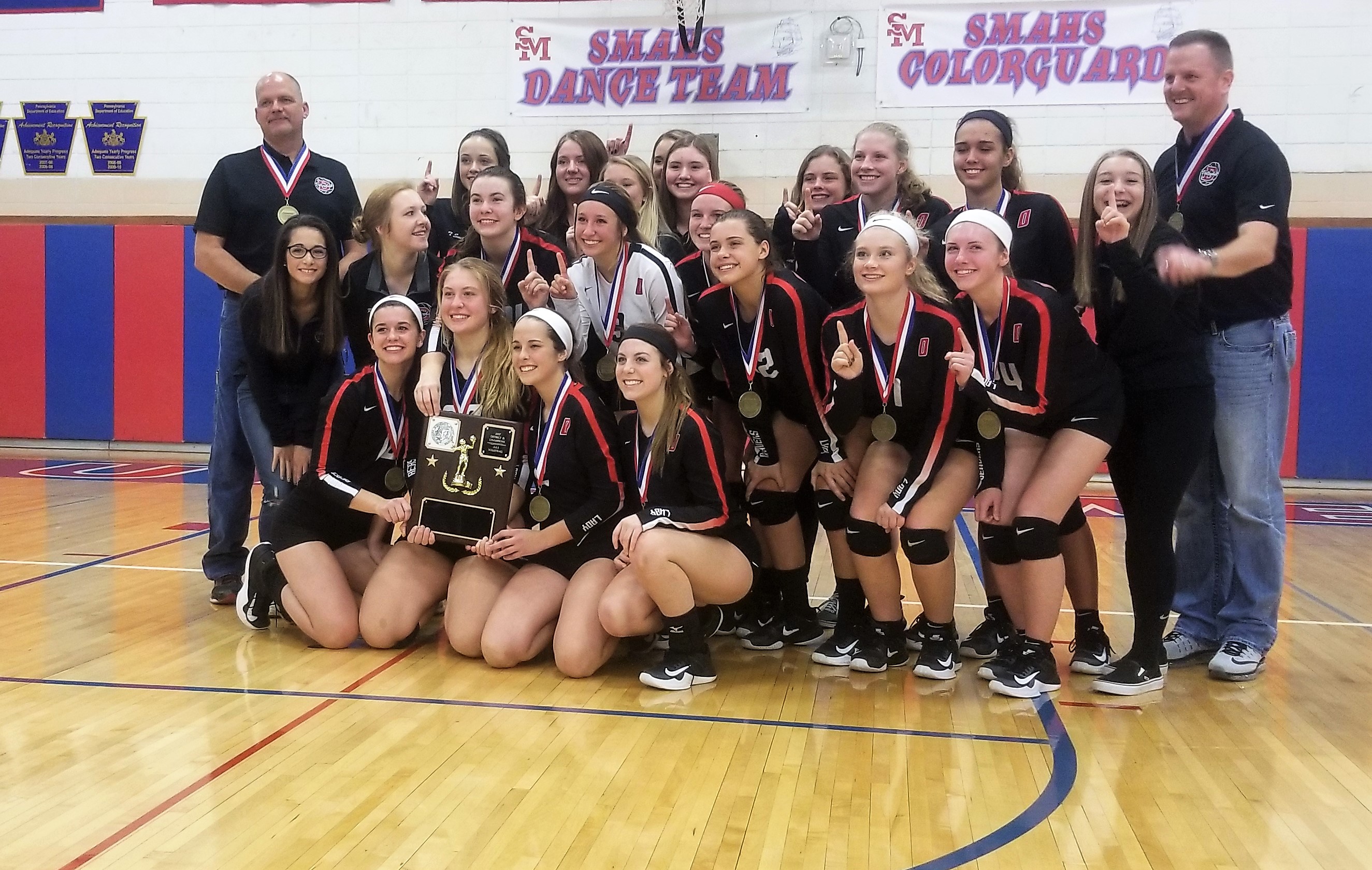 ST. MARYS, Pa. – Lexi Ray had 15 kills, two blocks and an ace to lead DuBois to its first District 9 volleyball title since 1999 with a 3-1 (28-26, 23-25, 25-14, 26-24) win over Punxsutawney in the D9 Class 3A title match at St. Marys High School.
Ray had at least four kills in three of the four sets and teamed with Danessa Allison, Kelli Hoffer and Sydney Kaschalk to give DuBois, which did win a subregional title in 2012, a potent offensive attack.
Allison added eight kills, 30 digs a block and five aces, Hoffer chipped in nine kills and three aces and Kaschalk had seven kills, an ace and a block. Kylee Bundy ran the attack with 42 set assists.
Ray talked about the victory.
Outside of the third set, the match was as close as the scores indicate with only one five-point lead (13-8 DuBois in the second set) in either of the other three sets.
Watch DuBois receive its championship trophy.
Punxsutawney, last year's 3A champion, stayed in the match thanks in part to the play of Leah Miller and Chelsea Snyder.
Miller had 11 kills and six blocks, including four solo blocks, while Snyder added nine kills and a block. Also for Punxsutawney, McKenzie Ferrent had six kills, two aces and a block and Olivia Weaver added six kills.
SET FOUR
It was a nail-biter of a set with the largest lead for either side being an early 8-5 advantage for DuBois that was built in part on two kills by Ray and a kill and an ace by Danessa Allison.
But Punxsutawney fought back and went up 13-12 thanks to three kills from Ferrent, who had four of her six kills in the set, and the Chucks leads grew to a pair of a couple of occasions, the last being at 17-15.
At that point, DuBois went on a 5-1 run that featured a kill and a block from Ray as well as a kill from Hoffer to take a 20-18 lead.
Ray, however, mistimed a set and Weaver and Ferrent had kills to put Punxsutawney back in front 21-20.
Three straight errors, two on Punxsutawney, left the set tied at 22 before a Miller block put the Lady Chucks ahead 23-22.
Kaschalk answered with a kill to tie the set at 23, but Miller's kill put Punxsutawney on the verge of victory in the set, up 24-23.
But Allison answered with a kill to make it 24-all, an error on Punxsutawney put the Lady Beavers up 25-24 and Allison put the match and title away with another kill.
Watch DuBois' final point.
THIRD SET
In the only set that wasn't competitive, DuBois raced out to a 10-5 lead on two kills and two aces from Allison and then built the advantage to 19-12 on kills from Ray and Allison.
Up 21-14, Ray had another kill as did Kaschalk and Hoffer put the set away with a kill.
SECOND SET
DuBois looked in decent shape at the midpoint of the set leading 13-8 following a kill and an ace by Cayla Donahue, but a kill by Cassidy Reed, who had four in the match, followed by a kill and a block by Miller closed the gap to 14-12.
Still trailing by four, 17-13, Snyder had a pair of kills and Midori Bridges added another kill to make it 18-17 Punxsutawney.
DuBois was able to retake the lead at 20-19 on an ace by Ray and still led 23-21 following a kill by Kaschalk and a Punxsutawney error.
The Lady Chucks answered with kills from Miller and Weaver to tie the set at 23, and Bridges delivered back-to-back aces to knot the match at one set apiece.
FIRST SET
Setting the tone for the rest of the afternoon, the team battled back and forth in the opening set with 15 ties and five lead changes with both teams having set point.
Punxsutawney, which trailed 18-15, had the first chance at set point after a tandem block from Miller and Bridges put the Lady Chucks up 23-23.
But Kaschalk, who had four of her kills in the opening set, picked up her fourth kill of the set to tie things at 24.
After DuBois took a 25-24 lead, an error knotted things back and 25, and then Allison missed on a kill attempt to put Punxsutawney up 26-25 forcing DuBois into a timeout.
Out of the break, Miller hit the ball into the net and another error gave DuBois a 27-26 advantage. Allison then came up with her lone block of the afternoon to give the set to the Lady Beavers.