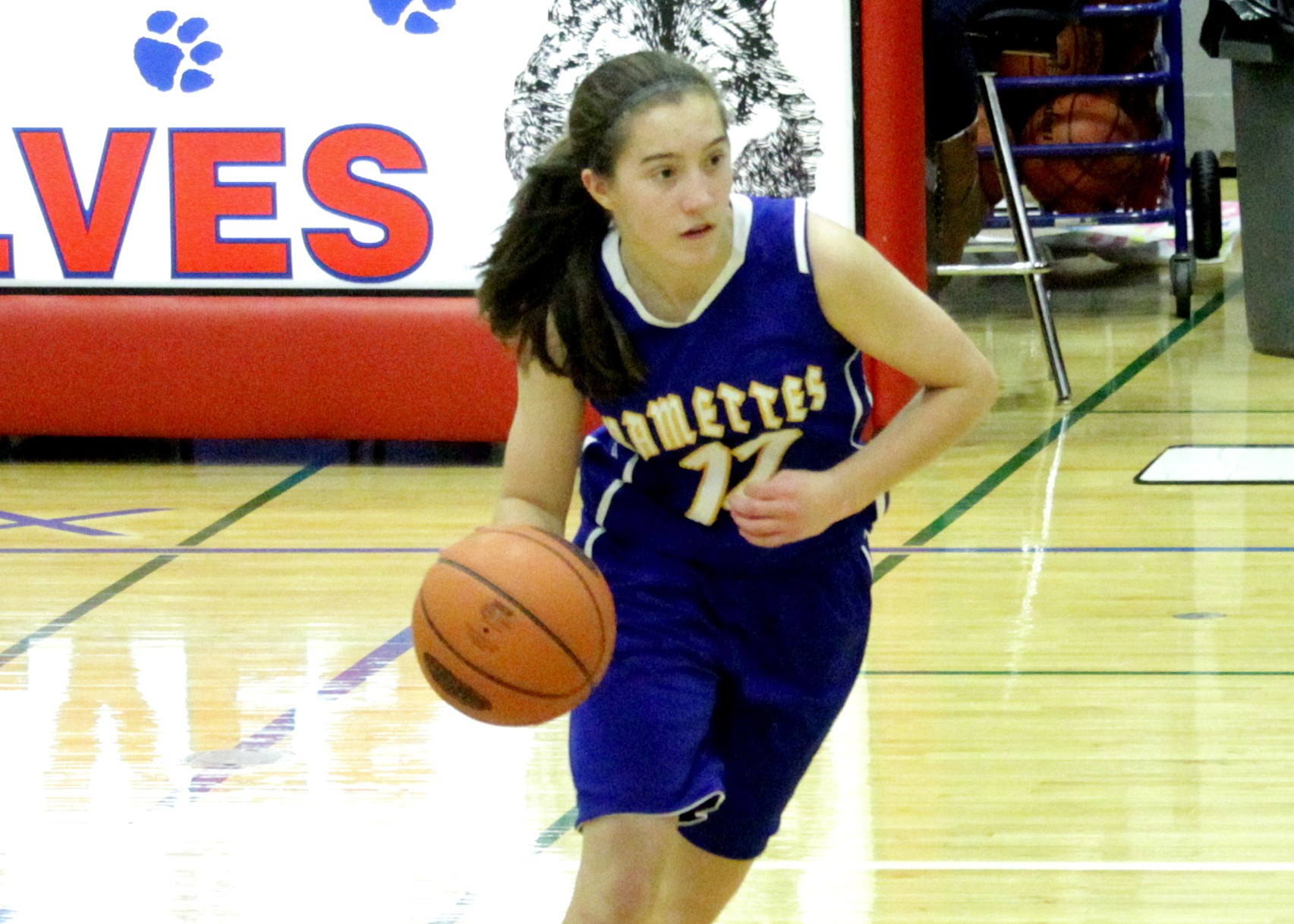 GIRLS
JOHNSONBURG 48, CAMERON COUNTY 43
JOHNSONBURG, Pa. – Freshman Cassidy King's 19 points and eight steals helped Johnsonburg record a key early-season victory, 48-43, over visiting Cameron County Monday.
Nicole Myers added 11 points going 7 of 11 from the free-throw line for Ellie Kocjancic's Ramettes.
Madison Harrier had 14 points to lead Cameron County, while Madi Guisto and Alyvia McKimm chipped in with eight each.
Thanks to an 18-8 advantage in the second quarter, Johnsonburg led 31-19 at halftime. King was a big reason why the Ramettes had a strong second stanza scoring 12 of her points in the quarter.
Cameron County fought back in the third quarter and got within five, 37-32, going to the fourth quarter.
Johnsonburg, though, hit 7 of 11 charity shots in the final eight minutes led by Myers going 6 of nine.   
SMETHPORT 49, SHEFFIELD 4
SMETHPORT, Pa. – Abbey Woodard netted a game-high 17 points, as Smethport cruised past Sheffield, 49-4, in girls' action Monday night.
Woodard scored nine of her points in the first quarter helping the Lady Hubbers jump out to a 19-0 lead at the end of one quarter.
Emily Treat also reached double figures for Smethport with 10 points, and eight Lady Hubbers scored.
Lexi Lyon and Emily Knowles led Sheffield with two points each.
BUCKTAIL 36, AUSTIN 16
AUSTIN, Pa. – Despite seven points from Madison Hooftallen, Austin dropped a 36-16 decision to visiting Bucktail Monday.
Bucktail jumped out on top quickly gaining a 17-1 edge at the end of the first quarter and a 20-4 halftime advantage.
Jordan Brewer added four points for the Lady Panthers.
NORTH CLARION 62, TIDIOUTE CHARTER 21
TIDIOUTE, Pa. – Tori Obenrader recorded her third straight double-double to open the season with 19 points and 24 rebounds, as visiting North Clarion rolled past Tidioute Charter 62-21 Monday.
Abbie Schmader also had a double-double for the She-Wolves with 11 points and 17 rebounds with Erika Sherman chipping in eight points.
Obenrader scored 12 of her points in the first quarter and 16 in the first half. Eight different She-Wolves scored in all.  
DUBOIS 45, CENTRAL MOUNTAIN 23
DUBOIS, Pa. – Courtney Chandler scored 15 points to lead DuBois to a 45-23 win over visiting Central Mountain Monday.
Chelsea DeSalve chipped in eight tallies for the Lady Beavers, who gave first-year head coach Keith Kriner his first win.
BOYS
CLEARFIELD 76, CURWENSVILLE 35
HYDE, Pa. – Behind a monster double-double from Cody Spaid, Clearfield rolled to a season-opening 76-35 win over neighboring Curwensville Monday night.
Spaid had 16 points and 15 rebounds for the Bison and was one of three Clearfield players in double digits.
Tommy Hazel also scored 16 points, while Will Myers had 15. David McKenzie just missed double digits scoring nine points.
Clearfield shot the ball well going 32 of 63 from the field with eight 3-pointers. The Bison did struggle from the line going 4 of 19 but outrebounded Curwensville 47-23.
Curwensville, which was paced by Quamone Newkirk's 10 points, was just 16 of 55 from the field.
RIDGWAY 61, CAMERON COUNTY 28
EMPORIUM, Pa. – Jeremy Breier scored 24 points to help Ridgway move to 2-0 on the season with a 61-28 non-conference win at Cameron County Monday.
Twenty-two of Breier's points came from the second quarter on including 16 in the second half, as Ridgway outscored Cameron County 53-20 after playing the Red Raiders to an eight-all tie in the first quarter.
Andy Breier chipped in nine points for Ridgway, while Justin Kasmierski had eight and Johnny Mitchell seven.
Trae Smith's 11 points paced Cameron County.
FRANKLIN 82, VENANGO CATHOLIC 34
FRANKLIN, Pa. – Brady Kingston had 11 points, but a slow start doomed visiting Venango Catholic in an 82-34 loss to crosstown foe Franklin Monday.
The Vikings (1-2) scored just three first-quarter points and 14 in the first half, while making just six field goals in the game.